I visited Zazie's twice– it was that good. The first time was for their special Bastille Day menu (Zazie's is a French restaurant) and the second time, I got a taste of their regular menu, which was also pretty tasty.
Located on Cole Street, 941 Cole St, San Francisco, CA 94117, USA, Zazie's is one of the places in San Francisco where you need a reservation to get into. On the plus side, Zazie's reservation signs are super cute (clearly drawn by a small child with cute coloring skills). Each sign is different– that's even nicer! Way to charm the customers. 🙂
Our first meal, featuring the bastille day menu, had items like the magret de canard and delicious mille feuille. Since this was a limited edition menu, I've included a picture, below. 🙂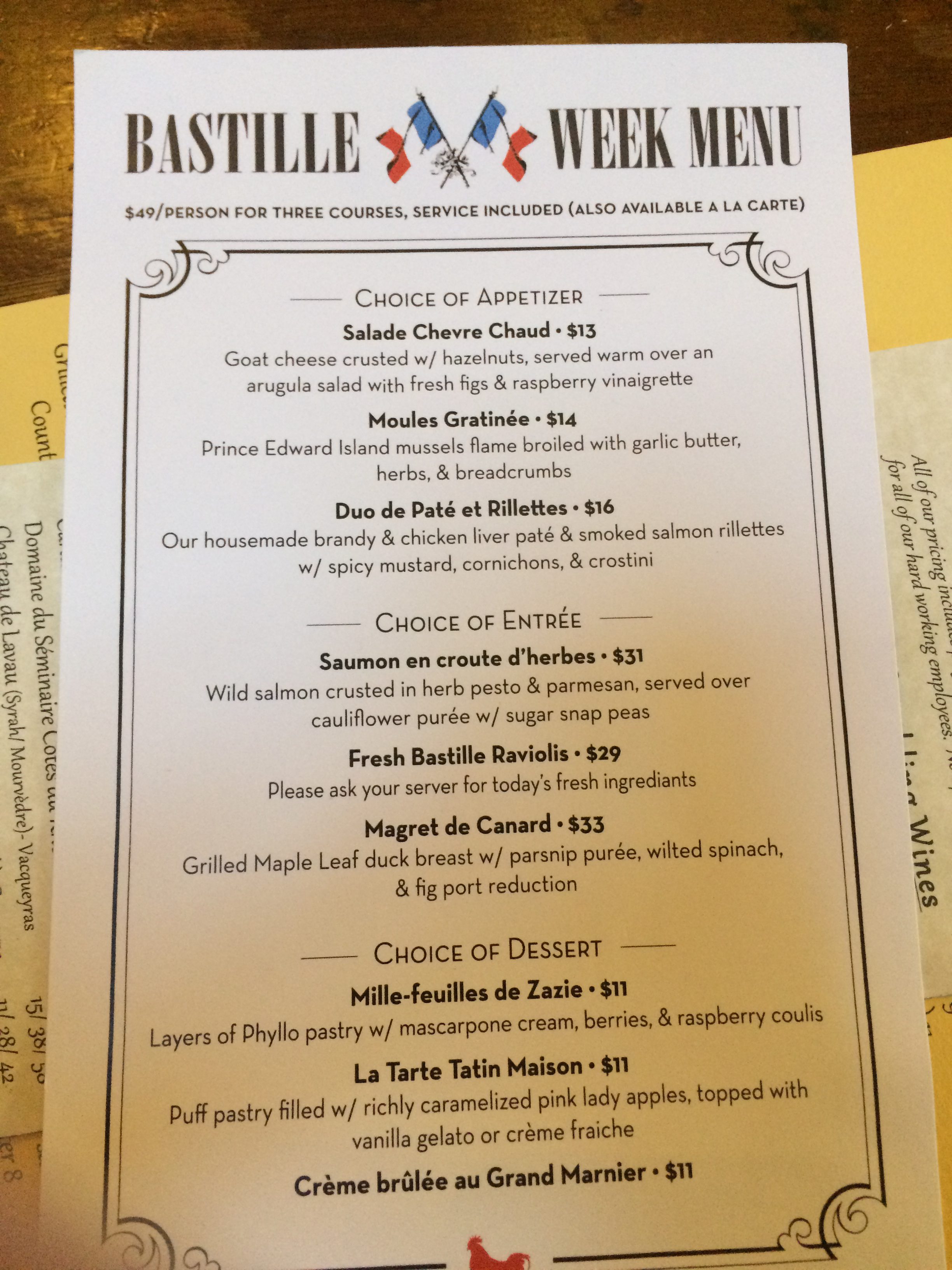 I ordered the mussels, magret de canard, and mille feuille as my three course, and I'm happy to say it certainly did not disappoint.
The mussels were amazing, topped with garlic bread and some herbs. I also made sure to sop up that delicious sauce with the fresh bread they gave us (fresh bread is always the best).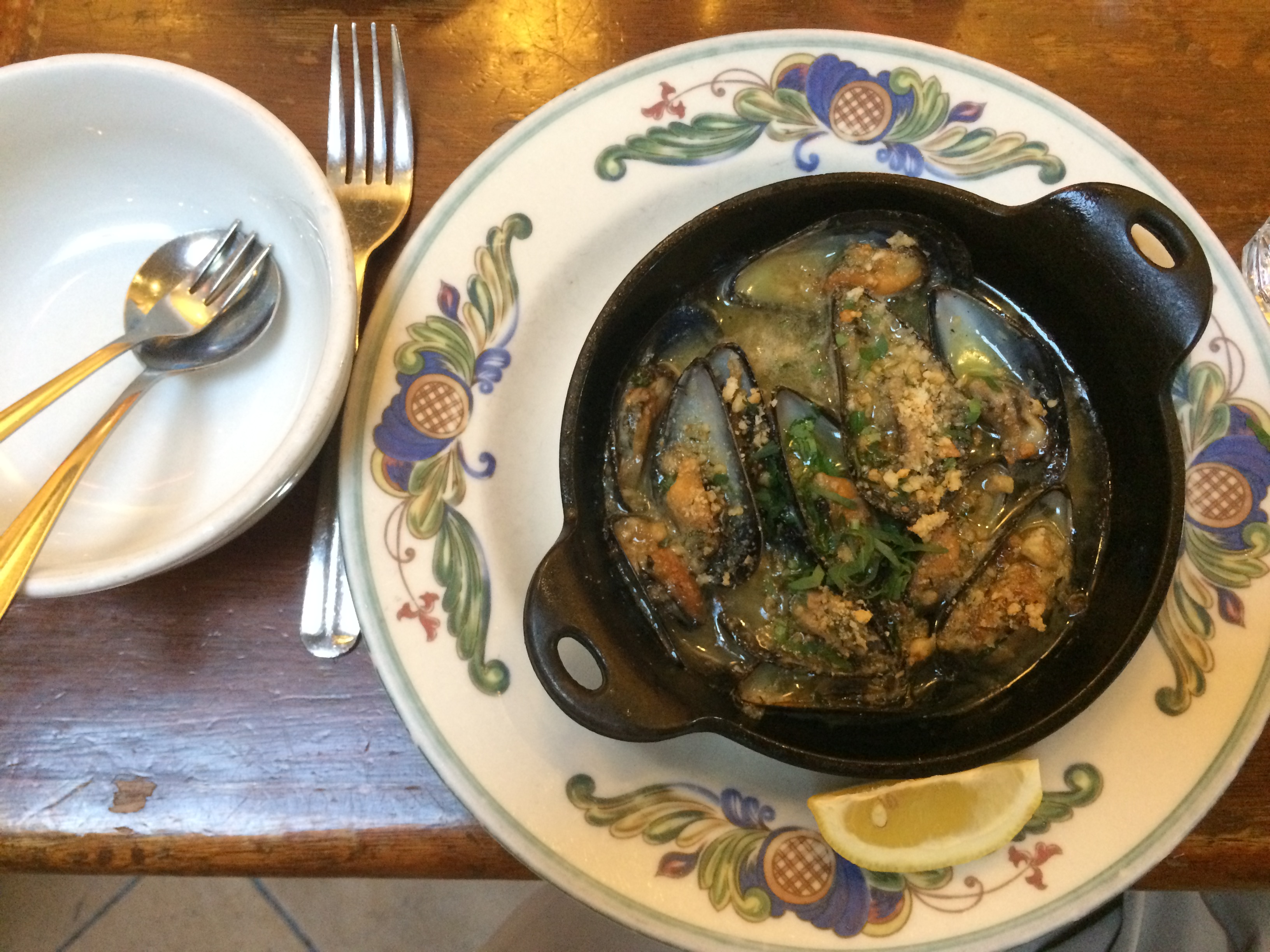 After the mussels, our wonderful waiter (turns out he's also a writer! True French form) brought me the magret de canard soon after. This is a dish that's always served at French bistros, but most places in America don't actually serve it. So while it's easy to find in Paris, it's strangely difficult to find it in the U.S. In fact, that was one of the main reasons I ordered the duck!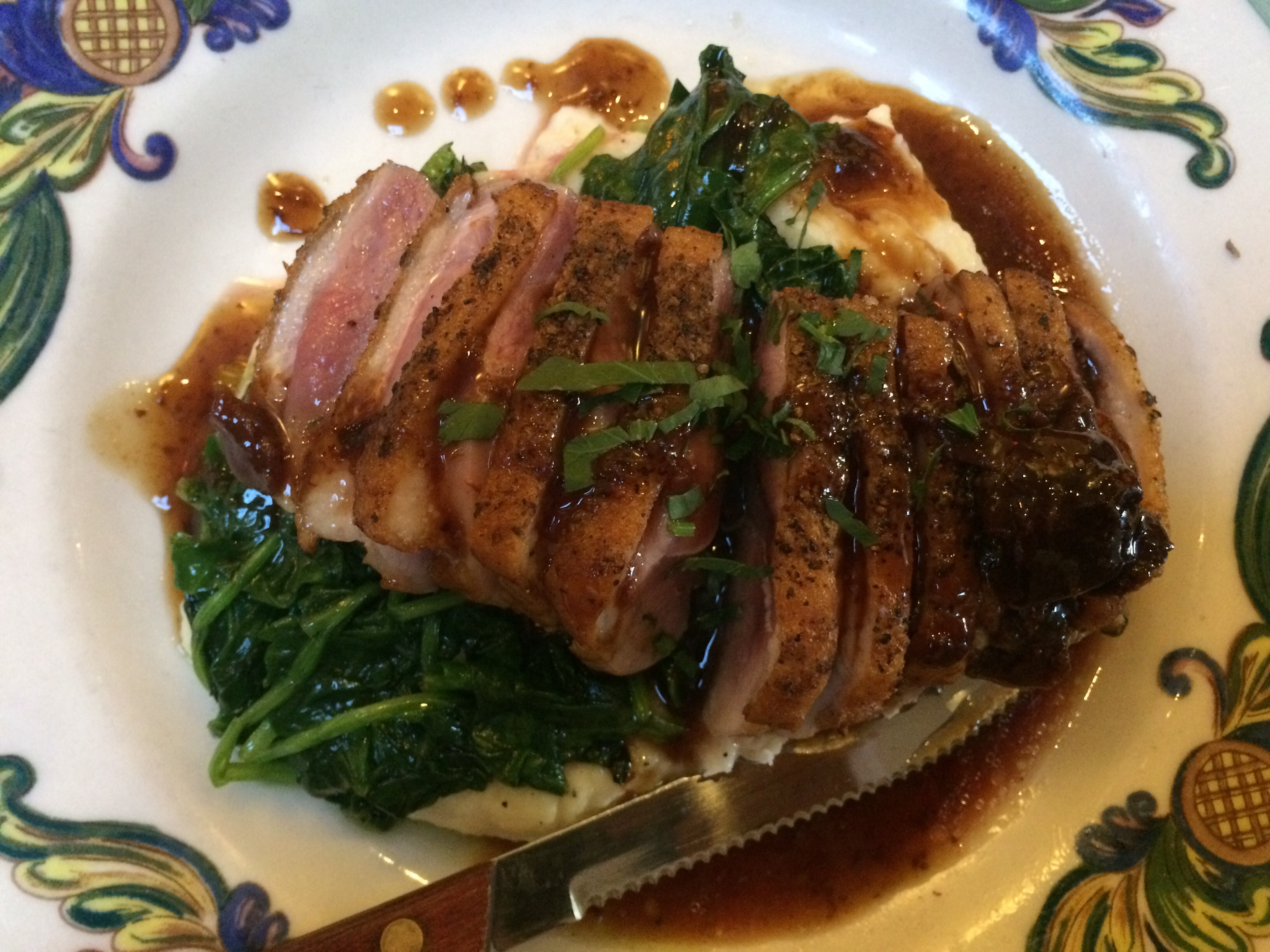 It did not disappoint. In traditional French style, it was served with some greens, sauce, and also a carb (their carb of choice being parsnip puree). The fig sauce they served with it also added a nice touch, a sweet tinge to the otherwise savory dish.
This may seem all extremely filling (and it was), but there's always room for dessert! The mille feuille was deliciously light and beautifully prepared, with room for berries and raspberry sauce in between. 🙂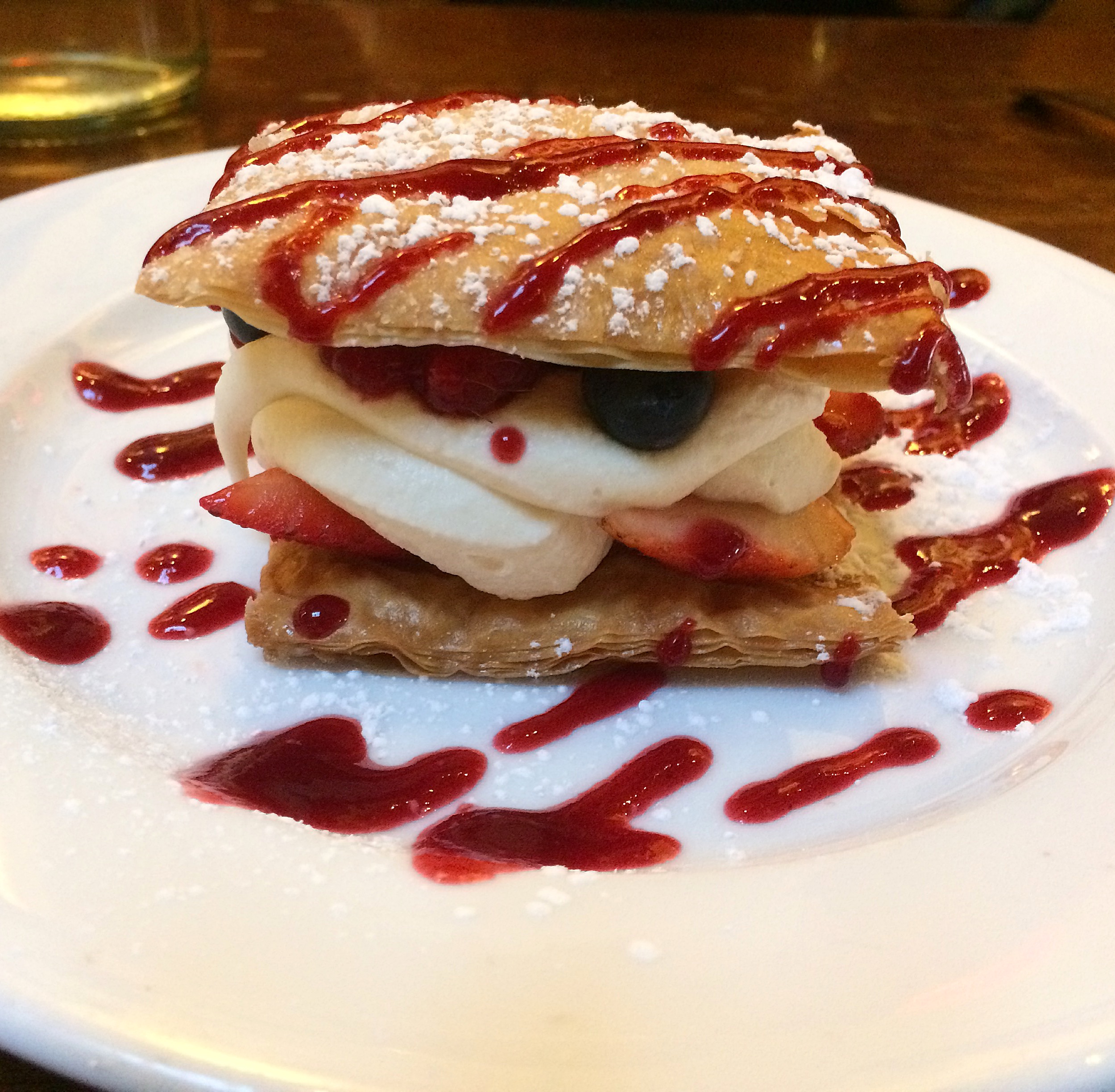 The powdered sugar was also a nice touch. Dessert was beautifully presented, and I had wonderful company. Overall an excellent meal. 🙂 🙂 🙂 🙂 🙂
As for my second meal at Zazie's, which I was very much anticipating prior to my food-consumption-stomach-filling exercise (dinner), I'm sorry to say that it nowhere near matched up to my first meal. Beginner's luck, perhaps.
My appetizer was pretty tasty, though. I ordered the French onion soup, which, as we all know, takes quite a bit of time to prepare, and it was much appreciated. I practically scraped off the cheese on the sides!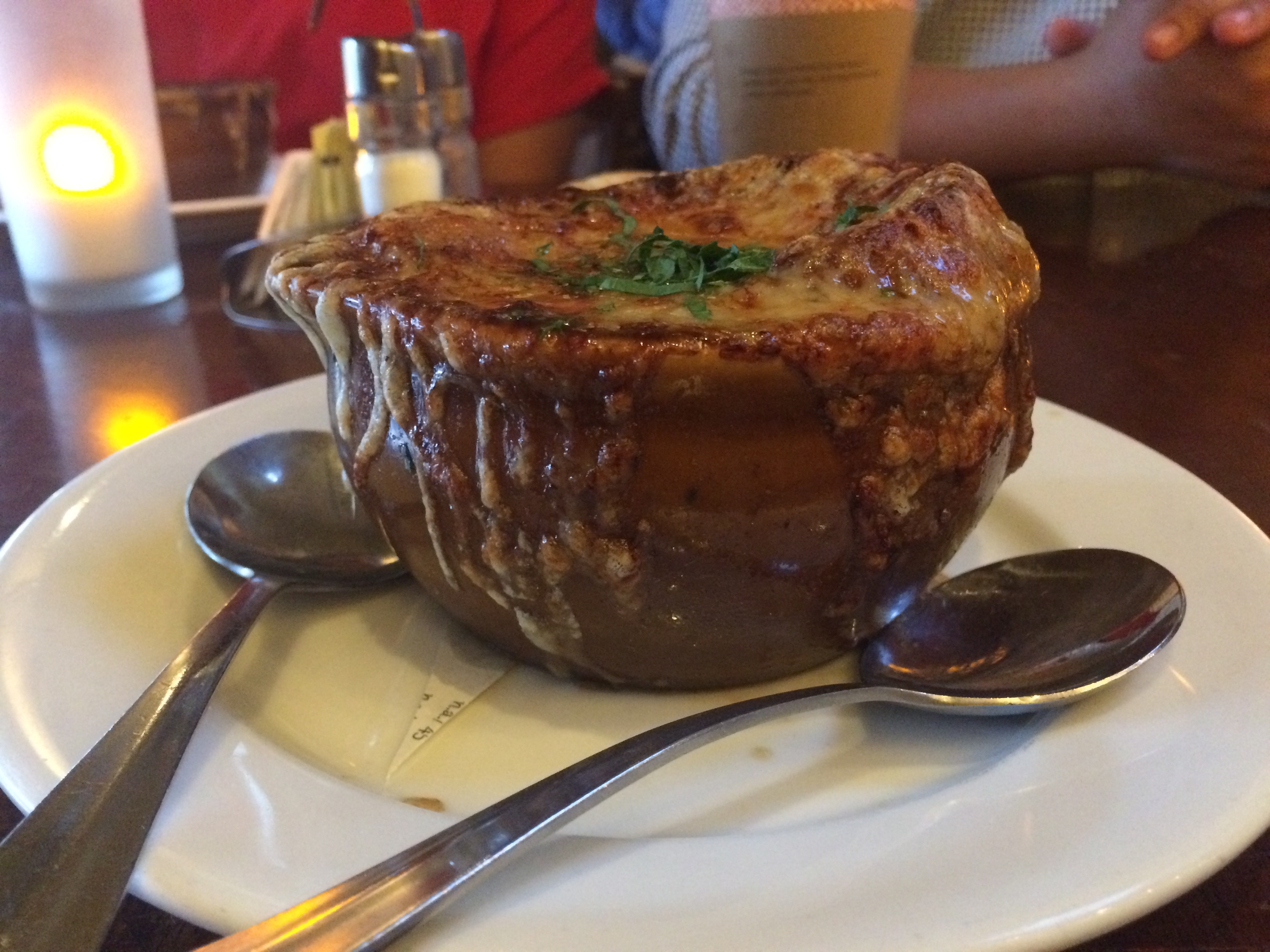 My main course, the lamb was mournfully mediocre. The lamb was soggy, though fully cooked, and the sides were absolutely not to my taste at all. The lamb tagine that I thought would be better prepared and tastier, seemed to me like something I could get off a regular buffet menu, anywhere. The eggplant and tomatoes seemed tinted with this "other" kind of taste, making it seem less fresh and more "microwaved up" than the other entrees we had there. The remaining guests at our table, however, seemed to come up with much nicer main courses. So my advice? Steer clear of the lamb and go for anything else. 🙂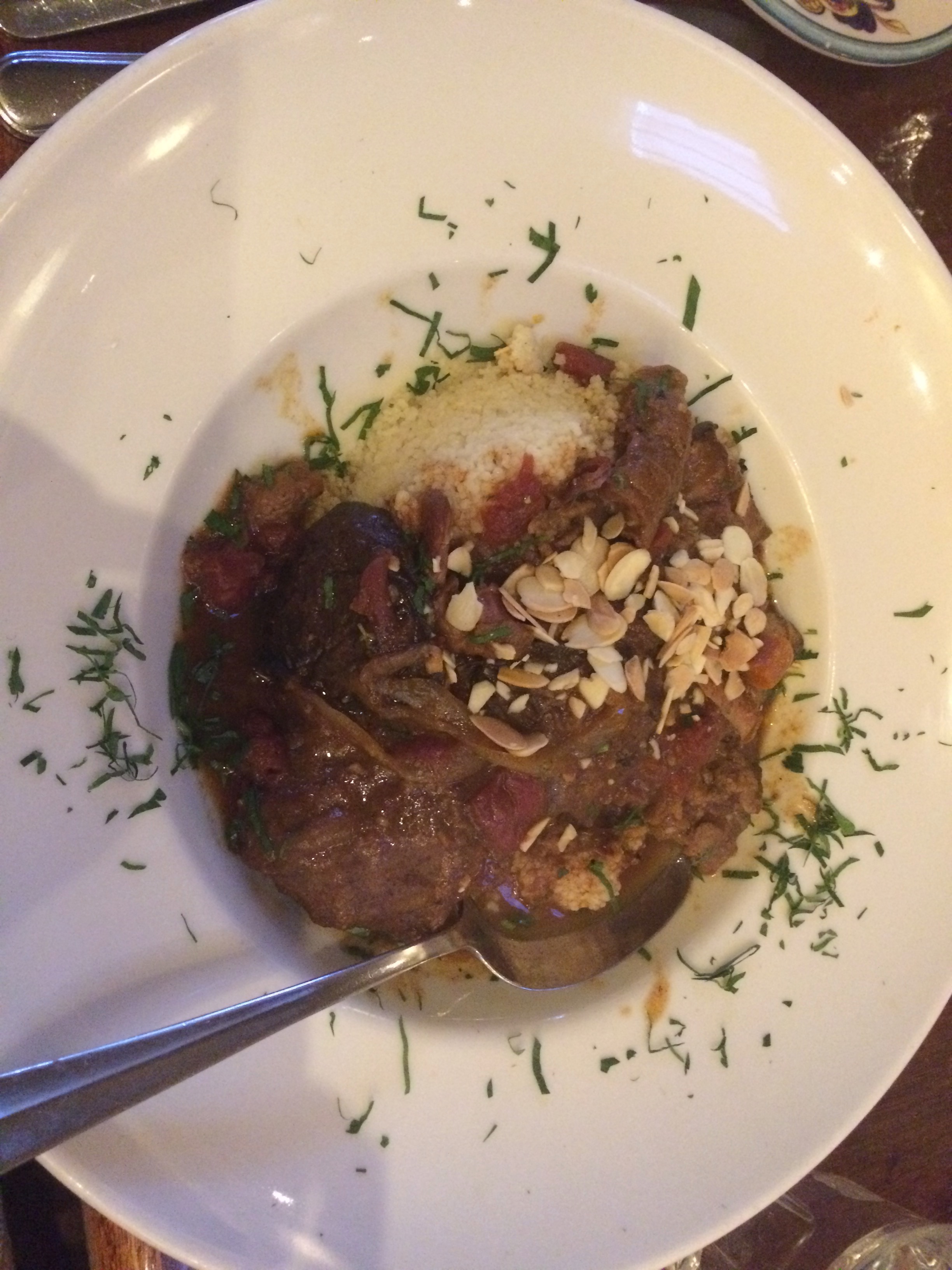 Oh, and the almonds. Whoever told the chef to add the almonds gives terrible advice.
For dessert, I overcame my trypophobia and ate through this dish as quickly as I could! I like to call this dish chocolate s'mores, but it was more of a chocolate lava cake with golden marshmallows on the top. This was the best part of my second meal at Zazi'e by far, echoing the French onion soup I had had earlier with it's presentation. The chocolate underneath was rich and delicious, and the marshmallows, like the cheese on the soup, did an amazing job of sticking to my spoon (but were nevertheless worth the hassle).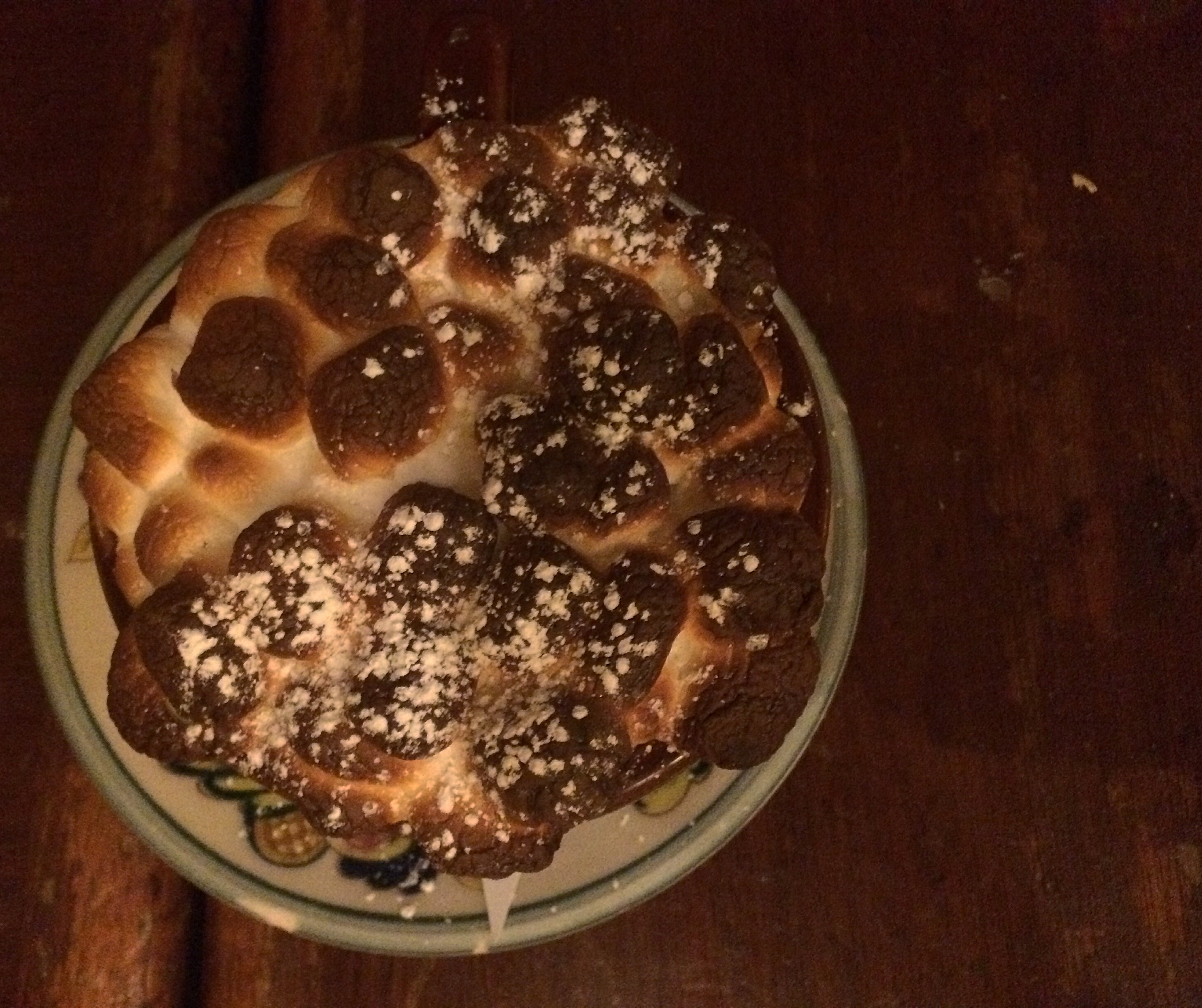 My second meal at Zazie's was more like a 🙂 🙂 🙂 :), but as an average of the first meal and the second meal, Zazie's overall deserves 🙂 🙂 🙂 🙂 1/2! An excellent French bistro in the middle of San Francisco, perfect for going out with friends or celebrating.
Nam nam nam!
-Anya