Andreoli's Italian Grocer is one of our favorite places to eat in Scottsdale.  We enjoy eating there multiple times a week.  In fact, papa jokes that mommy's entire paycheck goes straight to Andreoli's.  We always go to Andreoli's on Wednesday because it is Pizza night.
The owner's name is Giovanni Scorzo. He is the head chef and sometimes comes out to talk to regular customers and his Italian friends. Here is a picture of him: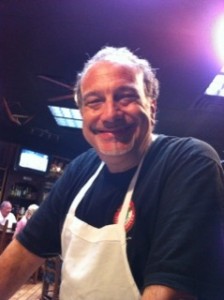 Giovanni always makes us feel at home!  As usual, we arrived at Andreoli's this past Wednesday (October 5, 2011) for pizza.  Here are pictures of all of our pizzas: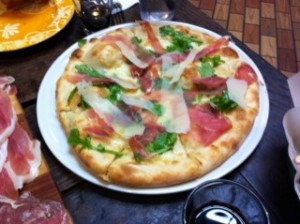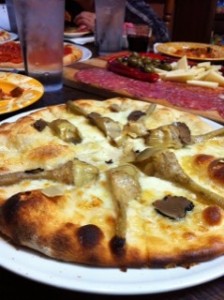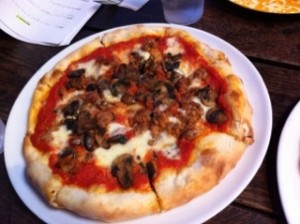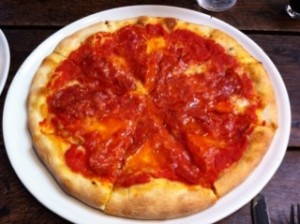 The first pizza is papa's and Anya's favorite.  It has prosciutto and arugula and parmesan cheese. The second is mommy's favorite.  It is an artichoke and truffle pizza. He especially makes that one for us. You have to specially ask for it because it is off the menu.The third is a sausage and mushroom pizza. This is Karsen's favorite and the fourth is a spicy salami pizza. All of us LOVE the spicy salami pizza. Once you have that pizza, you'll never go back to normal pepperoni pizza.  Giovanni makes his own dough and it is delicious!
Andreoli's also offers an antipasto platter. It has cheese, and an assortment of different salamis. here is a picture of it: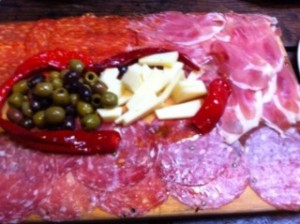 There are also olives and peppers.  The peppers are quite spicy.
Of course, mommy and papa have wine. You might find it surprising that a small and welcoming place like this, would have such an excellent selection of wine. This is what they had: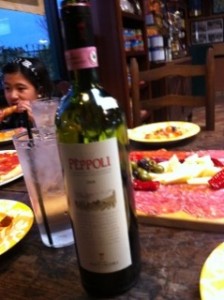 Below is a picture of some of our favorite people at Andreoli's.  The lady on the right is Giovanni's daughter. Her name is Francesca. She is the best at coming out with the latest hair style. The man on the left, is Rosario.  Rosario is our favorite server, and has known the Andreoli family for years. He speaks spanish and is really kind to everyone – especially kids. He is a favorite of the customers.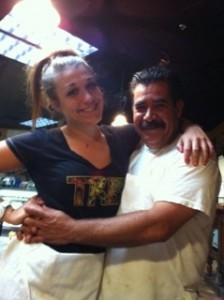 (Scale from 1-5)
Boy:5
🙂 🙂 🙂 🙂 🙂
Girl:5
🙂 🙂 🙂 🙂 🙂
Adult: Best thing ever!!!
So come join us at Andreoli's!!!  Giovanni is a GENIUS!