Train to Toronto
On Thursday, October 13, we took an early train from London Ontario to Toronto.  Here is a picture of Anya and Dubba dubba on the train: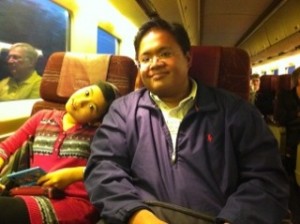 World's Biggest Bookstore
After we arrived in Toronto, we visited the World's Biggest Bookstore (that's the name of the store).  Here is a picture of us in front of the bookstore (we are on the very left, and dubba dubba is on the right).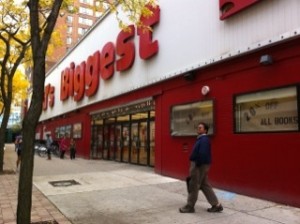 Mommy was trying to get a picture of the entire sign but it was too wide.  We are collecting a series of Lucky Luke comic books and were hoping to pick up a few of our missing comic books (volumes 6, 11, 12, and anything after 28).  Unfortunately, there was only one volume and we already had it!!
Spadina Garden
To cheer ourselves up, we lunched at Spadina Gardens, a Chinese restaurant.  We ordered the chive pancakes, house special fried rice, hot garlic shrimp and vegetables, and their famous spicy chicken with peanuts.  The dishes also came with hot and sour soup.  Here is what they looked like:
Top Left:Hot and Sour Soup, Top Right: Fried Rice, Middle: Spicy Chicken, Bottom Left: Shrimp and Vegetables, Bottom Right:  Chive Pancakes.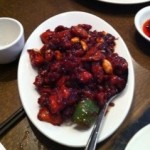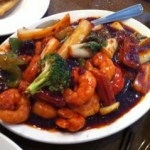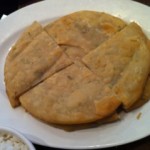 We arrived in the nick of time because it soon became very crowded.  In fact, it was so noisy that we had to yell at each other to be heard.
The Hot and Sour Soup was very warm, so we had to try to avoid burning our tongues!! Overall it was pretty good, though. It was spicy (see the red color). The Fried rice was tasty. This was Anya's favorite dish. The Spicy Chicken was  pretty good, but if we went there again, we would probably not order it. Perhaps we were expecting a little too much because we were told that it was their most popular dish (and it seemed that nearly every table ordered it!). The sauce in the Shrimp and Vegetables was so sweet and salty so do not be surprised if it is not to your liking.  We would definitely not order this dish again.  The chive pancakes, however, were delicious.  They came with a honey sauce.
Smiley Face rating, on our scale from 1 to 5 (with 5 being best): 🙂 🙂 🙂
Overall, we felt that Spadina Garden lost a few smiley faces because the food was mediocre and the atmosphere was very loud.  On the positive side, the food came very fast and the service was efficient.  If you are in a rush and in the mood for Chinese food, this might just hit the spot.
Toronto Symphony and Glenn Gould's Piano
We arrived at Roy Thompson Hall for the symphony a little early so that we could see Glenn Gould's piano.  Glenn Gould is Mommy's favorite pianist. He was from Toronto.  When we arrived, the piano was missing!  We asked one of the volunteers about it. The volunteer's name was Mr. Douglas. Mr. Douglas told us that it had been moved because of a special event the night before.  He was very gracious and took us "behind the scenes" to see the piano.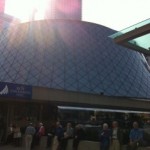 This is a picture of the front of the Roy Thompson Symphony Hall.  We had tickets to a 2pm matinee with pieces by Bach (Passacalgia and Fugue in C minor, BWV 582), Mozart (Piano Concerto No.25 in C Major, and Beethoven (Symphony No.3 in E-flat Major, Op.55 "Eroica").  There was a solo pianist named Louis Lortie who played the Mozart piece.  The concert was AMAZING!!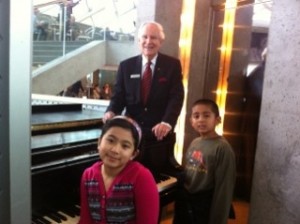 Above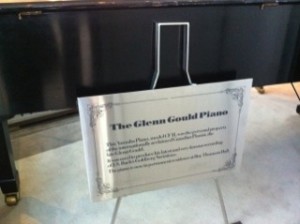 is a picture of us with Mr. Douglas and Glenn Gould's piano.   On the right is the sign that tells you that it is Gould's piano.  We would like to say special Thank You to Mr. Douglas for giving us a "personal tour" of the piano.
Dinner at Utsav 
After the symphony, we met our father (who arrived in Toronto that afternoon). After much discussion about dinner and advice from two concierges, we finally decided to take him to a small and wonderfully delicious Indian restaurant called Utsav. We learned that in hindi, "Utsav" means festival or occasion.  We definitely had occasion to celebrate!  We were on fall break!!!
Here is a picture of Anya and Papa at the restaurant.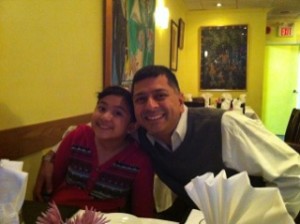 The owner's name is Mr. Suresh. He will often stop and chat at your table. He is kind to all customers. Here is a picture of Mr. Suresh: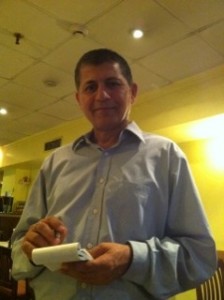 When we arrived, we were quickly seated. Mr.Suresh then gave us our menus. They looked like this:
We first ordered Onion Bhajia. Onion Bhajia are like Indian onion rings.  They were crispy, not greasy, and absolutely delicious.  They came with a mint chutney, a tamarind chutney, and a mango chutney: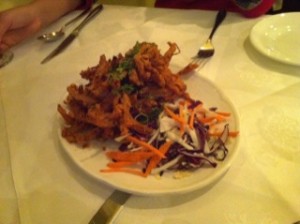 Top Left: Onion Bhajia
Bottom Right: Chutneys
Anya liked the tamarind (imli) chutney.  Mommy liked the mint chutney best.  And Karsen (who is very wishy washy) decided that he didn't want the mango chutney to feel left out so he liked that one best.
Then we had Lacha Paratha (top), Chicken Tikka Masala (left), Saag Paneer (middle), and yellow daal (right):
Lacha Paratha is an Indian bread that flakes when you eat it.  It was delicious and we had to fight for the last piece.  Mommy finally cut the last piece in half.
There is also a picture of us enjoying the food:
The Chicken Tikka Masala is a house specialty and recommended to us by Mr. Suresh.  It was perfectly spicy, and creamy.  Saag Paneer is a spinach and paneer (Indian cheese curds) dish, and Daal is a lentil dish that is very popular in North India (where Papa is from).
Anya's favorite was the Chicken Tikka Masala. You could see that the chicken had been cooked properly in a clay oven called a Tandoor. It is often used by people on the Indian Subcontinent. Karsen said that ALL of the dishes were his favorites.
One of the best things about Indian food is that you can eat it with your hands!!!  Here is a picture of Karsen eating with his hands: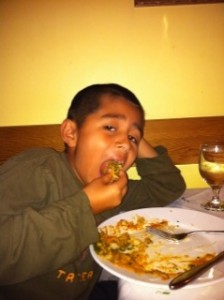 For dessert, Mr. Suresh presented us with Kheer. Kheer is a rice pudding with cardamom.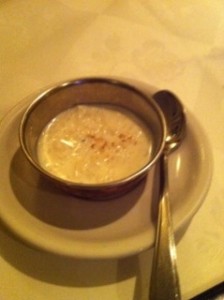 The kheer was cooked perfectly.  Not too sweet and just milky enough.
If you are lucky, you will might spot a glimpse of the Chef. He is from New Delhi. Here is a snap of the Chef, Mr. Suresh, and Karsen: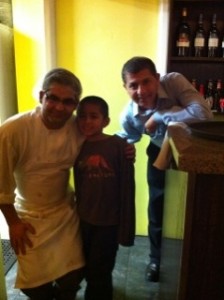 (On the Very Left is the Chef, Middle is Karsen, Right is Mr. Suresh).
Smiley face rating ( 1 to 5 with 5 being AMAZING ): 
Anya: 🙂 🙂 🙂 🙂 🙂
Karsen: 🙂 🙂 🙂 🙂 🙂
Overall: 🙂 🙂 🙂 🙂 🙂
This was a great way to end our first day in Toronto!  Thank you, Mr. Suresh!!  If we are ever back in Toronto, we will surely pay you and your restaurant a visit.