Welcome to Buenos Aires, where the hot, humid air sticks to your skin and the streets are bustling with people.
I'm currently on my way to Antarctica, land of ice and penguins, traveling from the southernmost city in the world, Ushuaia. At the start of my Antarctic journey, though, I was in Buenos Aires for Christmas Eve dinner.
You could hear the noise from the houses– children were waiting till midnight to open presents, and fireworks cracked in the distance. So the streets were empty that day, but the restaurants were completely booked with families looking for a relaxing Christmas eve dinner.
We ate at Roux Restaurant, located at Peña 2300, C1126ABF CABA. Roux had a special Christmas Eve menu: one, paired with wine, and the other, with fewer courses and without wine. Since I'm not drinking age, I of course opted for the Christmas menu without a wine pairing. It's a good thing too– the food was so much I don't think I would have been able to finish a few extra courses! It was a four hour meal, but the food was downright delicious, and the company (as usual) fabulous.
Below (Top, wine-paired menu; bottom, regular menu)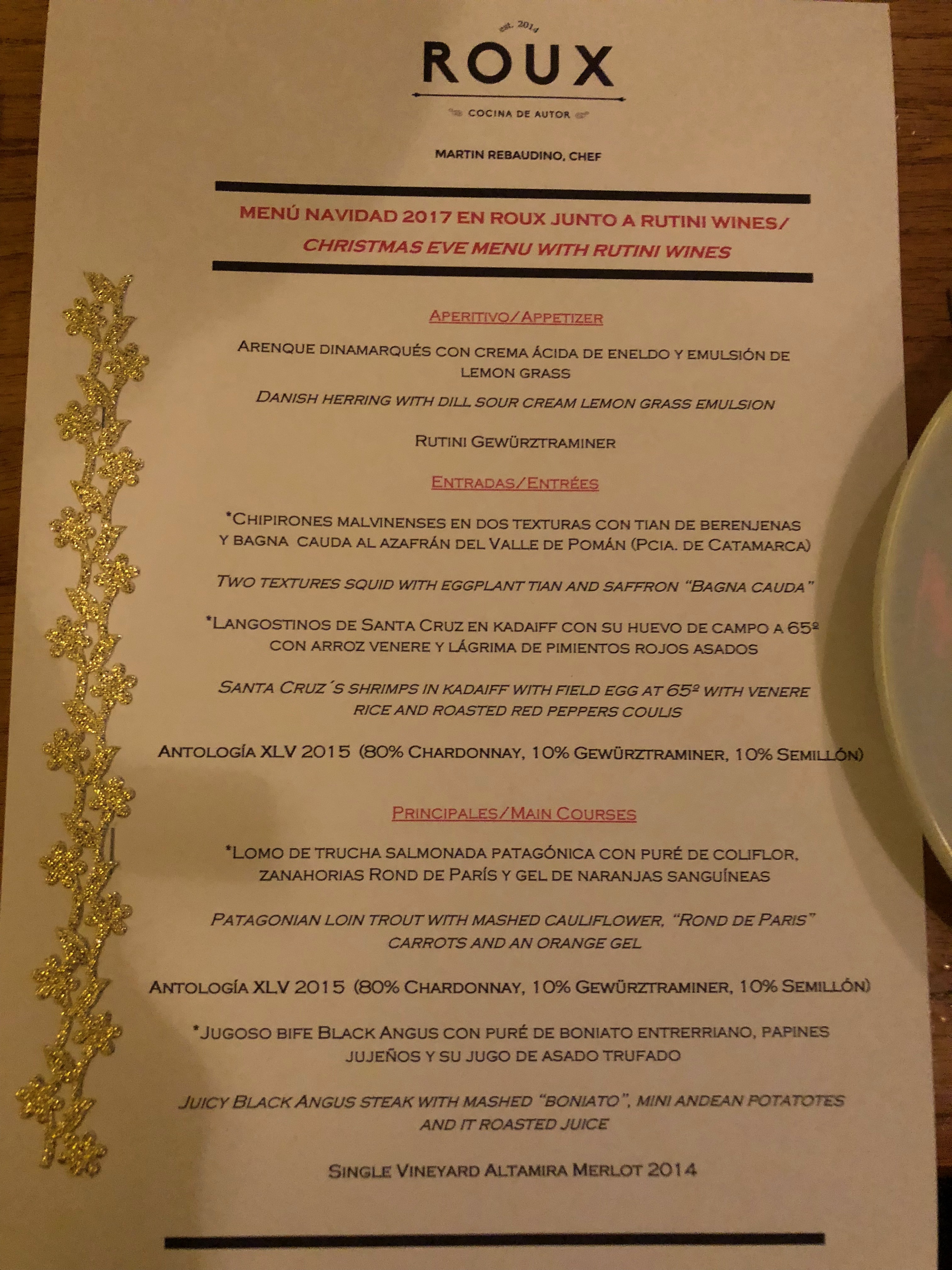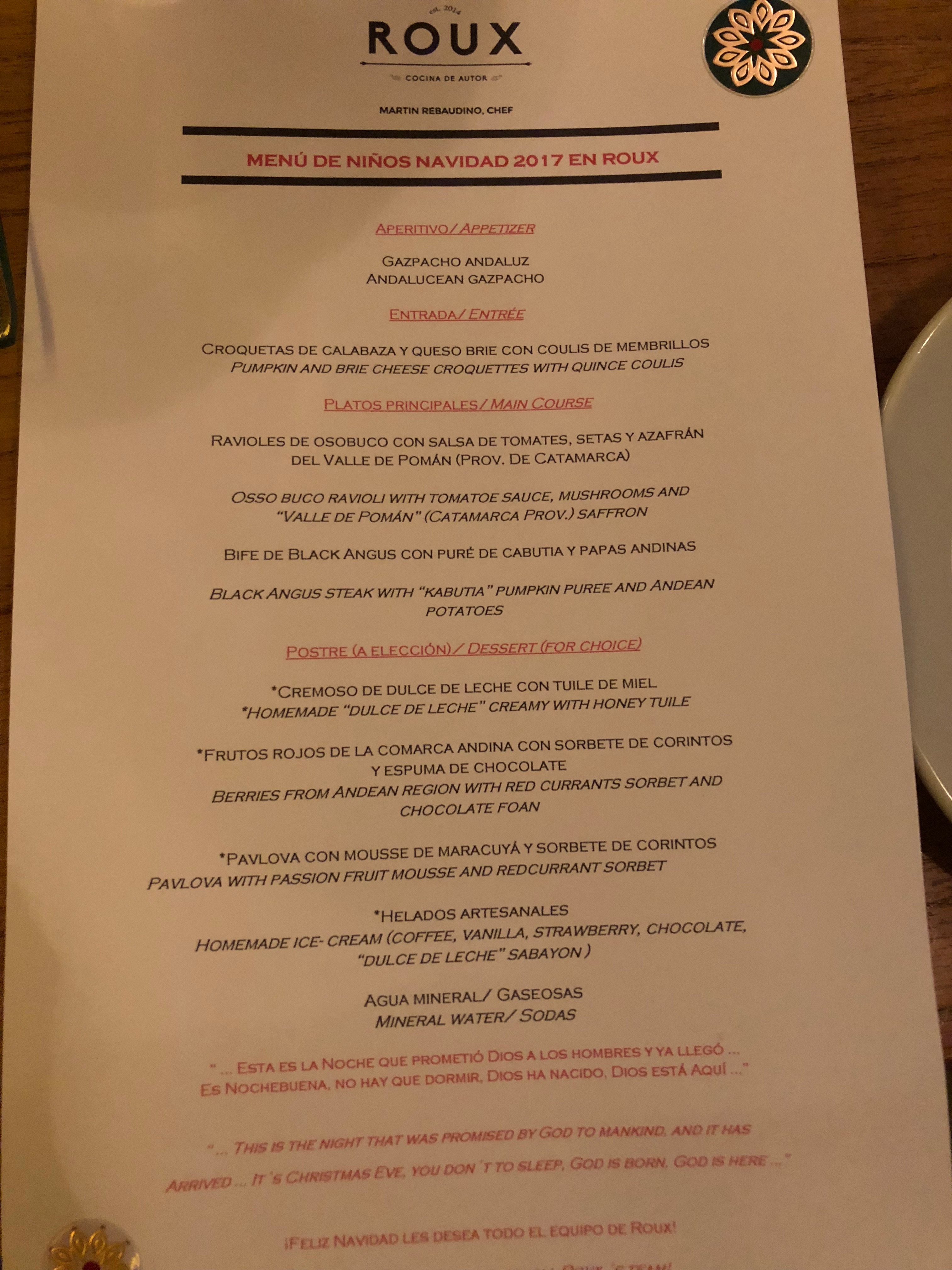 Dinner began with gazpacho andaluz and red herring. The gazpacho was especially delicious; the herring reminded me a little of foie gras (though not as creamy). The appetizers were a great way to start our dinner off, setting our taste buds for the rest of the evening.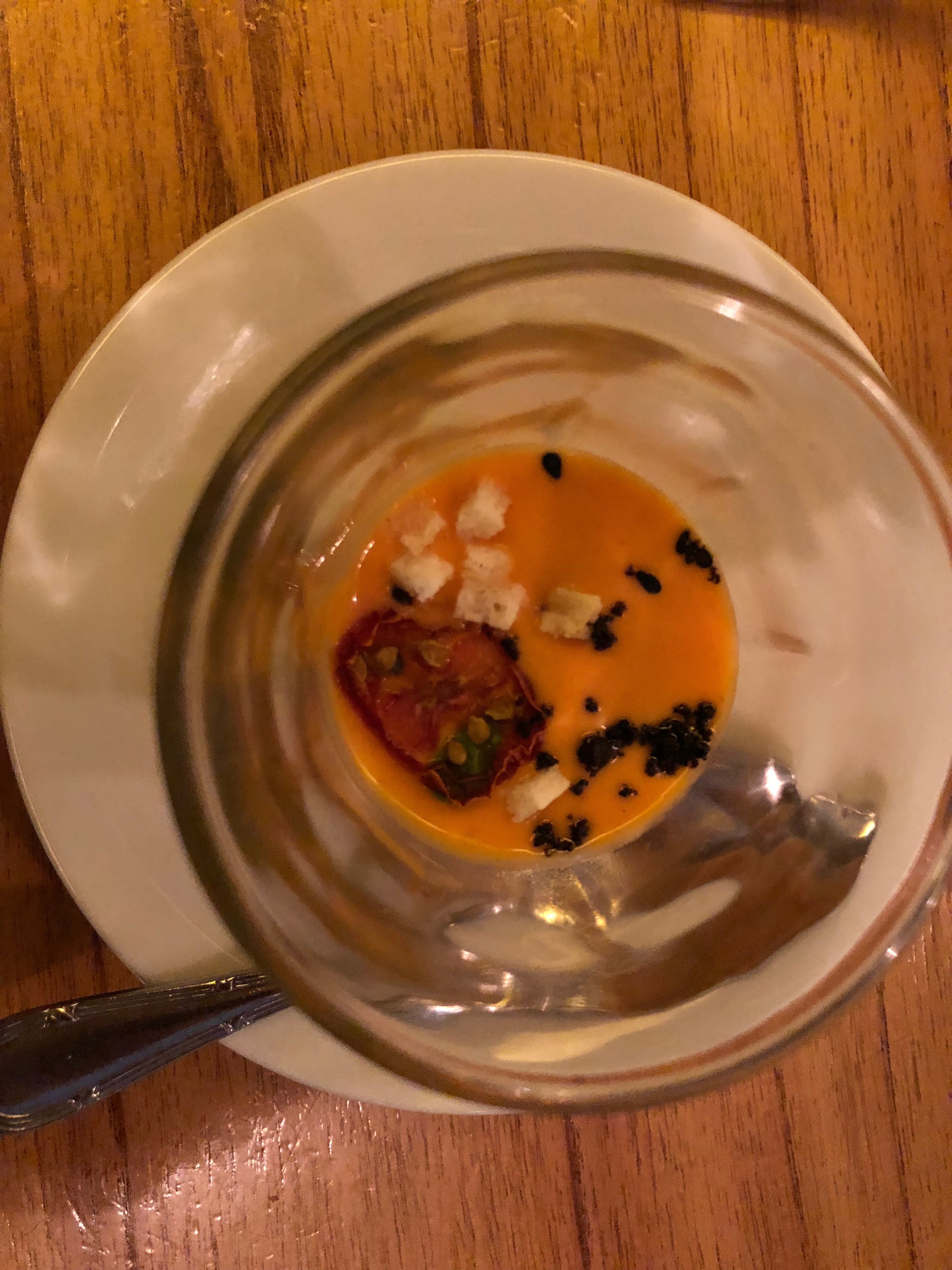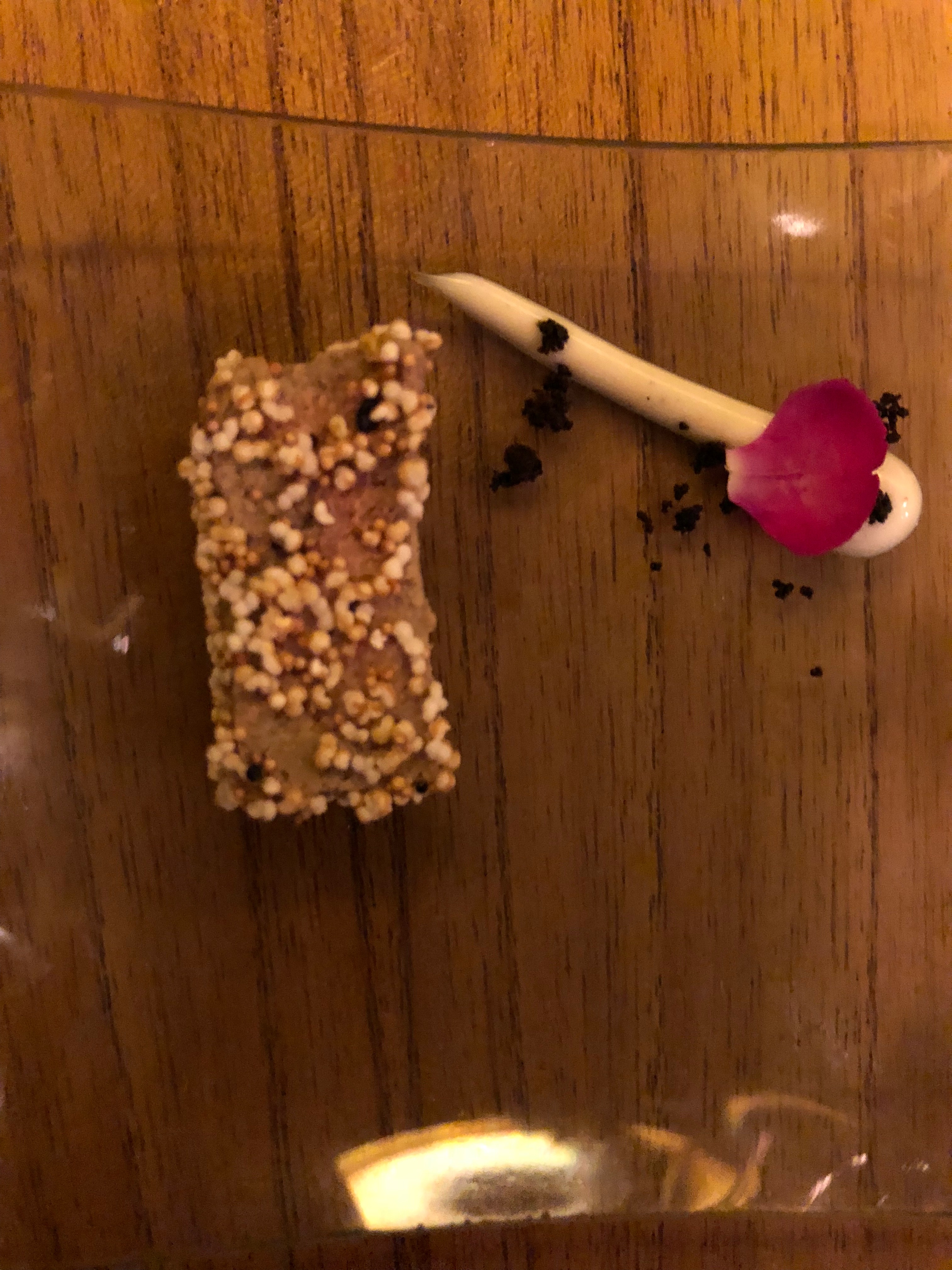 The first dish was a plate of delicious croquettes, crunchy on the outside, warm on the inside. Croquettes are pretty popular in Argentina; in fact, I've seen them at several restaurants already!

For our next course, we were served osso buco ravioli with tomato sauce, mushroom, and saffron. While the osso buco, a veal specialty, was an interesting addition to the ravioli, the tomato and mushroom combination seemed a bit ordinary for a first class meal. That said, the osso buco is what made the dish unique, and its not often that I get to say I had osso buco ravioli for dinner.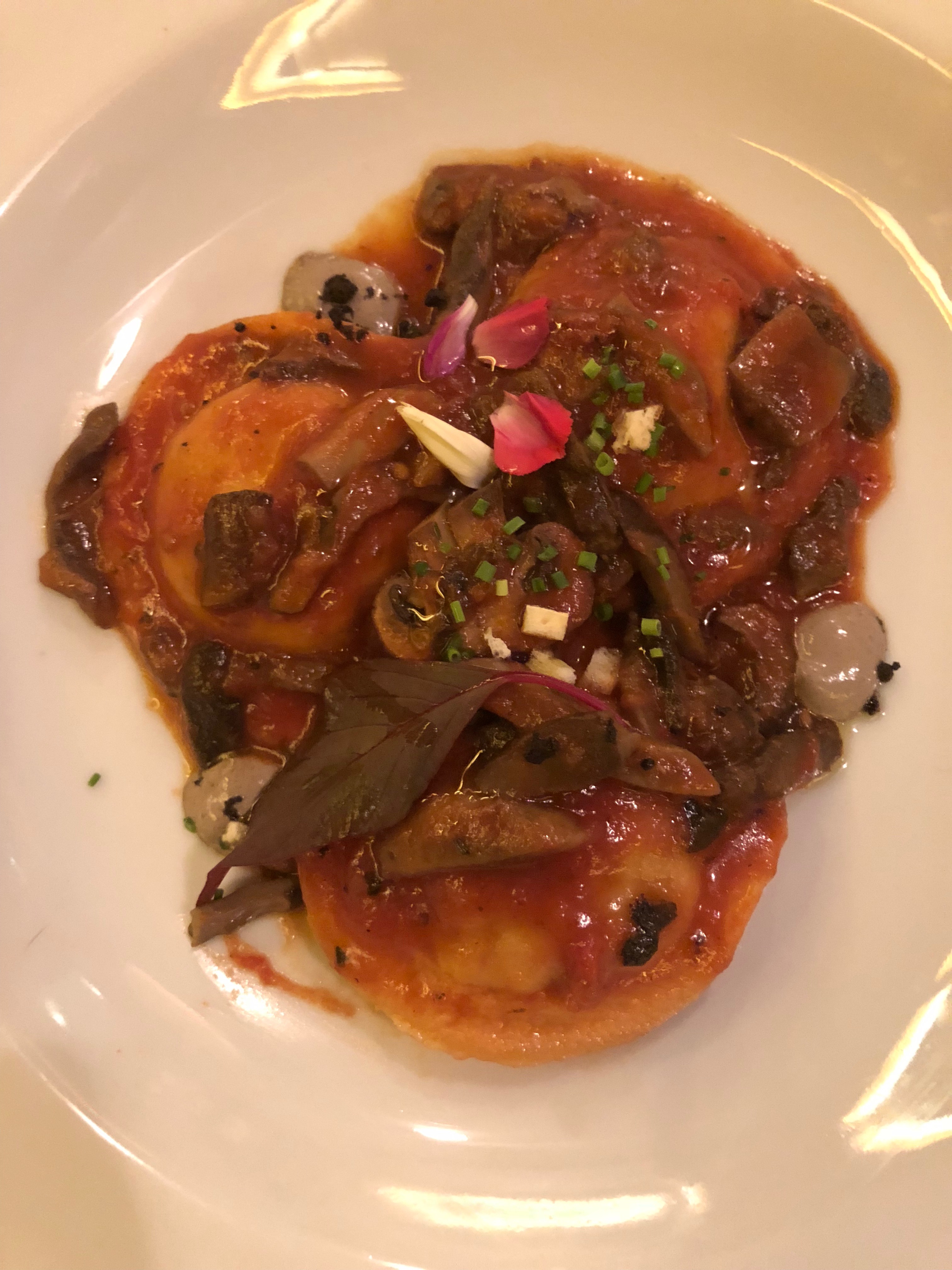 Black Angus Steak is one of Argentina's specialties. Served with a delicious pumpkin puree, the steak was hands-down the best savory part of the meal. The puree was soft and creamy, and the steak was cooked medium rare, just the way I like it.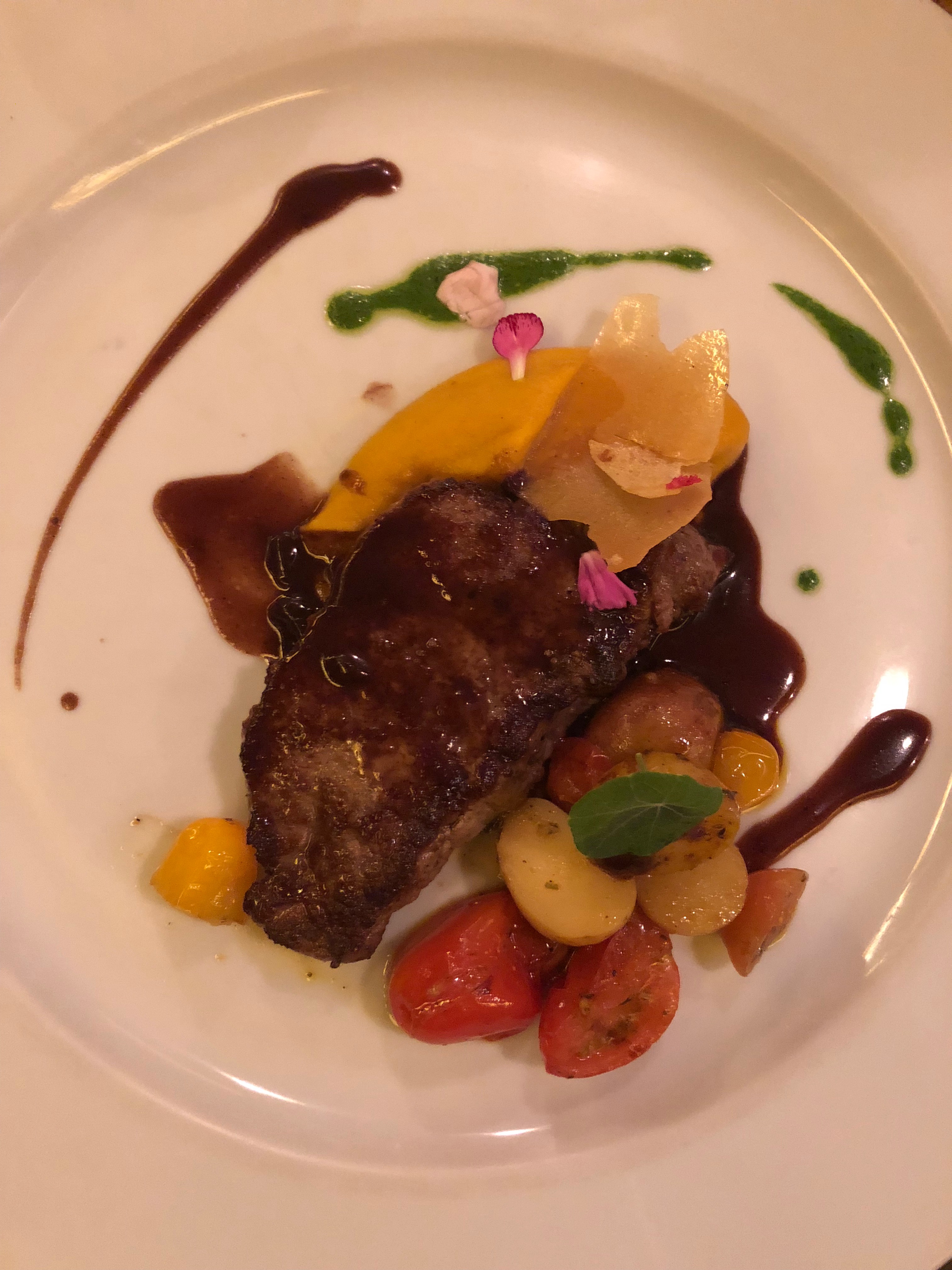 The presentation was also outstanding. It's always a bonus when dishes both taste and look beautiful.
After several courses and an enlarged tummy, I was left with only room for dessert (they say that those with dessert stomachs live longer! 😉 Just kidding. They don't say that. But I wish!). Dessert was a homemade dulce de leche– dare I say, the best dulce de leche I had in Argentina. And I had quite a few, since they were served at almost every restaurant. The dulce de leche was perfectly sweet, and with a side of coconut ice cream, deliciously refreshing.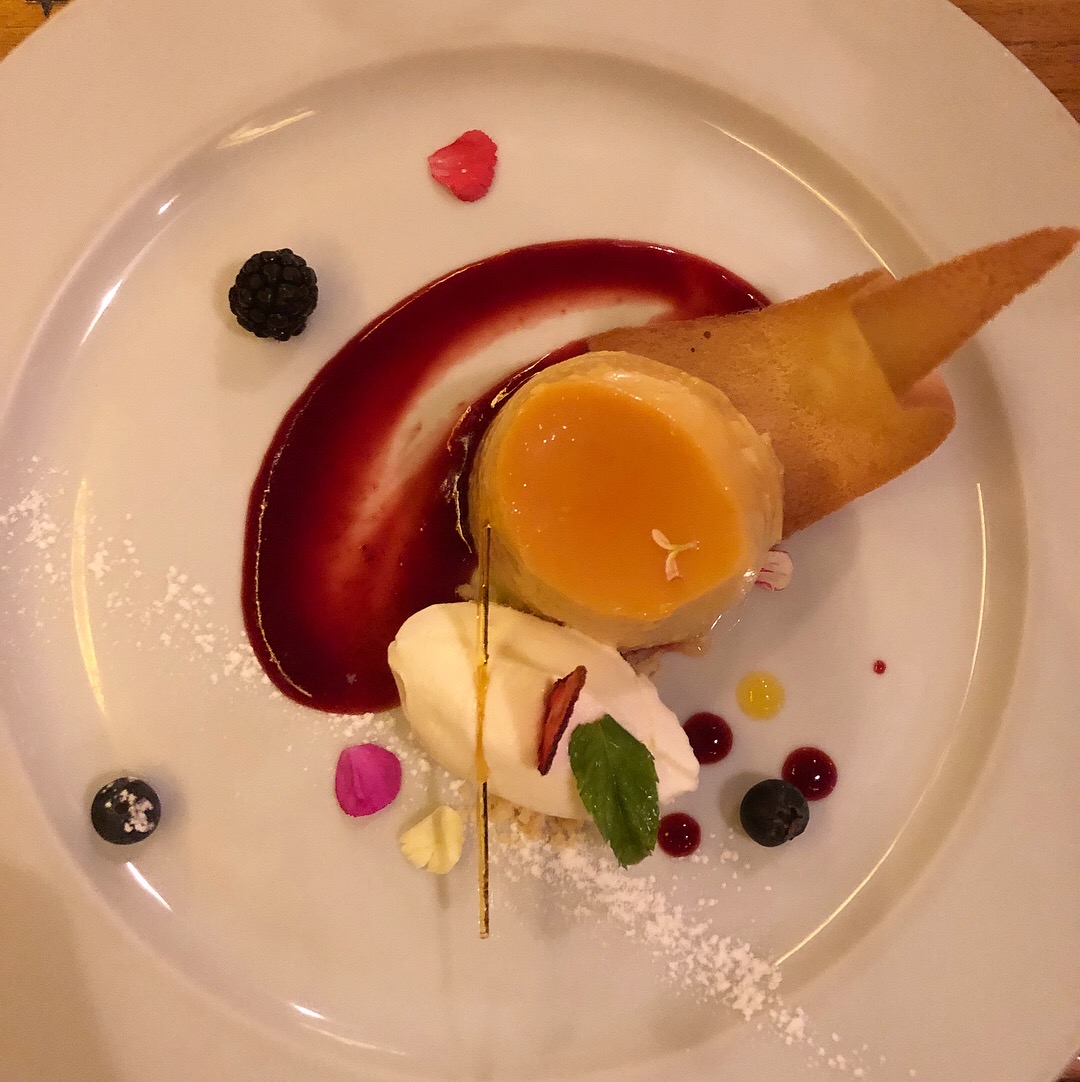 Dessert topped even the steak. As a steak lover, that means a lot.
While dinner was very expensive, it was definitely worth dressing up for. An amazing Christmas Eve dinner.
🙂 🙂 🙂 🙂 1/2
Merry Christmas and Happy Holidays,
sophisti-kids
P.S. Over 2000 followers on my instagram food account, @inspector_food! Thank you to everyone who's supported me, featured me, and took a picture with a foodie trying to make her way in the world.
Here's a picture with the Chef at Roux to close off the Christmas Holiday. Cheers!