Two prominent pizza restaurants. A city with a deep love for food and sports. Enter: Pequod's and Lou Malnati's, two of the most famous deep dish pizza restaurants in Chicago. Like one of our servers told us, the difference lies in the crust.
Pequod's, located at 2207 N Clybourn Ave, Chicago, IL 60614, is known for it's carmelized crust. The only unfortunate thing about deep-dish pizza, as I learned as my stomach craved food and my mouth slobbered at the sight of pepperoni entering strangers' mouths, is the 40 minute long wait. To satisfy my ravenous appetite, we ordered appetizers to start. A variety of fried dishes. Mozzarella sticks, fried zucchini, mushrooms, and peppers, as featured in the appetizer combo.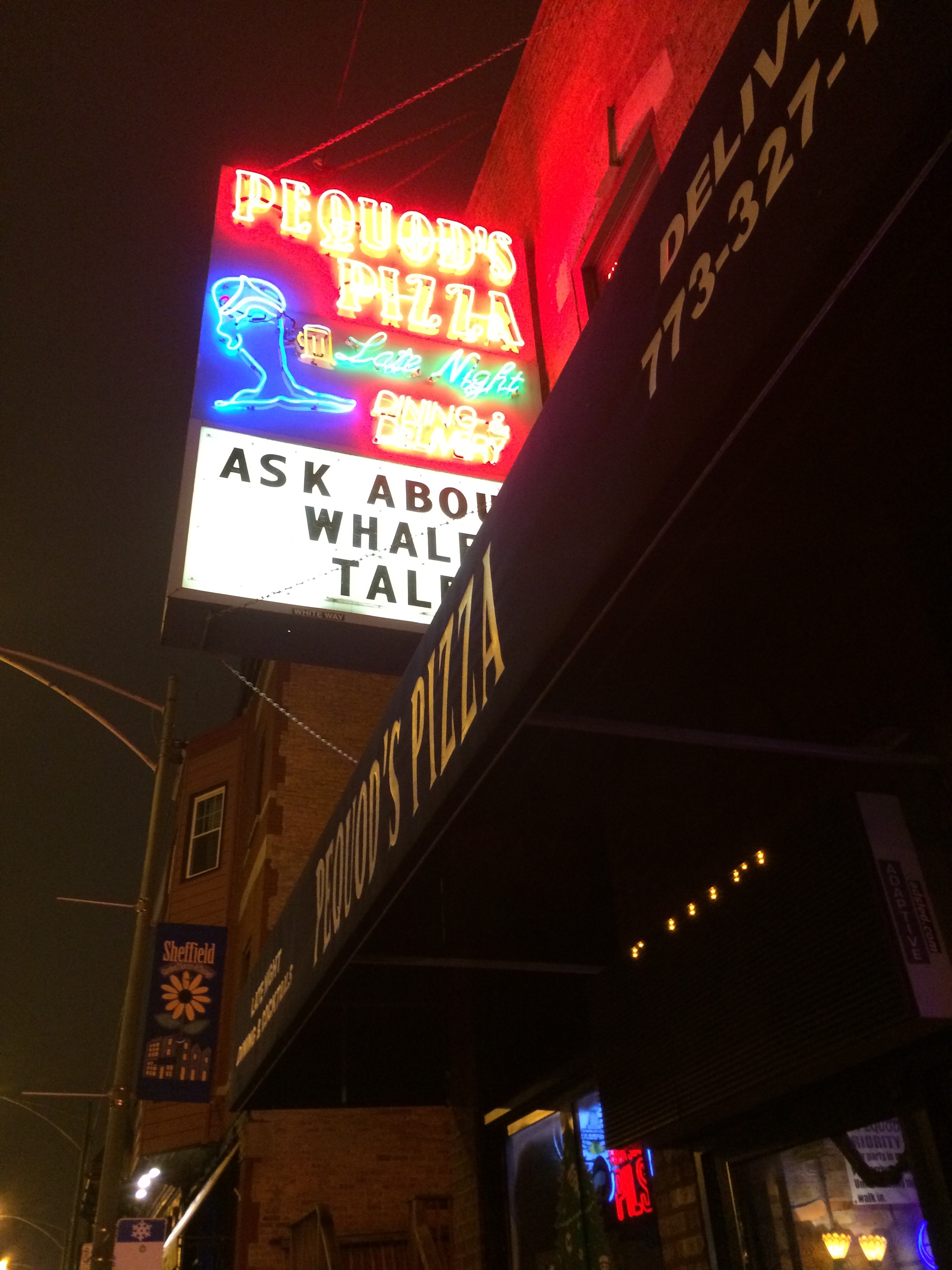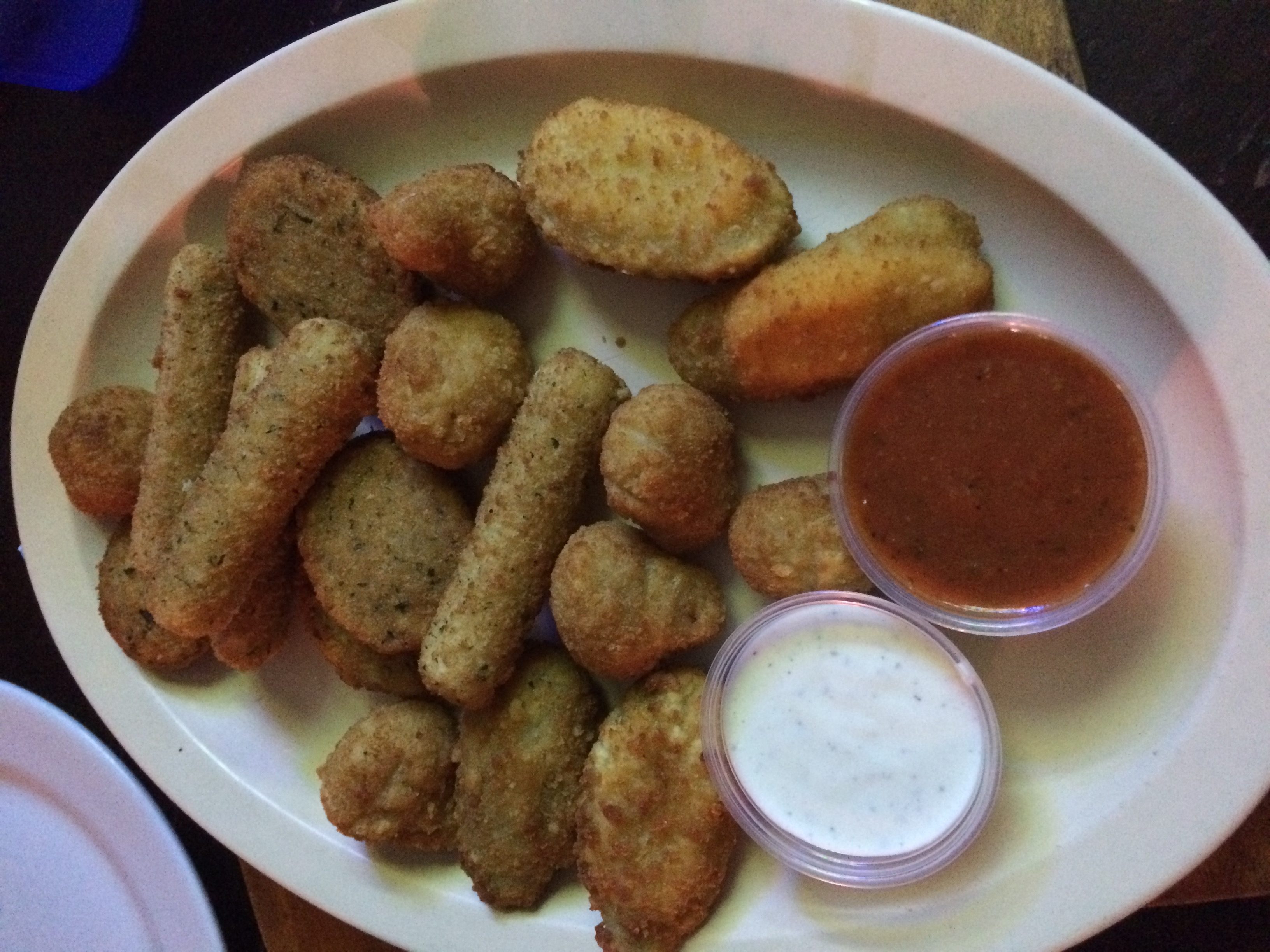 After what seemed like "fifty billion million years", in Karsen's words, our 2 medium pizzas finally arrived. Don't let the word "medium" fool you, though. Deep-dish pizza is REALLY heavy. After our meal, I felt like a whale stuffed in a porcupine stuffed in another whale. And that's not an exaggeration. We ordered pepperoni, sausage, and spinach on the first pizza and meatball, basil, and onion on the second pizza. Meatball was an interesting choice for a pizza, but the overall favorite was the pepperoni sausage.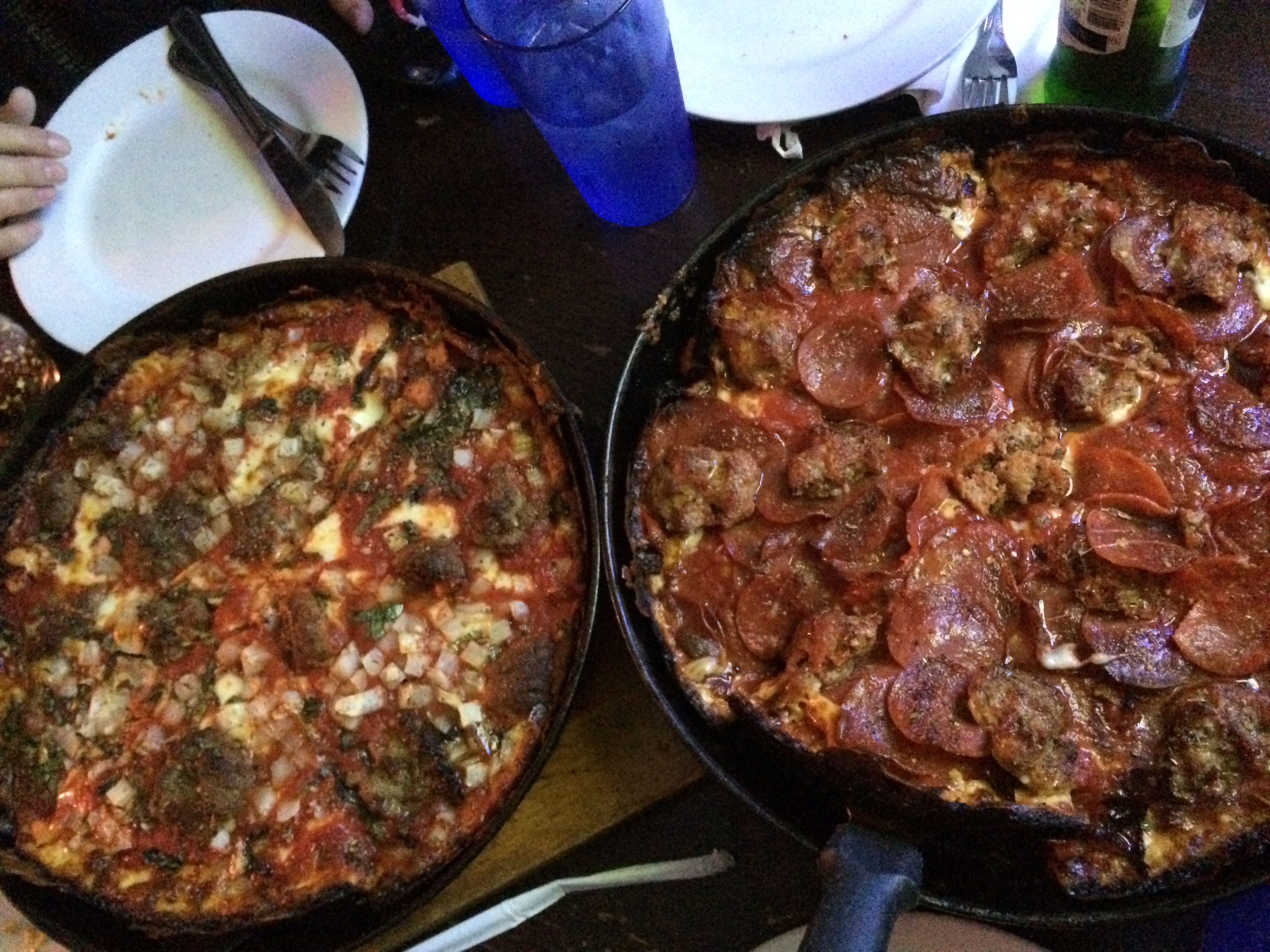 Stuffed pizza, stuffed me.
🙂 🙂 🙂 🙂 1/2
Lou Malnati's lacked the carmelized pizza crust that was such a big hit at Pequod's. We ordered fried cheddar balls to start (40 minute wait and all), and they came out in a jiffy.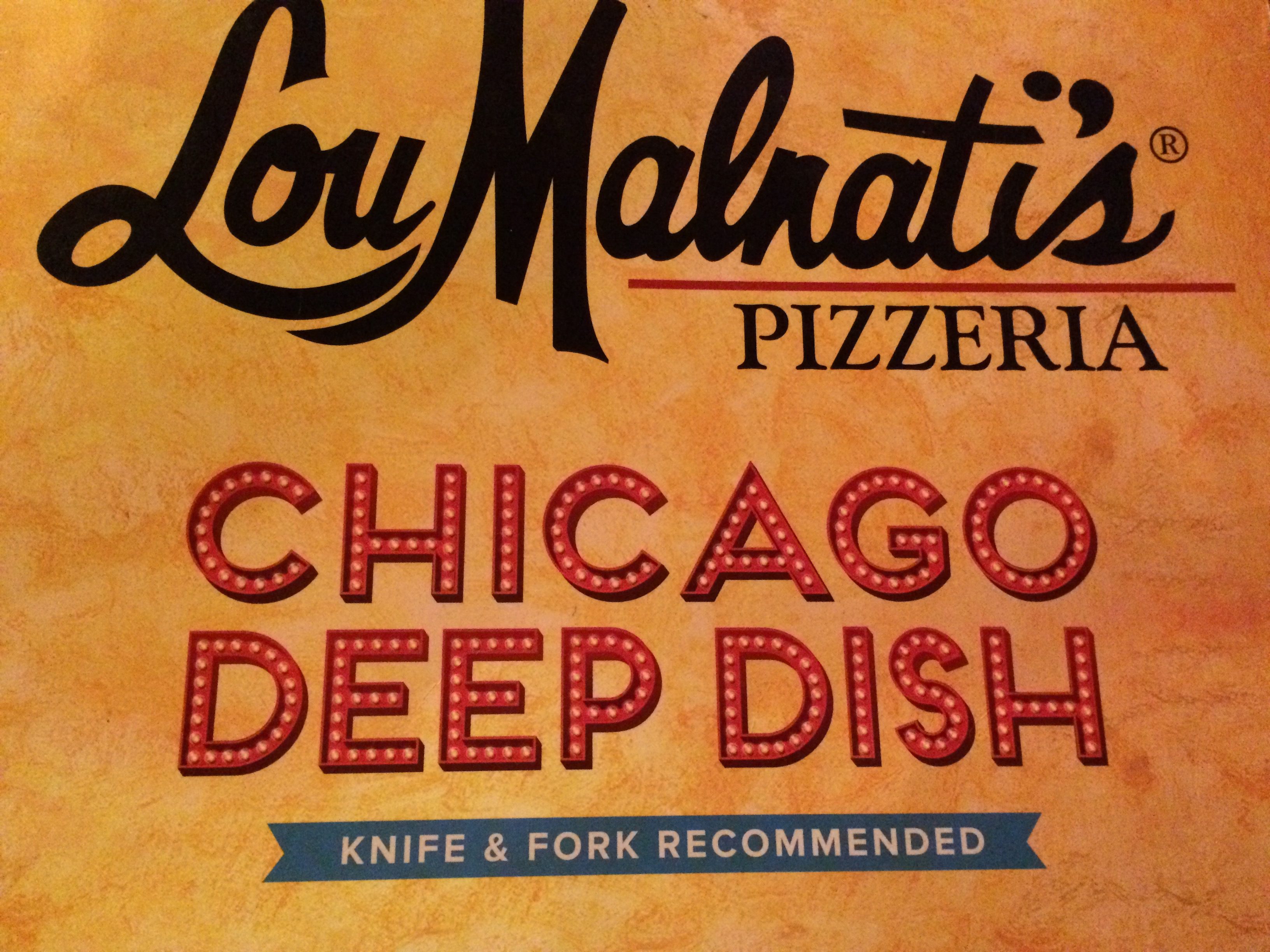 Yeah, knife and fork recommended. One scoffs at first, until the scalding hot pizza burns off those fingers. We neglected to take a picture of the cheddar balls, but they weren't that good anyway. Mmm, sub par cheese, too. Not that I'm pretentious or anything. 😉
Less hungry, we ordered a medium sized Malnati Chicago classic deep dish pizza. We learned from the first encounter with TWO medium pizzas at Pequod's.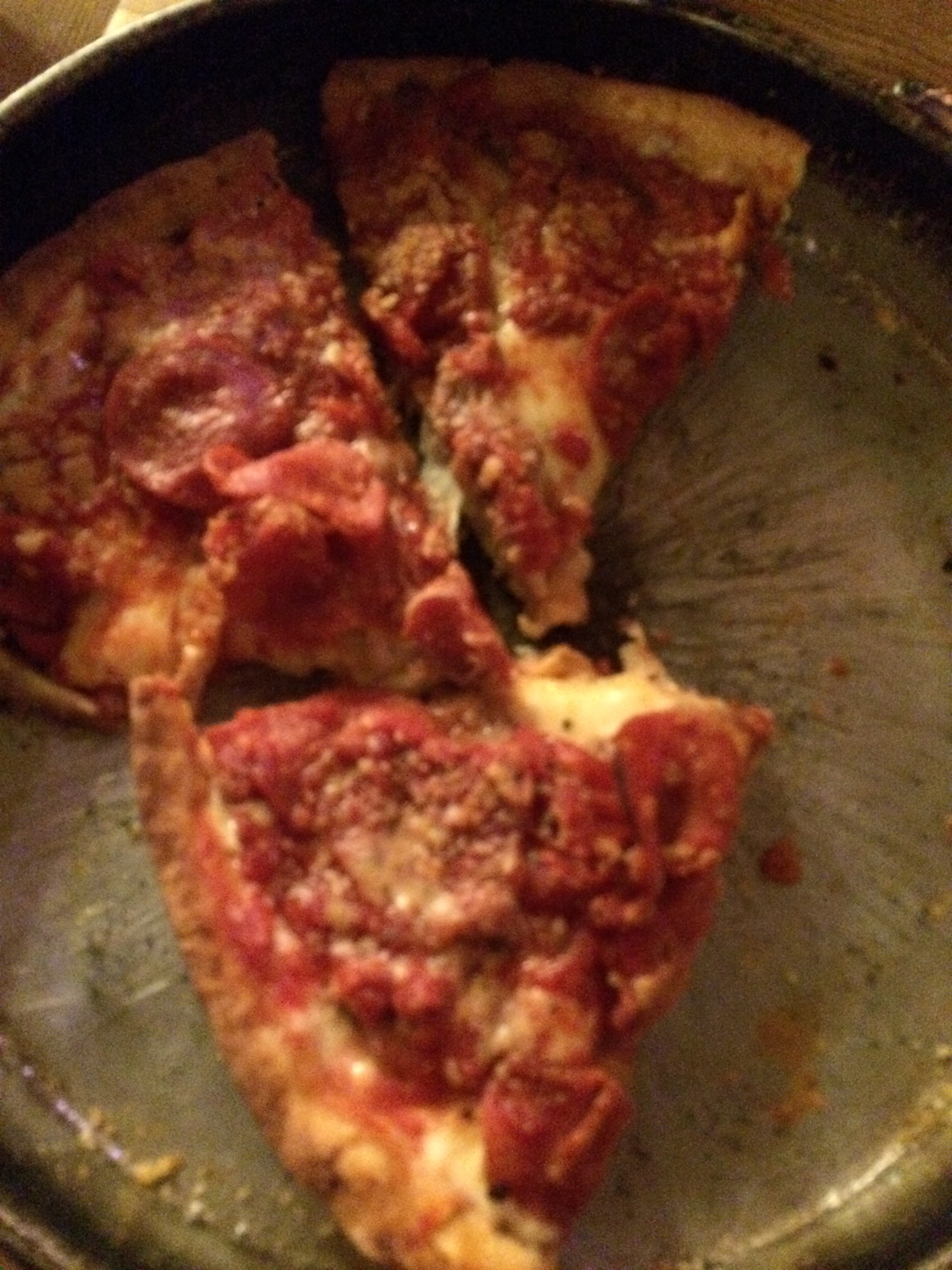 Half-eaten? We tried, but we were still stuffed afterwards. Pequod's and it's carmelized crust and richer toppings made for better deep-dish, but I can see how Lou Malnati's made for some interesting competition.
🙂 🙂 🙂 1/2
Here's an interesting tidbit we learned while at Lou Malnalti's: if you're in Arizona and have a hankering for deep dish pizza, the first Lou Malnalti's outside of the the Chicago area is open in PHOENIX!