Here's a shoutout to our amazing uncle, Anchit Chacha (chacha means Uncle on the father's side in Hindi). He graduated and now he's a doctor! Congratulations!
We celebrated by going to several dinners with him and his family, consisting of him, his brother, Varun Chacha (another fun uncle), his mother Kirti Dadi, and his father Vikram Dada.
Binkley's
The first dinner was at Binkley's, the closest thing Scottsdale has to a Michelin Star Restaurant. Binkley's also has less expensive restaurant chains called Bink's MIdtown in Phoenix and Cafe Bink.
We were all dressed up for the fancy dinner (note Karsen's collared shirt).
We were given a special menu: one that had written on the top, "Congratulations on your graduation!" We all ordered 4-course dinners, except for Kirti Dadi, who ordered five, because she wanted both the cheese plate and dessert. Because we had so many people, dishes and amuse bouches, we just offer you some highlights. Our four main courses were cold appetizers, hot appetizers, fish/meat, and cheese/dessert. We started out with glasses of wine, and water.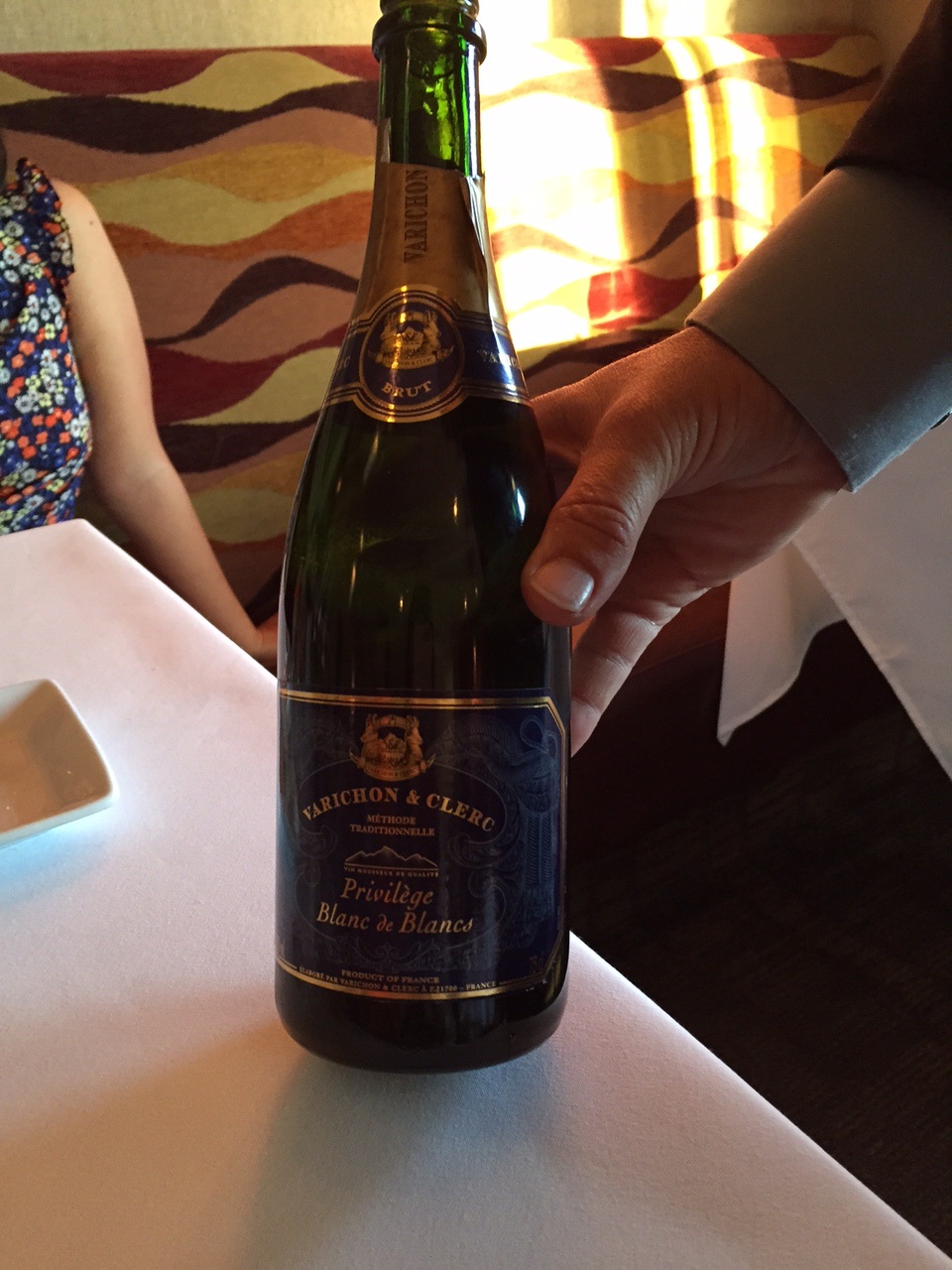 The amuse bouche- a  delicious fancy sort of bread with butter, pork rillete and other sauces. Here is a picture: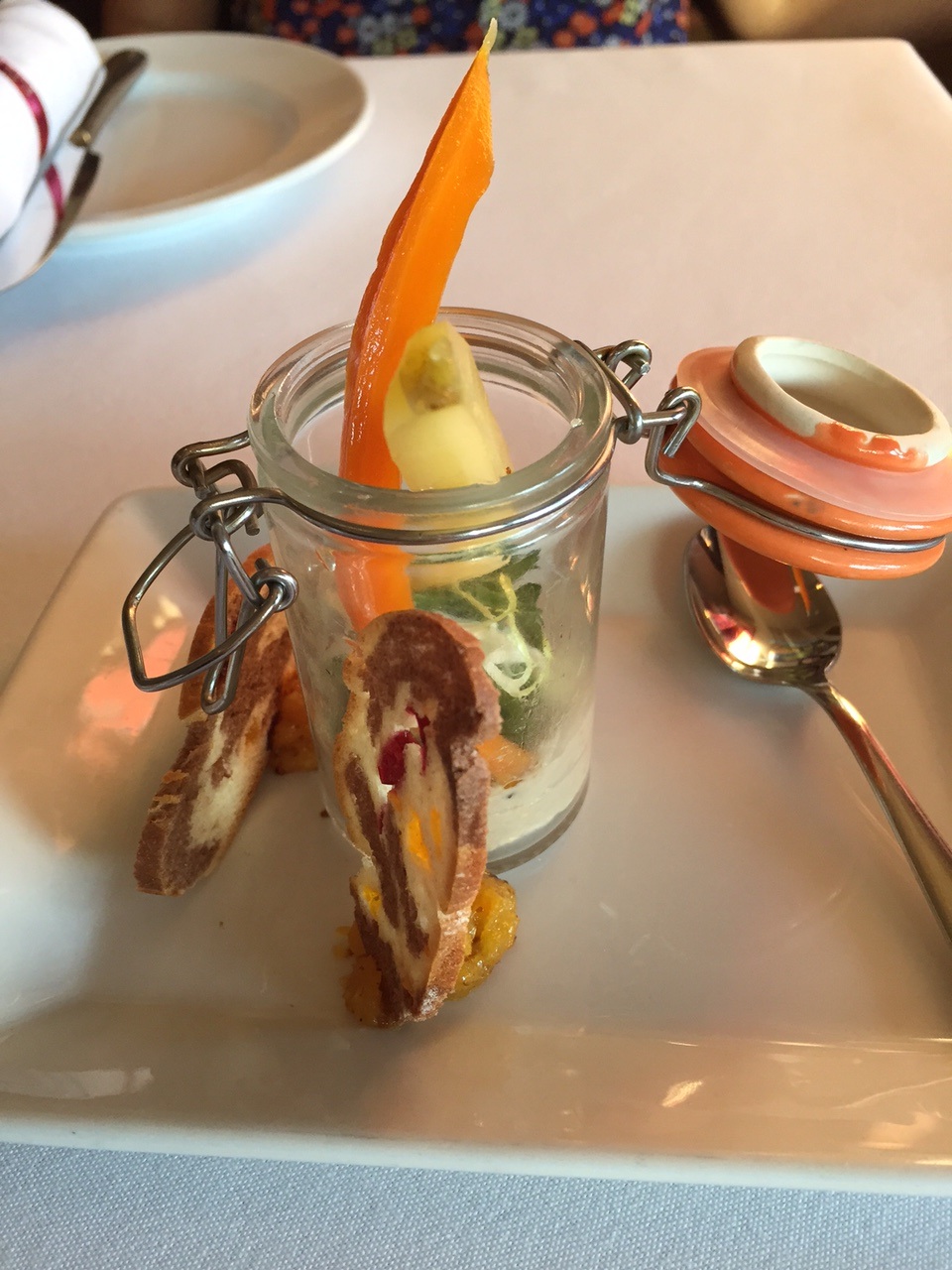 The best and most ordered cold appetizer was the slow cooked marinated lamb. Though the lamb was a tad chewy for my taste, the condiments made up for it. Zucchini bread custard, basil and blueberry jam, just amazing.
Anchit Chacha and Anya ordered the Crispy Seared Foie Gras, which, in my opinion, was the best hot appetizer, and one of the best throughout the dinner. This melt-in-your-mouth delicacy was perfectly soft, and the pomegranate added a burst in your mouth much like ikura in sushi.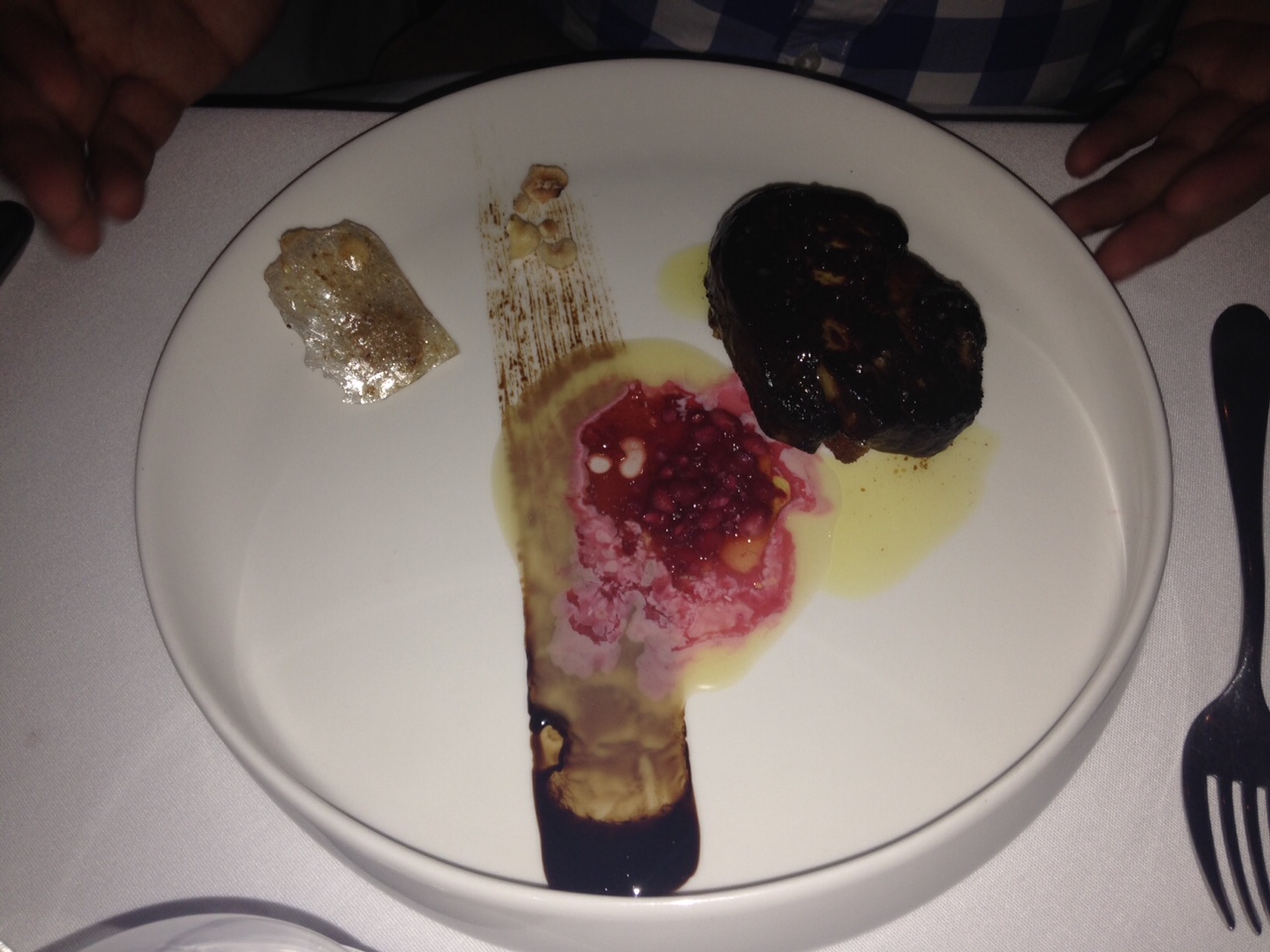 Hoping to spice things up, I ordered sweetbreads. Sweetbreads are typically made with either thymus gland or pancreas. According to Anchit Chacha, now officially a doctor, the thymus releases White Blood Cells, but only at a young age. It acts as an immune system startup, but as you get older and your immune system is more advanced, it turns mostly into fat. Binkley's only serves thymus gland, not the pancreas. The flavor of the sweetbread took on the flavor of the sauces. The curry-port vinaigrette mixed with an assortment of fruits made the sweetbread delicious.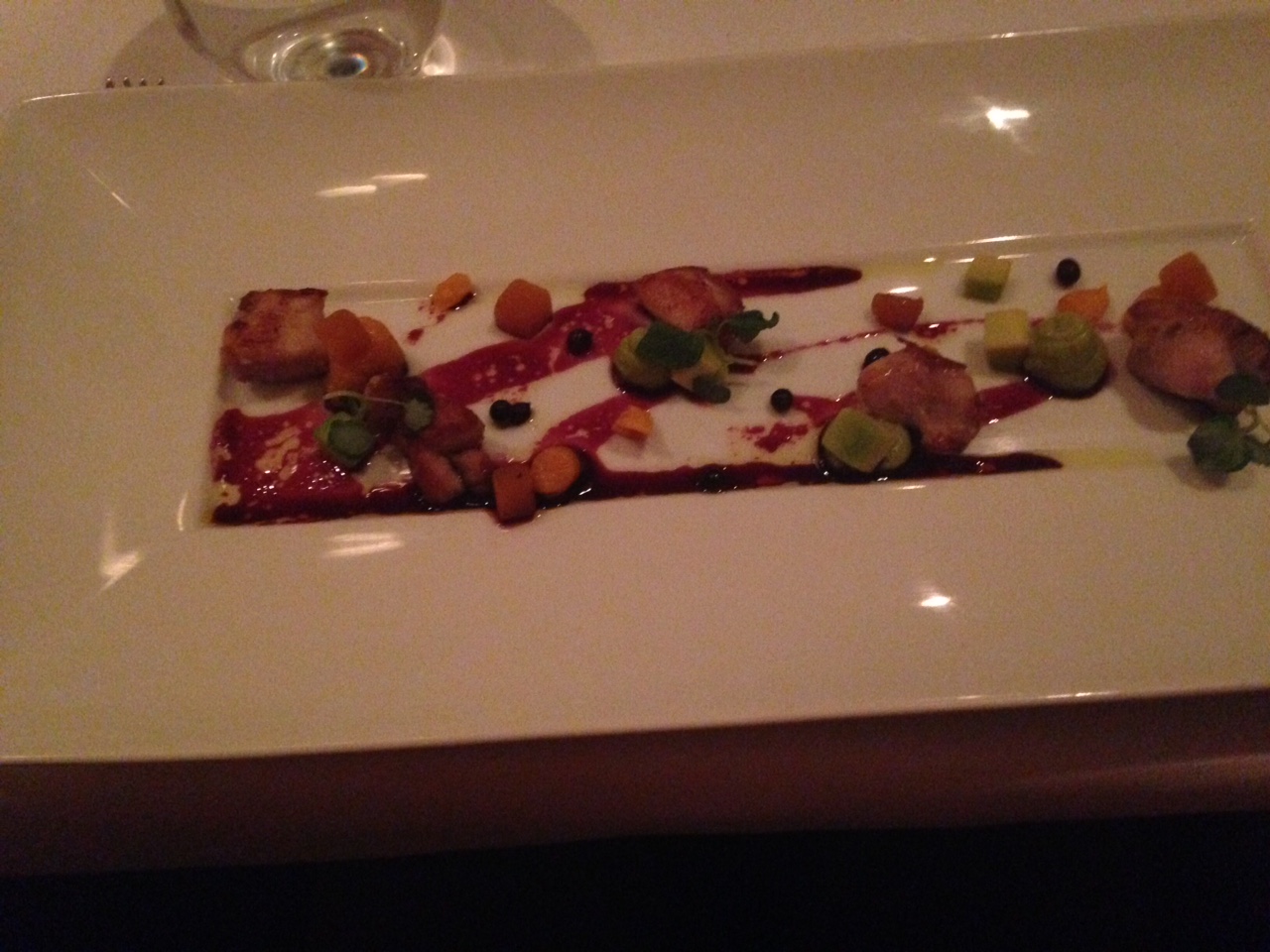 Next was Fish/Meat. Anchit ChaCha and I ordered the Cider Braised Pork. I have to say, that was one of the best pork dishes I have EVER had. It was melt-in-your-mouth, like the foie gras, and had fruits and pancetta to go with it. I finished it extremely quickly, which is rare for me, especially with meats.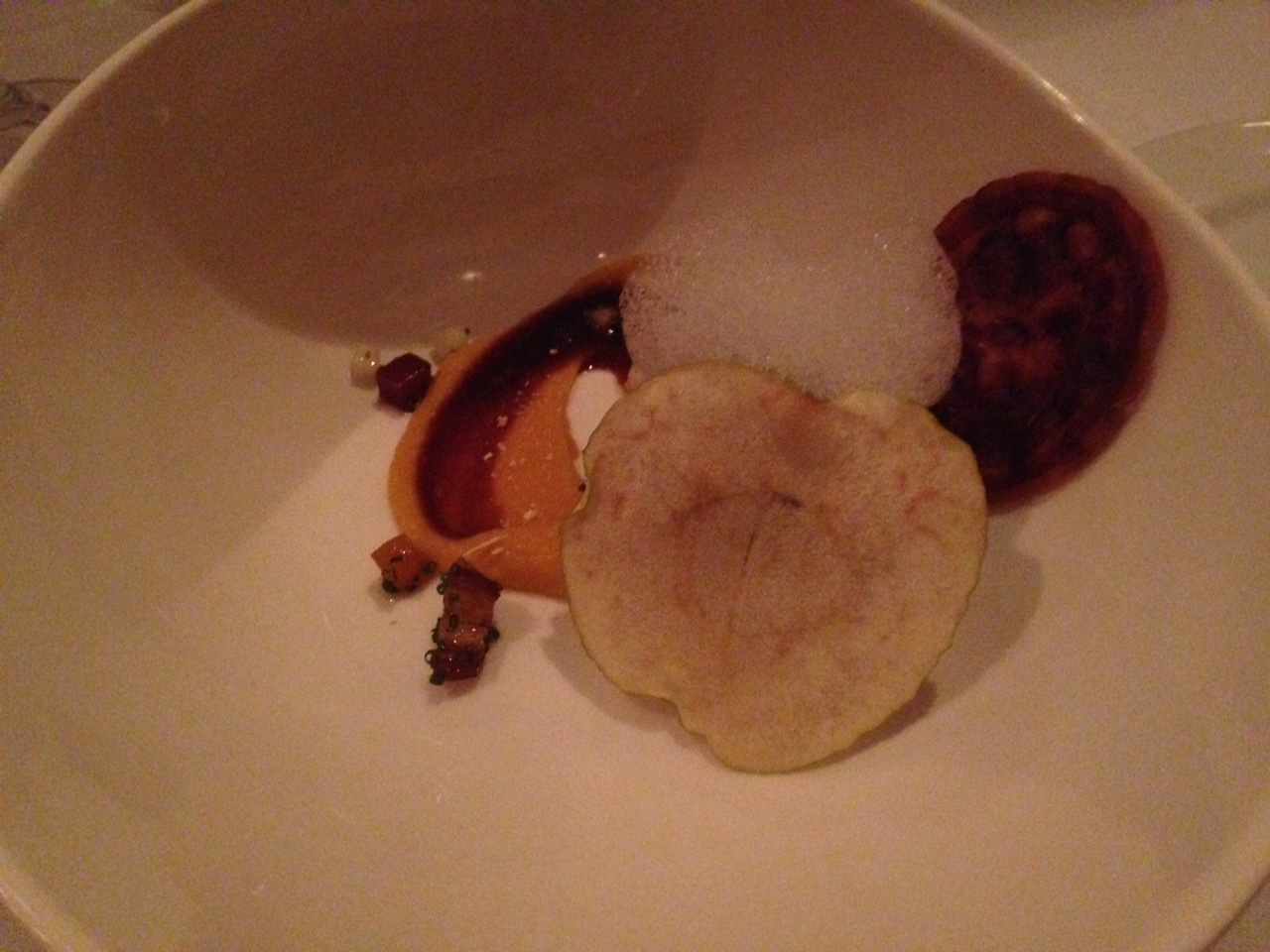 After that some of us had an assortment of cheeses, while others, like me, opted for the dessert. I must say, of all the desserts, mine was the tastiest!   Basically a caramel pecan pie, though officially called Butterscotch Pecans en Papillote, my dessert was nice and warm with ice cream. Wrapped in a plastic bag and with an irresistible aroma, this dessert was amazing.  It wasn't fully made, still gooey, but that made it all the better. It wasn't supposed to be a pie anyway-it just tasted like one. It came with sticks that you could dip in the sauce, and I couldn't get enough of it.
I just wanted to add the amuse bouches now. We had SO MANY amuse bouches in between the main meals- up to ten! Here are a few highlights:
The root beer float on a spoon, basically capturing the essence of the root beer float without the calories: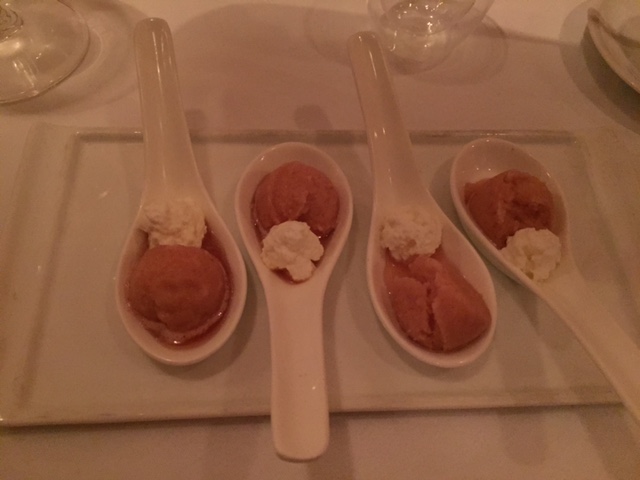 The Mini Sloppy Joe: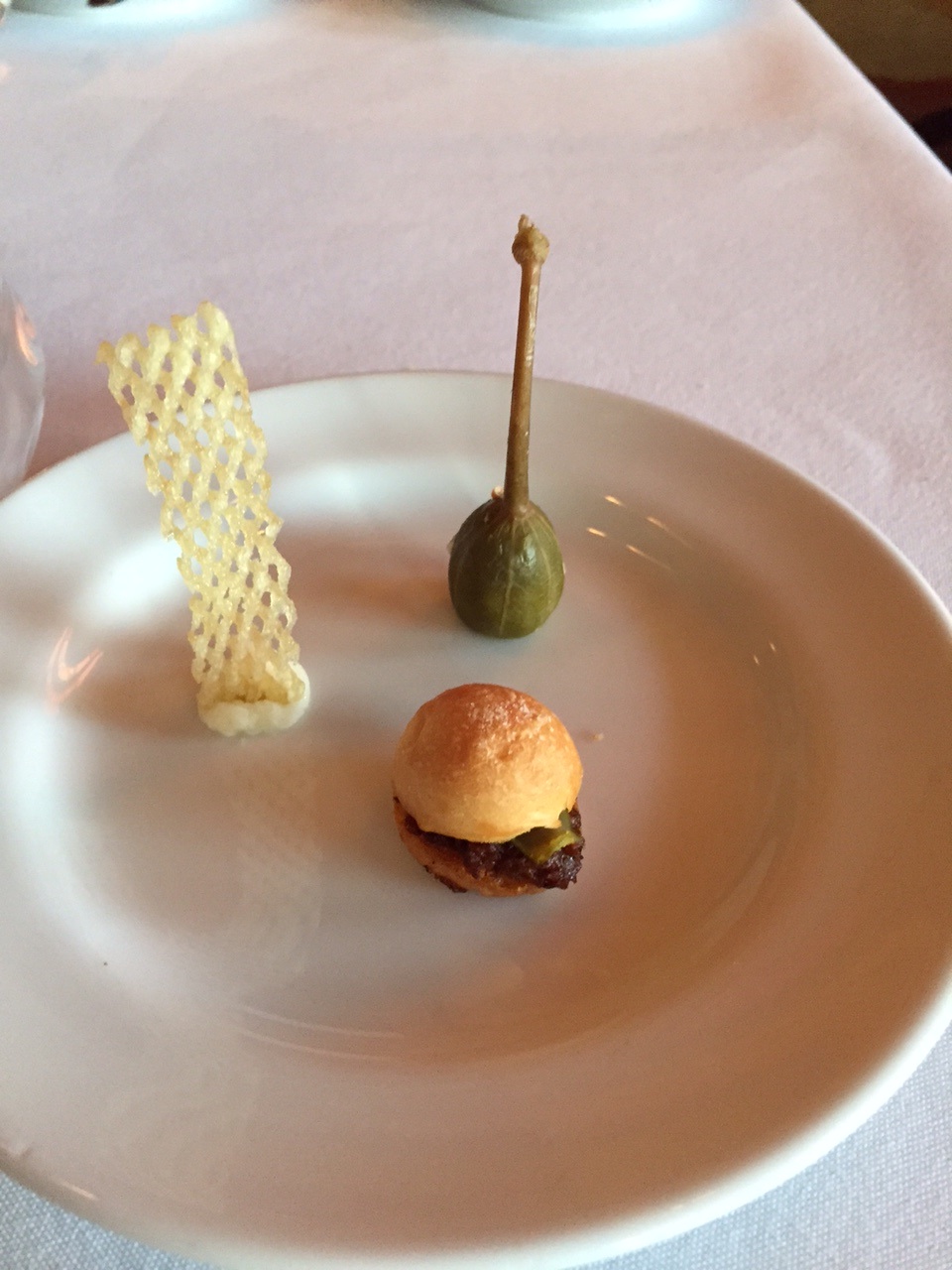 The mini creme brulee: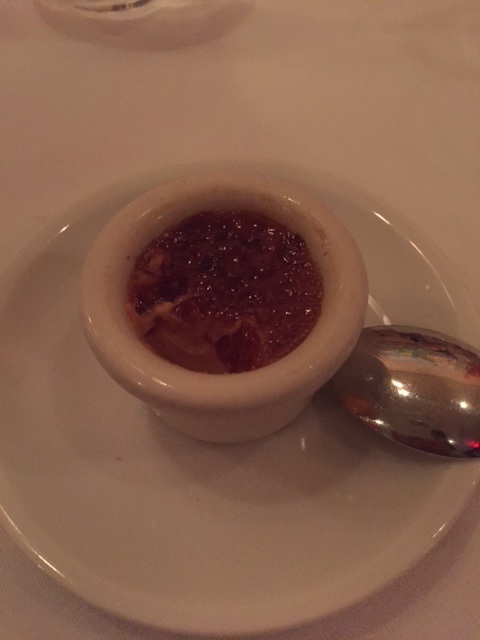 The candied bacon with pineapple: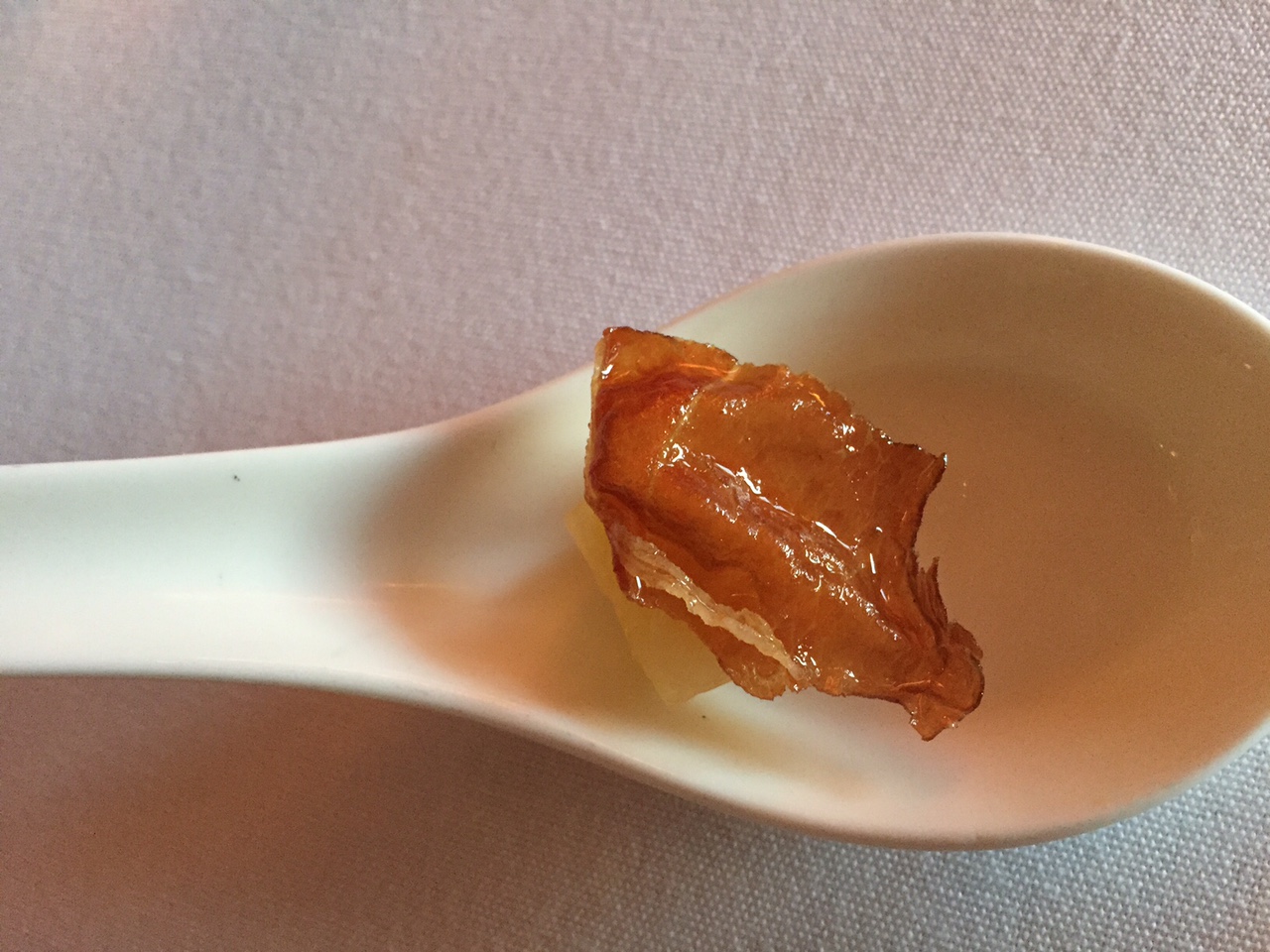 The mini-donuts: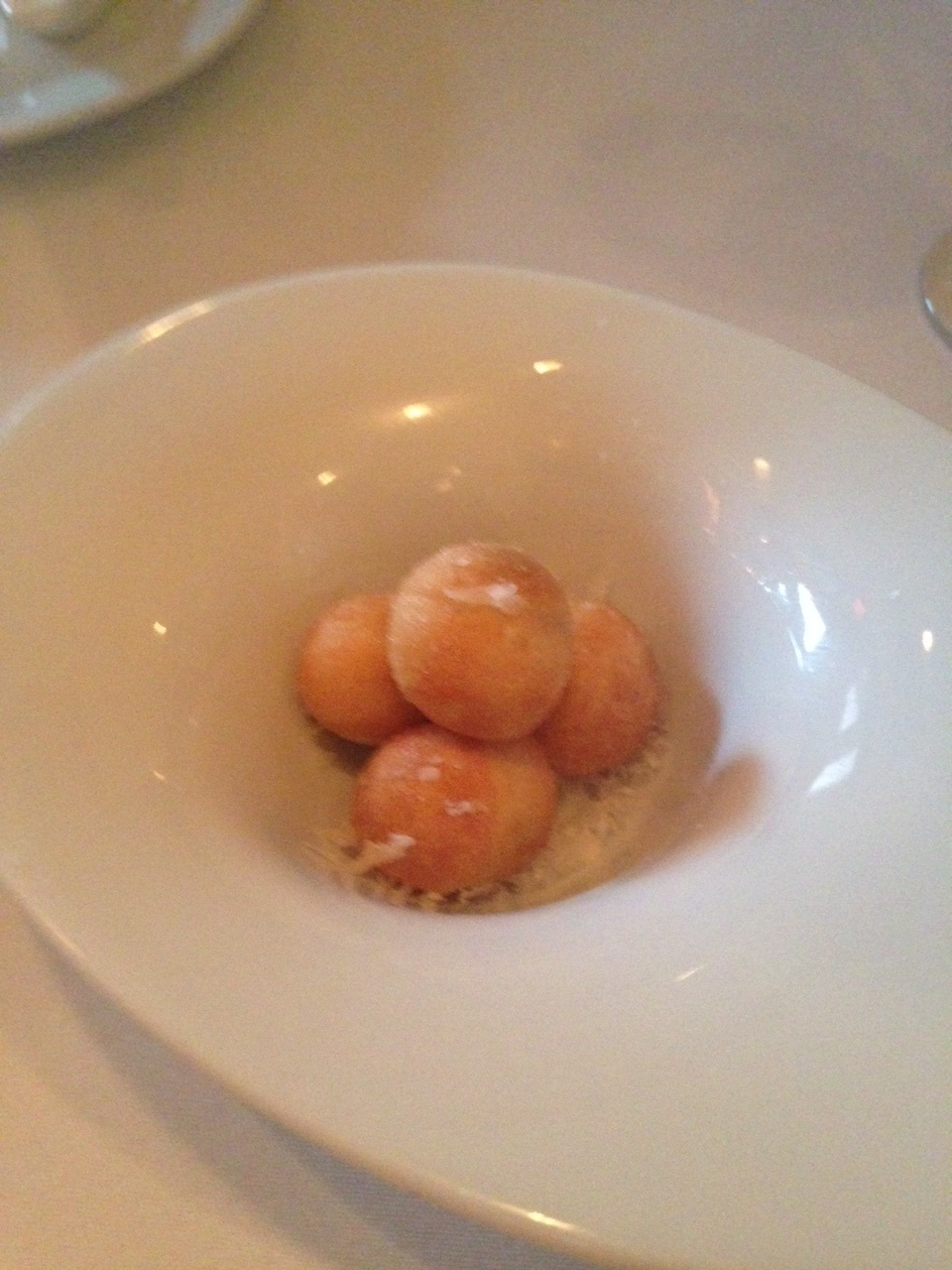 Overall, this is a wonderful meal, though I would only come back for EXTREMELY special occasions.
Rating: 😀 😀 😀 😀 😀
Pakoras and Skydiving
The next morning, Anchit ChaCha and his family went skydiving in celebration. Though we weren't there, we heard it was amazing. Here are some pictures: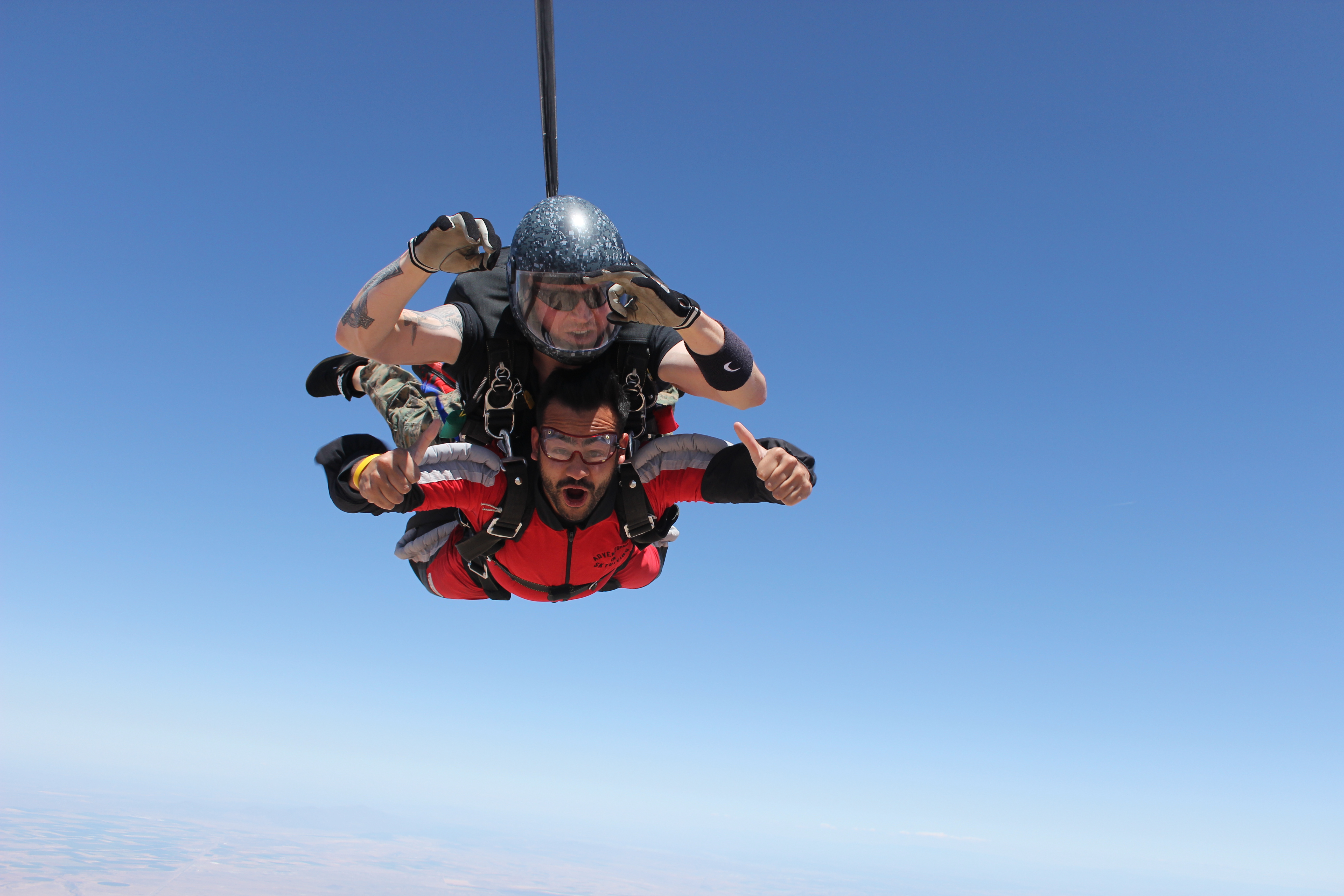 After that, they came to our house for a round of Indian food. Kirti Dadi made her famous pakoras, Papa made lassi and cilantro chutney, and it was amazing. Kirti Dadi made so many types of pakoras: Potato, spinach, onion, and eggplant, all perfectly cooked by the master chef.
Rating: 😀 😀 😀 😀 😀
Graduation
We left school early to go to Anchit ChaCha's graduation ceremony. Once again, we dressed up. In order from left to right: Varun ChaCha, Kirti Dadi, Anchit ChaCha, and Vikram Dada.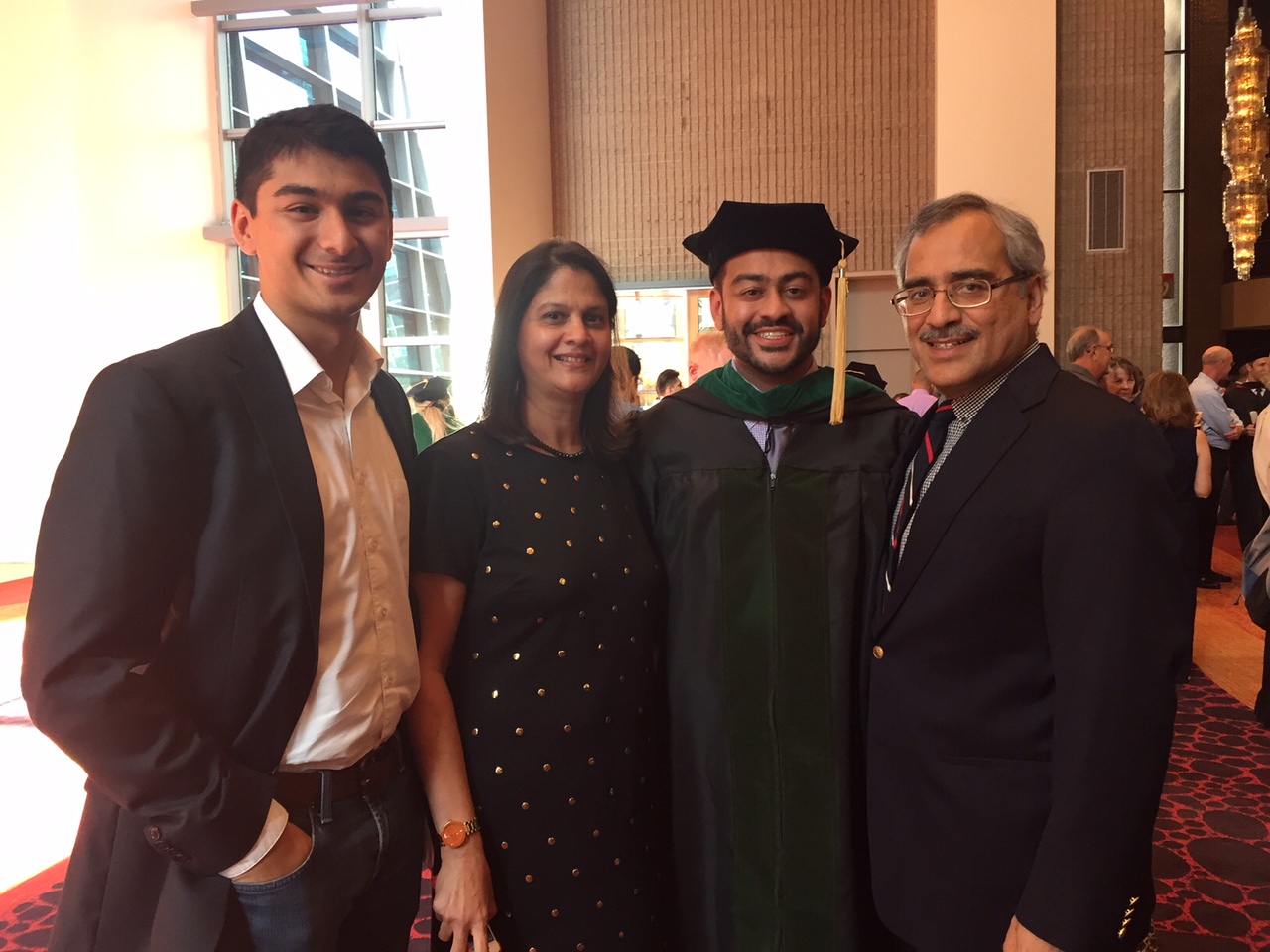 We were seated near the front, so we got the perfect view. The ceremony started off with bagpipes playing, and the national anthem. After many speeches, Anchit ChaCha and the rest of his medical class graduating from the University of Arizona went through the Hippocratic Oath.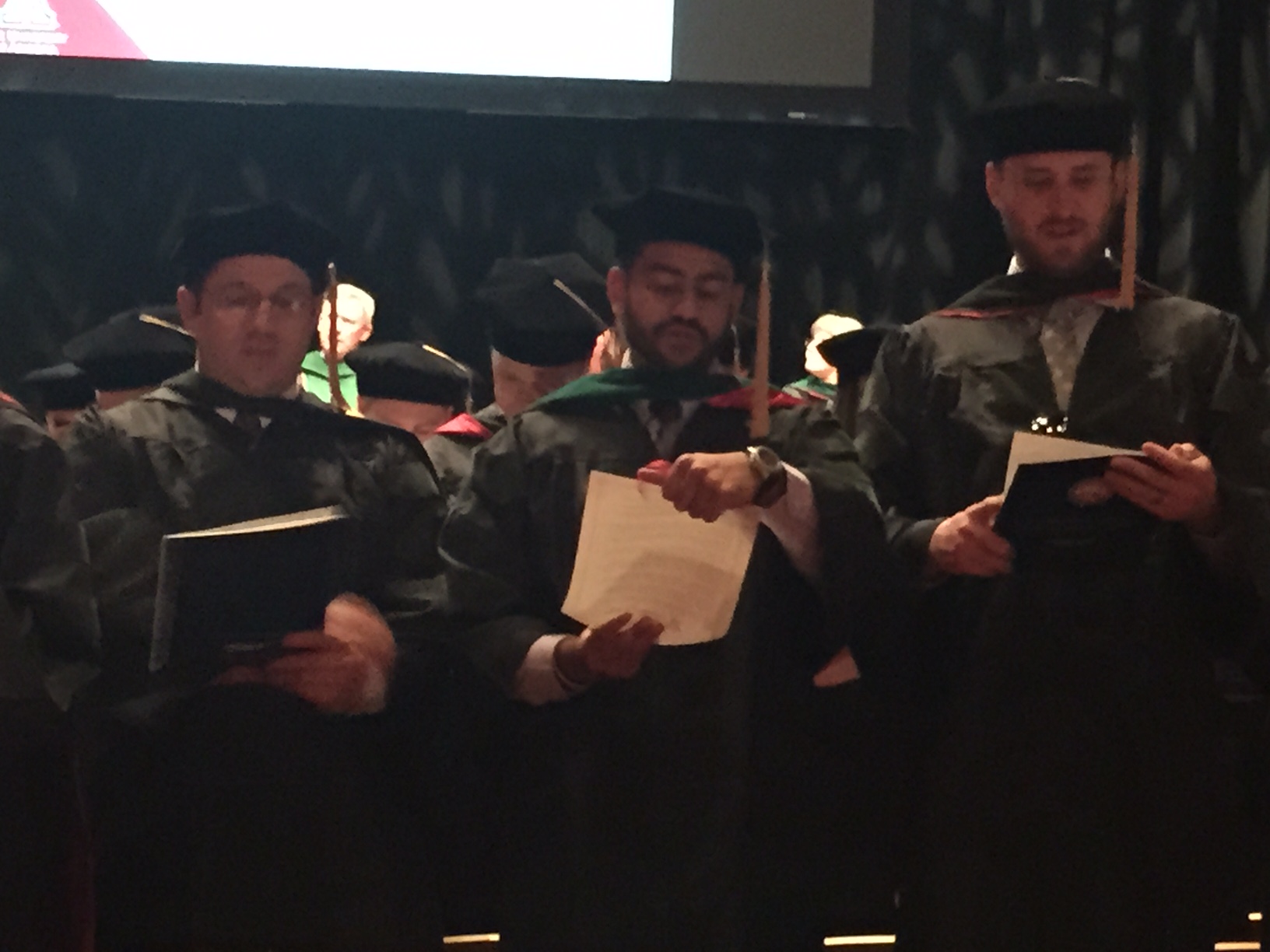 After a lot of pictures and celebration, we went to dinner at Virtu.
Rating: 😀 😀 😀 😀 😀 for an amazing uncle and his awesome family!
Virtu
The next dinner was at Virtu, a new restaurant that recently received the James Beard Award.
Virtu was a quaint and delicious restaurant. We joked around with each other, and ordered dishes, mostly family style. Highlights include:
One of Virtu's signature dishes is their octopus.  The  octopus was perfectly grilled and the delicious chili sauce really complemented the dish. It is one of the few places in town that can grill octopus well. This spicy octopus dish had a kick to it, to say the least, but was by far one of the best dishes we had.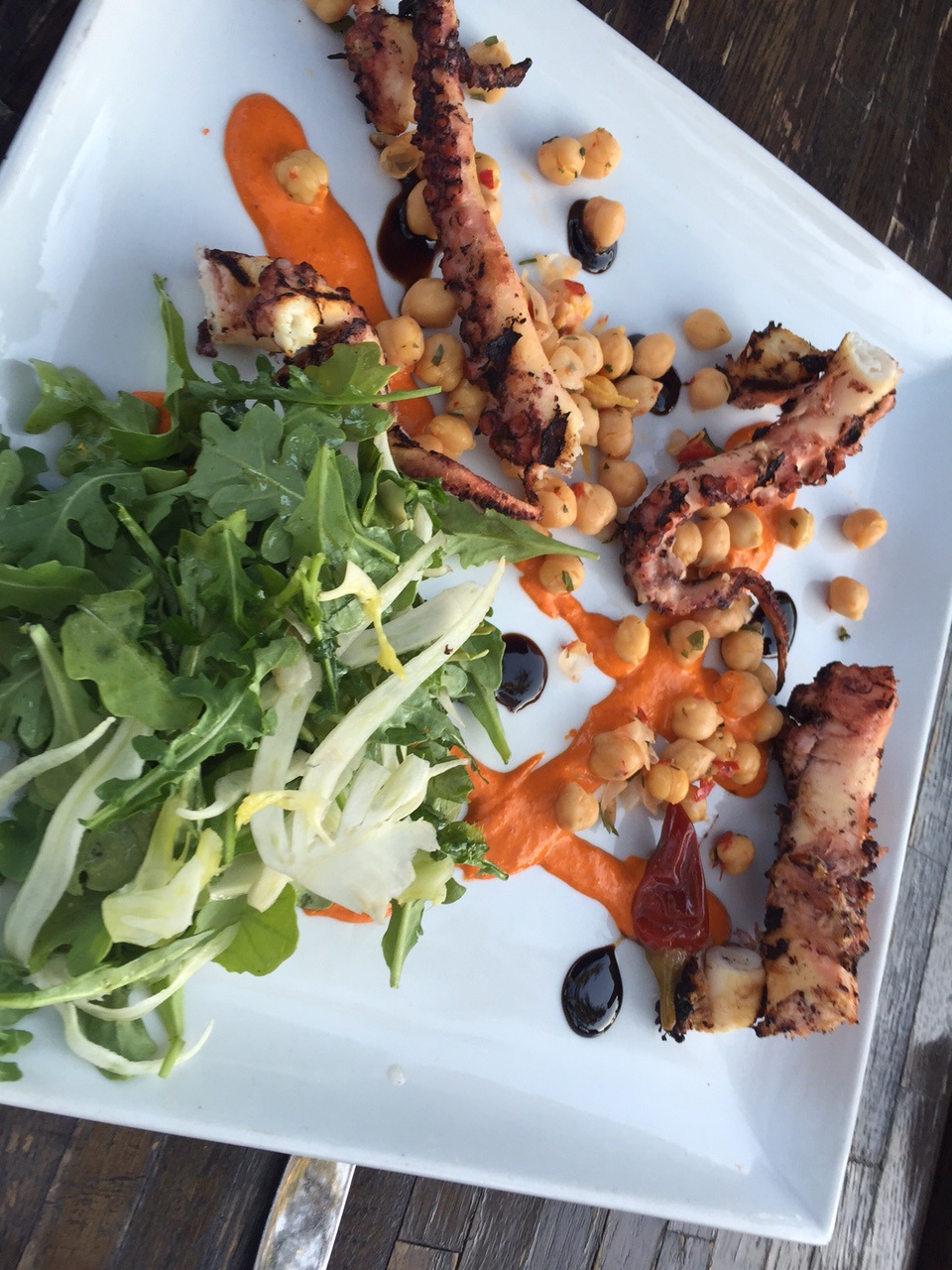 The grilled asparagus, with a duck egg on top. Everyone knows how good eggs are – and duck eggs are even better than normal chicken eggs. Spread the yolk, and it's a delicacy.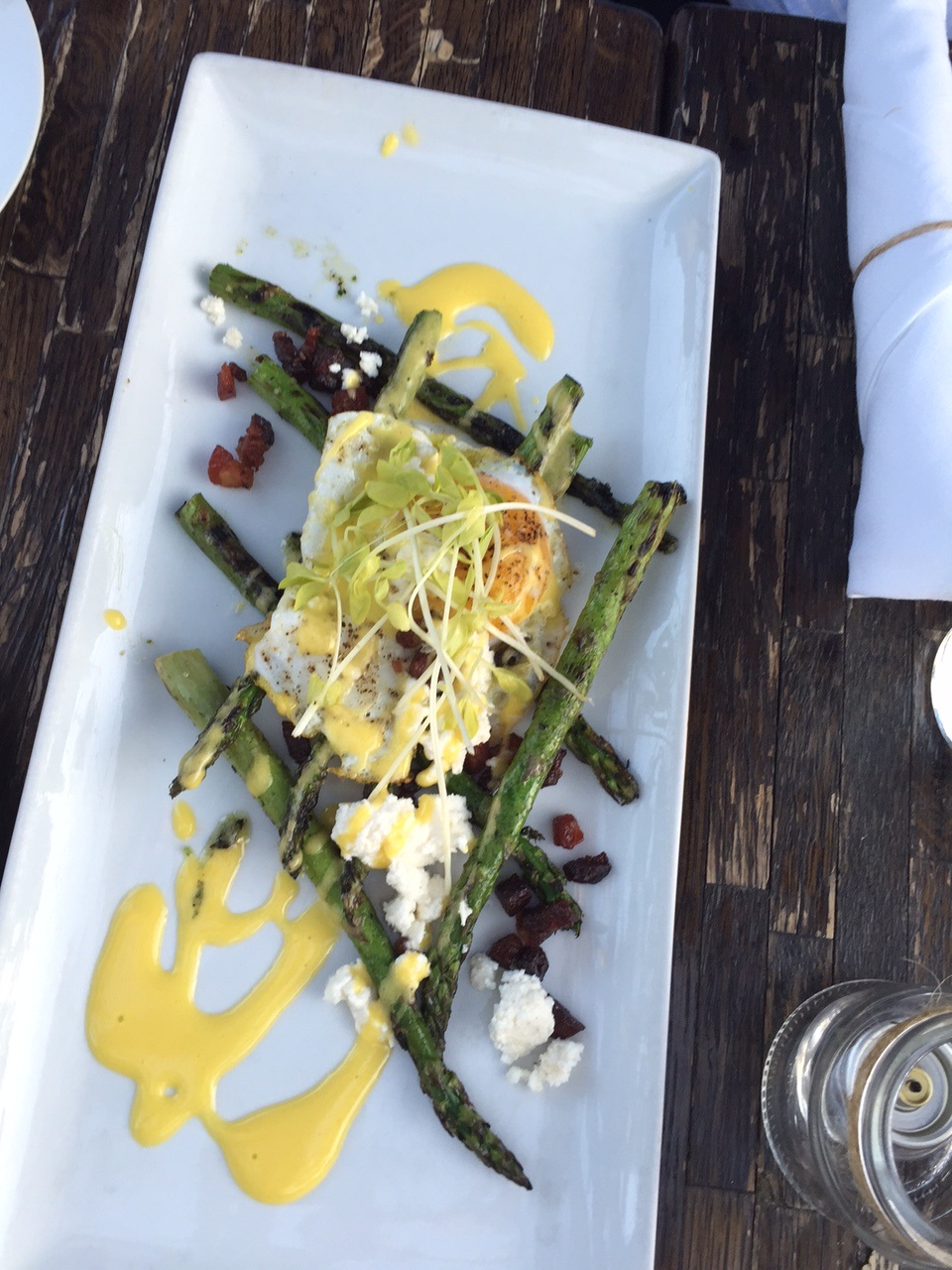 And the delicious burrata. With prosciutto, basil, and honey mixed together on top of the bread, the burrata tasted like a perfect mix of flavors.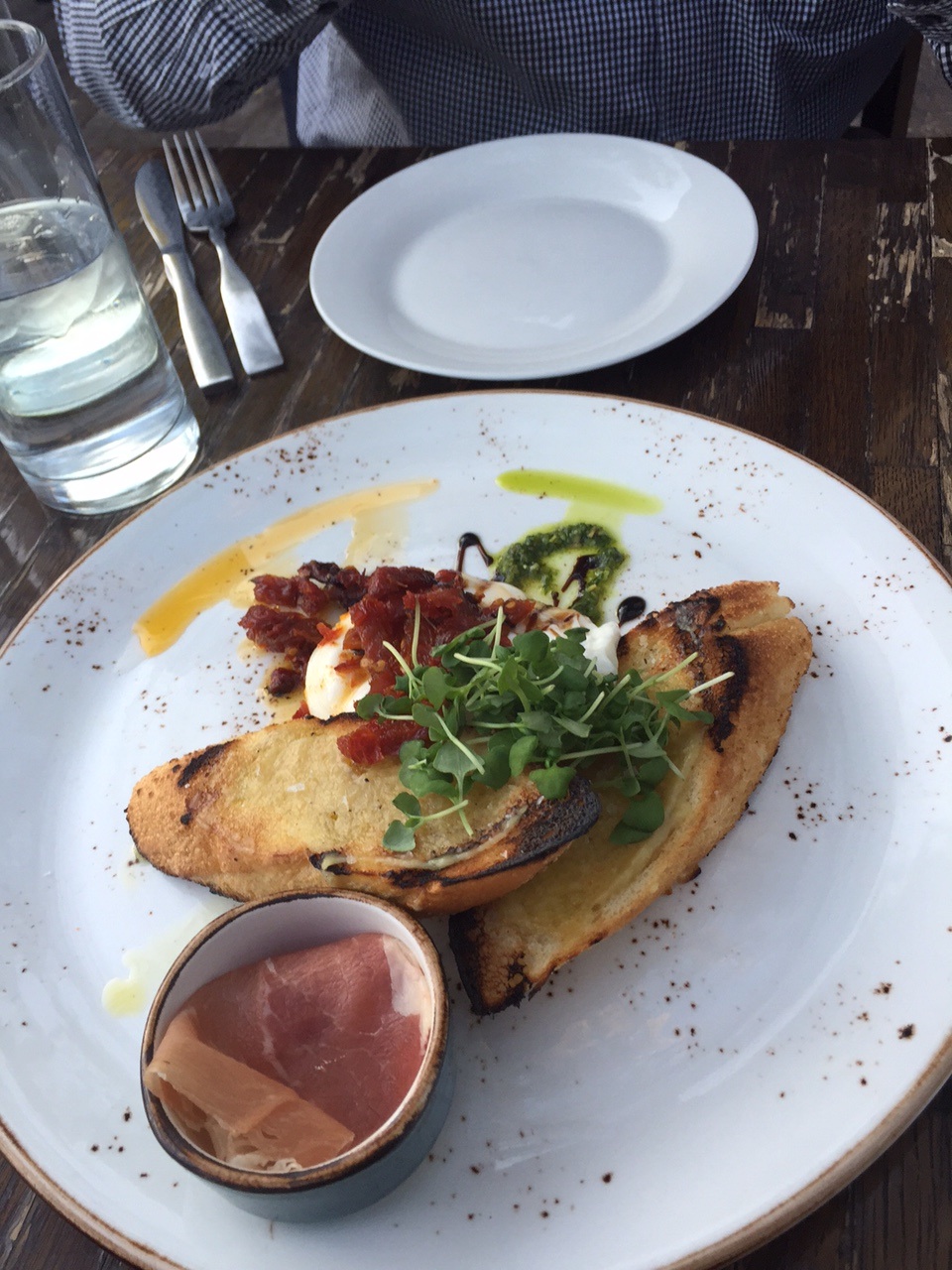 All in all, this was a culinary weekend to remember!
Rating: 😀 😀 😀 😀 😀
Thanks so much Anchit Chacha! For being an amazing uncle and giving us a chance to go to your graduation and eat at all these new restaurants!  CONGRATULATIONS!!!!!!!!!!!!!!!!!!!!