Class 302 is a very interesting, busy, B-grade (sanitation) cheap eats restaurant. It is a Taiwanese chain- with places in Cerritos, Rowland Heights, and Irvine. Class 302 is designed like a typical Taiwanese elementary school, hence the name. Each "number", 302, represents a specific class. The room is even decorated like a classroom. The tables are desks, the chairs, the small chairs you would find in a classroom.
And here's the thing- nobody EVER goes there for the food. They go there for the shaved snow. That's because the food is absolutely terrible compared to the snow. In actuality, the food is okay and people do order the food (we've don it), but the snow is much MUCH better. If you don't know what shaved snow is, first think of a snow cone- that's basically flavored shaved ice, right? Shaved Snow is shaved ice but the ice is milky and is shaved in the flavor that you want- like mango, strawberry, condensed milk, milk, banana, etc. Also, shaved snow is much more delicious and melt-in-your-mouth.
Papa and Karsen always share the same Golden Mango Mochi Snow. In Anya and Mommy's opinion, this is way too sweet. The Golden Mango Mochi has mochi, mango, condensed milk, milk pudding (kind of like a sweet milk tofu), and of course, mango snow- Christmas has come early! Of course, this dish has been recommended by true mango lovers- Karsen and Papa- so be careful what you say. The next few times afterward, they got the mango snow without mochi- as it isn't mango flavored, and we all know how mango crazy they are.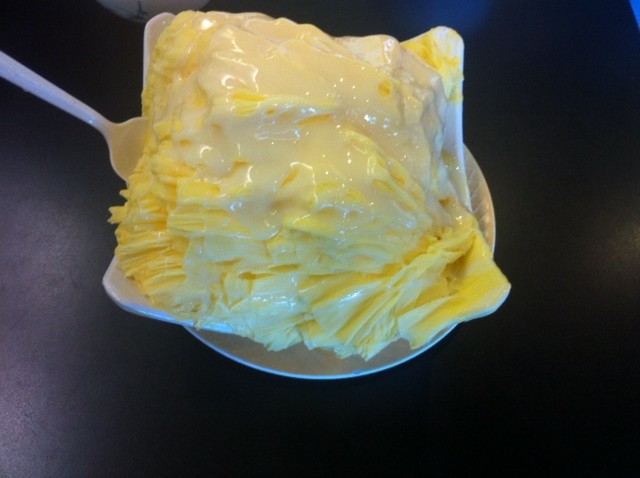 Yes, that's right- mango, mango, and more mango. The toppings are on different layers of the snow- condensed milk on top, then mochi and mango, then milk pudding.
Anya and Mommy always make their own snow. They get milk snow with almond tofu, milk pudding, mochi, honey boba (it comes on the side), and condensed milk. Much less sweet than Karsen and Papa's.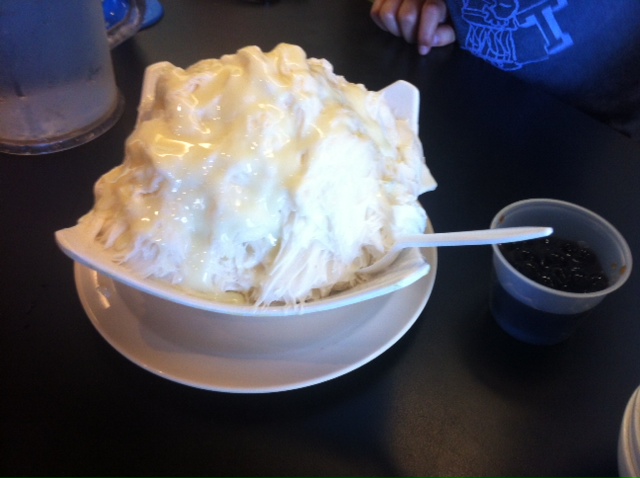 Class 302 food: 😀 😀 1/2
Class 302 snow: 😀 😀 😀 😀 😀
As you can see, there is a huge difference between quality of food and quality of REAL food- SNOW! We really hope that they open up a Class 302 in Arizona-it's perfect for our hot summers.