Greetings and Happy Festivus (according to mommy and papa, festivus is a made up holiday)!  We know that we have been delinquent about our blog.  It's because we've had lots of homework (BASIS teachers – please note that we've been very busy with our homework and studying even over break!) and for Karsen, Fantasy Football and the rubik's cube.  We also know that we have a ginormous backlog of posts that we've been working on (we have several drafts of half-written posts).  Nonetheless, we have just recently had the MOST amazing experience in India – so amazing that we are just going to jump the queue and write a quick post.
THIS IS THE AMAZING EXPERIENCE:
We spent part of our Christmas Break in a remote part of India called Bandhavgarh National Park – and we stayed at a spectacular resort called SYNA.  Here is the link:
While we were there, we went on FIVE safaris – in search of the elusive tiger.  On our 3rd safari, we were lucky enough to see a tigress and her two cubs.  Most lucky safari-goers are able to catch a mere glimpse of one tiger.  We were able to see three tigers for several minutes.  We watched the tiger cubs frolicking in the sun and watched a protective tigress who growled at the "dangerous" looking jeeps.  In fact, here are two pictures from our sighting.
After each safari, we returned to the most delicious, specially requested meals by Chef Kaushik Choudhary (he is not related to our uncle, Kaushik Pufaji even though they have the same first name and are both Bengali).  We have taken a few pictures of his food.  He is especially known for Indian condiments – chutneys and achars (it just so happens that chutneys are mommy's favorite and Karsen cannot resist achar!  For those of you who don't know, chutney is a kind of sauce and achar is a pickle). In our opinion, Indian food is enhanced substantially with delicious condiments.  Besides the achars and chutneys, we especially liked Chef Kaushik's chawal kheer (rice pudding), dal makhani (lentil soup), and vegetable keema.  Here are a few pictures of Chef Kaushik's food.
Here is a picture of coriander mint chutney (Mommy's favorite) that chef is famous for.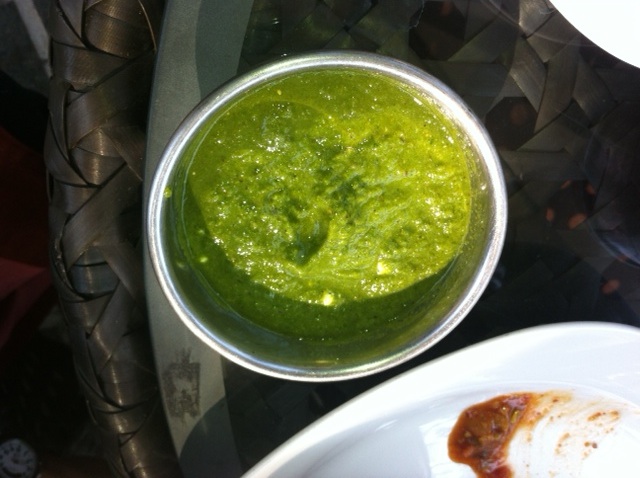 This is another chutney: green papaya, a new flavor that Karsen loved.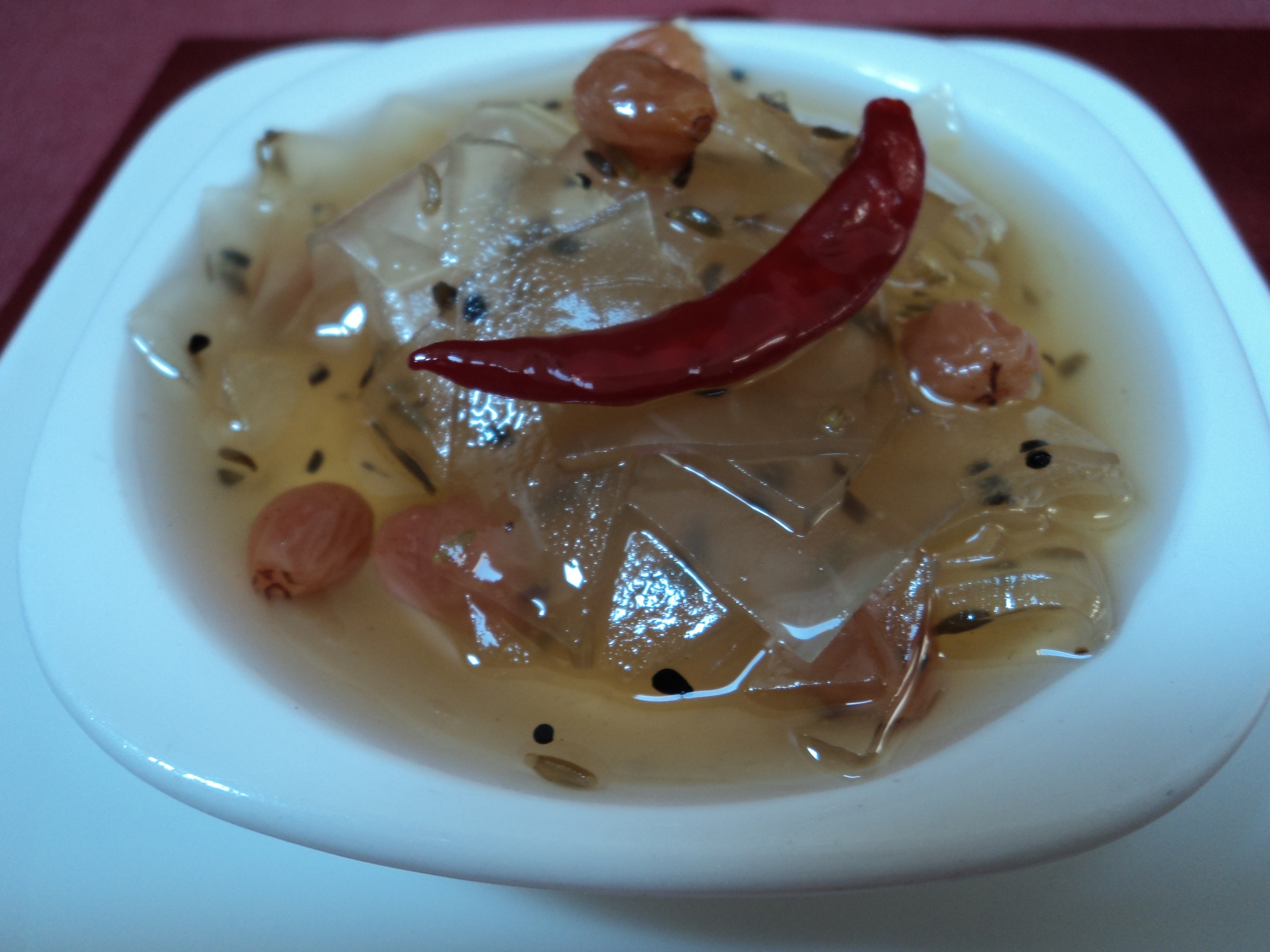 This is Mommy's invention: Chutney and fresh yogurt (raita) on paratha. She's nuts! We tried it though and it was SPICY!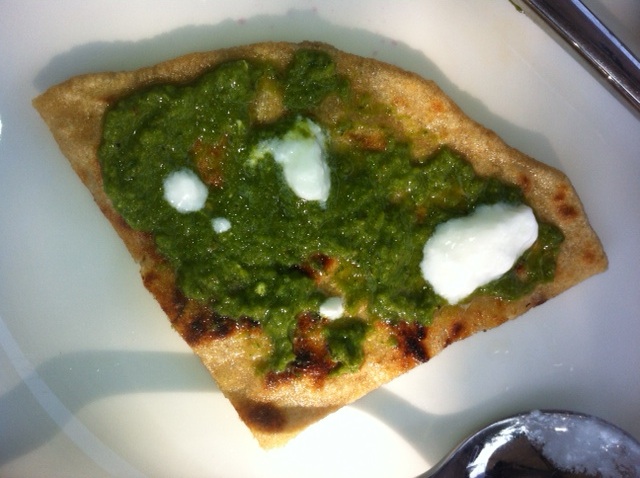 On our last day, Bhuya requested for Chef to make us his delicious kheer (rice pudding). They're normally served in tiny bowls, but (because we are awesome), we got HUGE bowls normally reserved for soup. 
Here is Chef Kaushik ensuring quality control of his food – smelling/tasting to make sure everything is delicious. After all, to be a successful chef, you have to get some reward!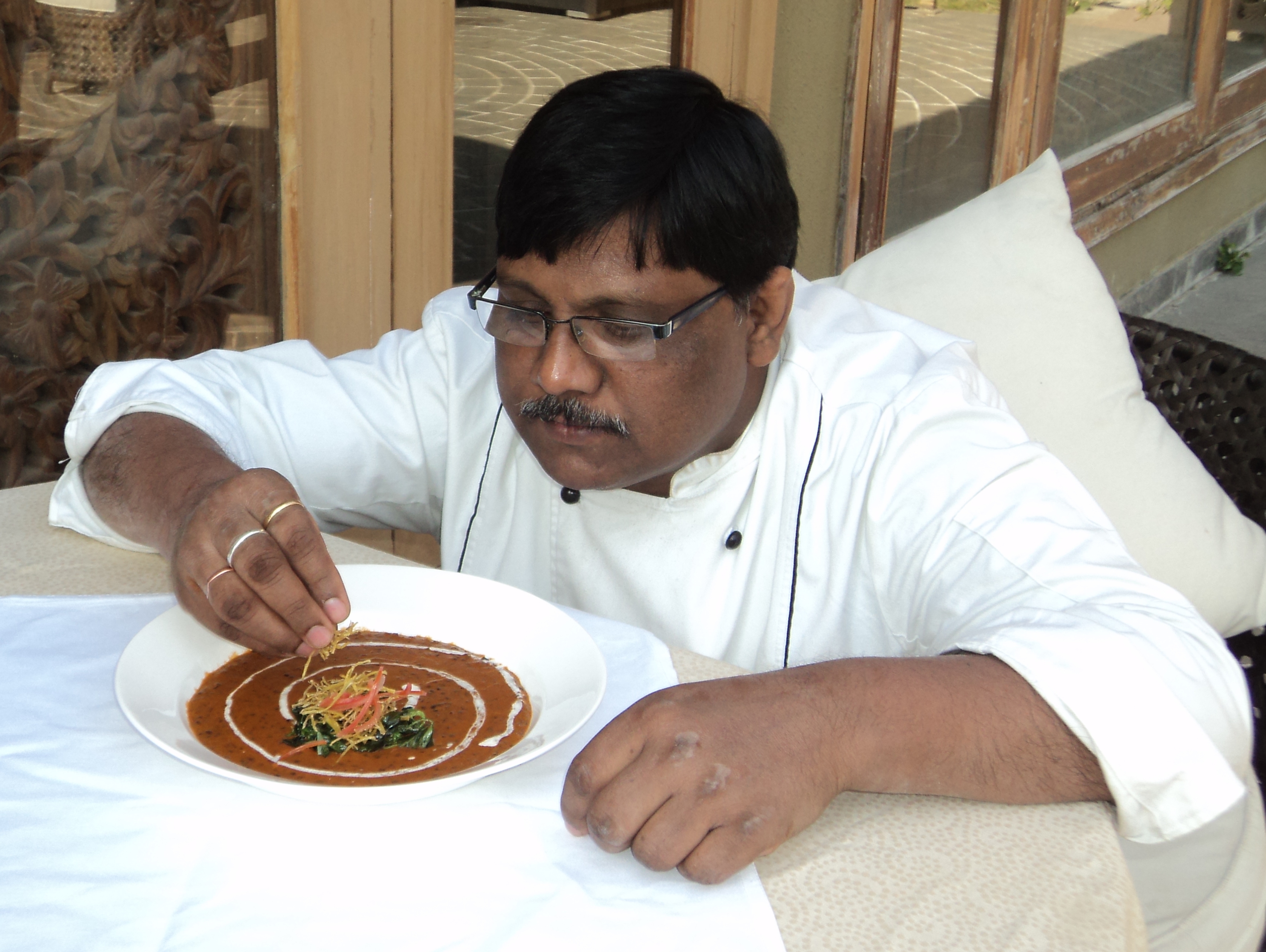 We were also lucky enough to leave the resort with the most delicious Kati Rolls.  Here's a picture of us with Chef Kaushik and his wonderful staff.  As a teaser – we want you to know that Chef Kaushik promised to send us a few recipes – which we will post here on this blog – so keep checking.  Meanwhile, here are some last pictures of us with Chef Kaushik and his staff (who were wonderful servers!).
Special Thanks to Chef Kaushik for a wonderful experience.  And of course, none of this would be possible without the hard organizing efforts of our Bhuya – Sujata!  THANK YOU! And Happy Festivus (more posts to come later – please keep checking).
THANK YOU BHUYA!!! This was definitely a 5 smiley face experience. 😀 😀 😀 😀 😀