We are truly the luckiest kids in the world. Last year, Mommy and Papa went to New Zealand for their 15th anniversary. They enjoyed it so much, we all decided that our Christmas present this year would be a trip to New Zealand. Because this trip was so amazing, we would like to share several details with you.  So for the first time, we are going to write three separate posts:  1)  North Island:  the kauri trees and Waipoua Lodge, 2.)  Queenstown and Milford Sound Track:  Our 5-day trek, and 3.)  Blanket Bay:  Horseback riding and Jet Boating.  As you might guess, we were fortunate enough to have several delectable meals, and even more importantly, extraordinary experiences that will last a lifetime!
Day 1:
North Island and Waipoua
The first thing we did was take a flight to Auckland, New Zealand on an exceptional Hobbit-themed Air New Zealand plane. The staff were dressed in Hobbit t-shirts and walking along the jet-bridge was like walking through a hobbit-hole.  Even the safety video featured creatures from middle-earth, including JRR Tolkien's descendants and Peter Jackson (the director of The Hobbit and Lord of the Ring movies).
After arriving in Auckland, we were all a little peckish and our parents needed their coffee fix.  So we grabbed a quick meal and the highlight was that we tasted our first ever New Zealand melting moment (a native cookie). It was delectable.
Here is a picture of Karsen (me) eating it: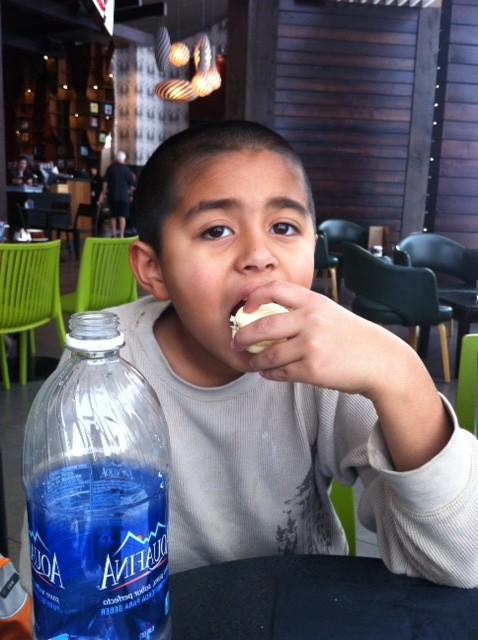 We then rented a car and drove 3 hours to our lodgings at Waipoua Lodge. On the way, we passed through many canopied beech forests and stopped at two places on the way. Our first stop was the Honey Place. There, we discovered a large assortment of honey products including honey, honey lotion, honey shampoo, etc. Best of all, there was honey ice cream! We tasted four different kinds honey ice creams and all were…. absolutely delicious! Anya's favorite was the Hokey Pokey – that's a delicious ice-cream that originates from NZ.
Our second stop was the Kauri Museum (http://www.kauri-museum.com/).  The Kauri Museum featured numerous artifacts of ancient Kauri trees and artifacts from the first people who settled in New Zealand including the Maori and the first of the English settlers.
Here is a picture of a description of an artifact: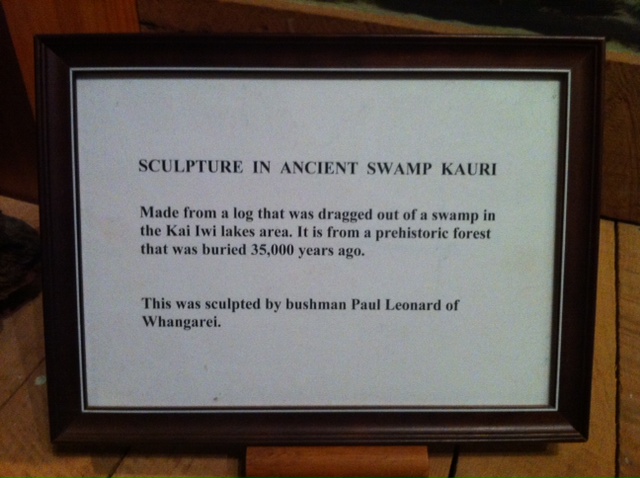 One such artifact of the Kauri trees is a 35,000 year old Kauri tree sculpture that we had the freedom to sit on.
Here is a picture of this artifact: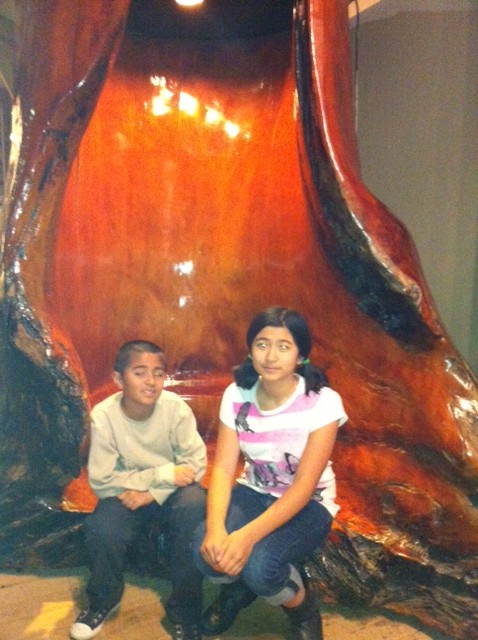 The best part was the gum (not the chewing kind) exhibit. There were all kinds of preserved, dead, creatures inside them. As a paleontologist-in-training, I was particularly amazed by the gum with preserved fossils inside.
After the museum, we set off for lunch – a mere 25 metres walk from the museum exit. The small, homely lunch place was where we had our first taste of a famous New Zealand drink, lemon and paeroa, more commonly known as L&P.  This native New Zealand drink is a bubbly delicious soda that everyone loves. In addition to the drink, this lunch place was quite good; there was an elderly, generous couple who owned the place.  The husband was a gracious host and the wife makes fresh fantastic savory pies every day.  If you ever come around there we highly recommend it.  After lunch, we continued our drive to the amazing Waipoua Lodge.
Arrival in Waipoua:
We were immediately greeted by two friendly hosts, coincidentally married, named Fran and Ian.  We were welcomed immediately and introduced to all of their animals including pigs, dogs, chickens, and a cat. The pigs were award-winning kune-kune pigs, native to New Zealand and known for their ugly cuteness and great size. The dogs were west highland terriers named Hamish and Bonnie. The chickens provided fresh eggs each morning. And the Siamese, named Mr. McFugly, was a cute, little bit of a scaredy cat. After our introductions, we discovered that there was also a trampoline and a tree house! Once we settled into our rooms, we went into the main room of the lodge to check everything out. We saw… a large selection of movies and thinking puzzles (as if we needed anything to make this place even more amazing; it's amazingly amazing and really amazing now; wow – that's a reference to the Douglas Adams' series of Hitchikers Guide to the Galaxy).
Mommy desperately needed to shower, so the rest of us explored the property. Anya and I trekked through several walks around the property.  After that, we climbed the treehouse and tested out the trampoline. After a fun time jumping around, we relaxed and ate a delicious dinner. Our chef, Fran is spectacular and made all of us delicious dinners.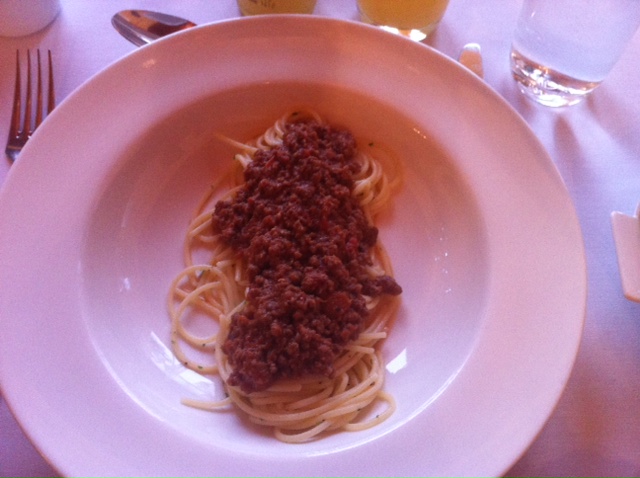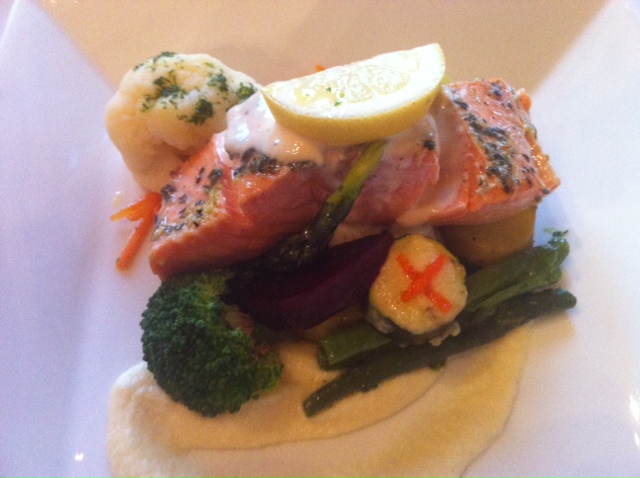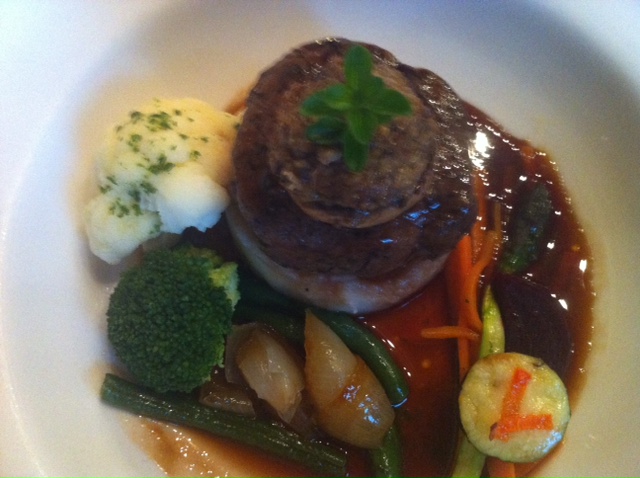 The souffle is one of Fran's specialties.  And in fact, we were lucky enough to watch her make our souffle the first night!  Here is a picture: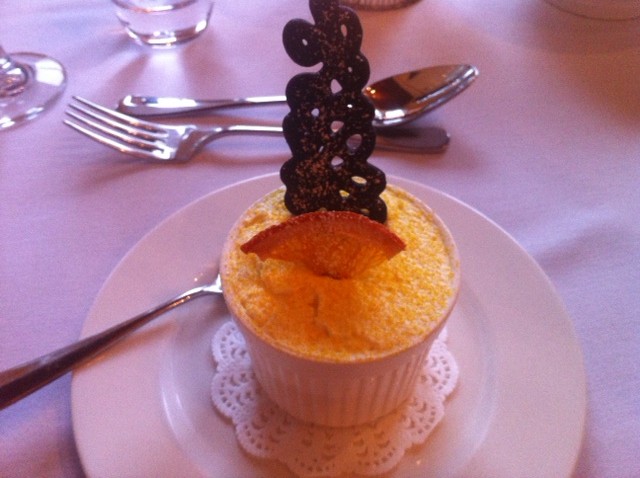 Once we finished eating, Papa arranged an early morning visit to a farm to milk cows. To make sure we got up in time, we went to sleep soon afterward.
Day 2:
The first thing we did was wake up on a dreary, rainy, day to milk cows. We were accompanied by the host Mr. Ian and two guests (one also named Mr. Ian). We rode in a large pickup truck to the farm. Once we arrived, we were greeted by the farmer, also named Mr. Ian. With all the Ians about, it was exceedingly bewildering!
We were escorted to the dairy farm. Once the cows took up their positions, we entered and learned how to milk the cows.
Here is a picture of the cows in their position: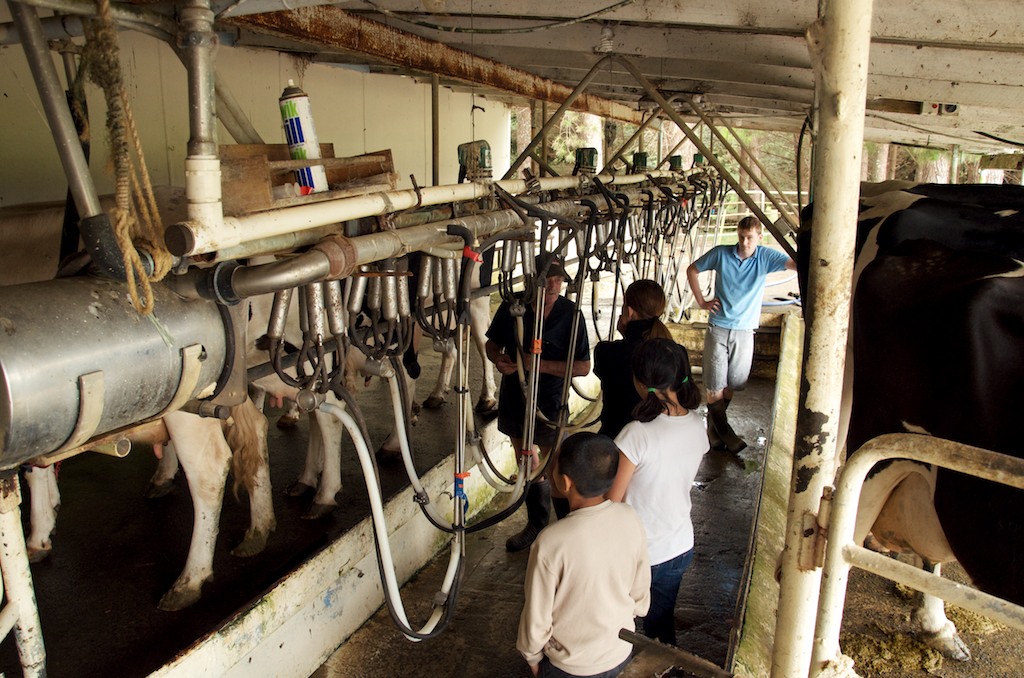 Here is a picture of us milking the cows: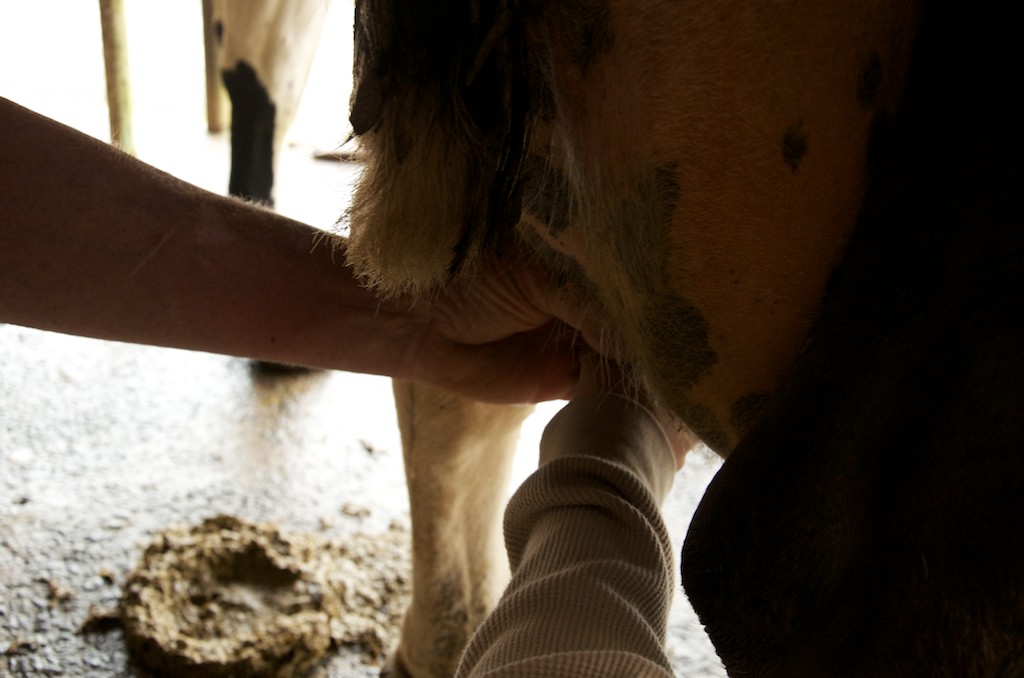 Some of the cows were milked by some crazy high-tech vacuuming system. We learned that the cows needed to be milked to relieve their pain. Some cows even had milk leaking out of them. Anyway, we actually squirted the milk out with little difficulty. Our cunning and devious father decided to "accidentally" spray milk on our faces. It was really fun. Once we finished milking, we gave the calves a good portion of the milk and they eagerly slurped it up. As the calves finished their slurping, we visited the chicken and sheep. Tersely put, we entered the chicken coop and slyly swiped a few eggs. This kindly woman worker let us bring some of those fresh eggs to Waipoua lodge so that we would fresh eggs for breakfast. We nimbly slipped passed them to go to the lodge.
As you might've guessed, Anya and I were already deviously planning our revenge on papa for squirting us with milk!  We eventually planned a nasty trick with the help of Mr. Ian and Ms. Fran (don't worry. . . .we'll tell you soon!). We quickly showered and scrambled to breakfast (the site of our revenge).
Then, we had delicious breakfasts. Our first breakfast was a cold one with cereal and fruit.
Here is a picture: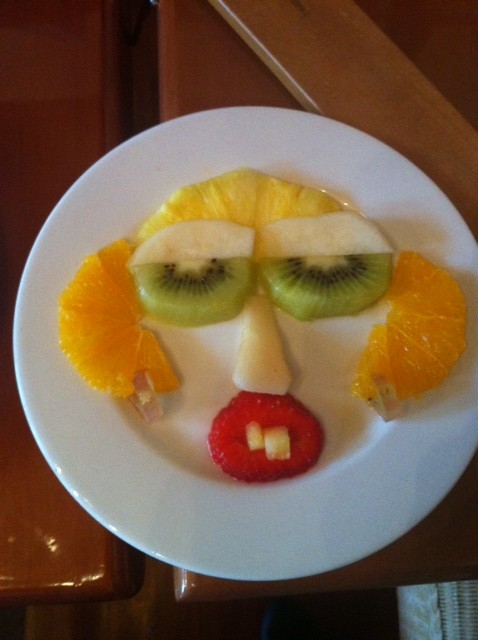 Second breakfast was the hot one; with the main meal. Unfortunately, we didn't get Brunch, Elevensies, Lunch, Tea Time, or Supper like the hobbits but to make up for that we had a absolute BLAST in terms of eating with fresh eggs and Ms. Fran is a phenomenal cook. Now, this is where Anya and my plan came into action. If you don't have an excuse for this, don't do it. It is a cruel prank. However, Anya and I still brought it into action and the trick was this: we filled the sugar bowl with salt.  So, when papa asked for sugar in his coffee, I gave papa his "sugar," we gave him salt. With a sly grin across my face. Before giving it to him, I almost blew it by saying "here's your salt" instead of "here's your sugar. Thankfully, he didn't notice. As he poured in his helping of "sugar", my face grew into a broad smile. Again, he didn't notice. How blind these grown-ups are!! As he sipped his cup his face turned into a look of disgust. We couldn't contain ourselves – and so laughed uncontrollably for at least 5 or 10 minutes!  Luckily, Mr. Ian was able to bring him a new cup of coffee and he tasted the white cubes to make sure they were sugar cubes, not salt. That was the official prank of the day.
Then we fed the pigs with the help of Mr. Ian.
Here are some pictures and a video: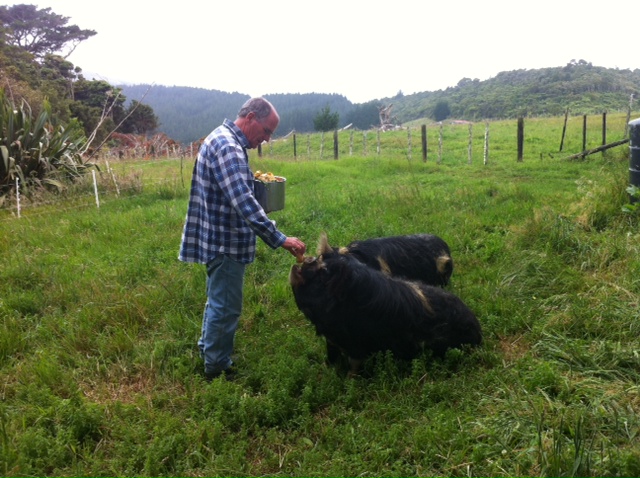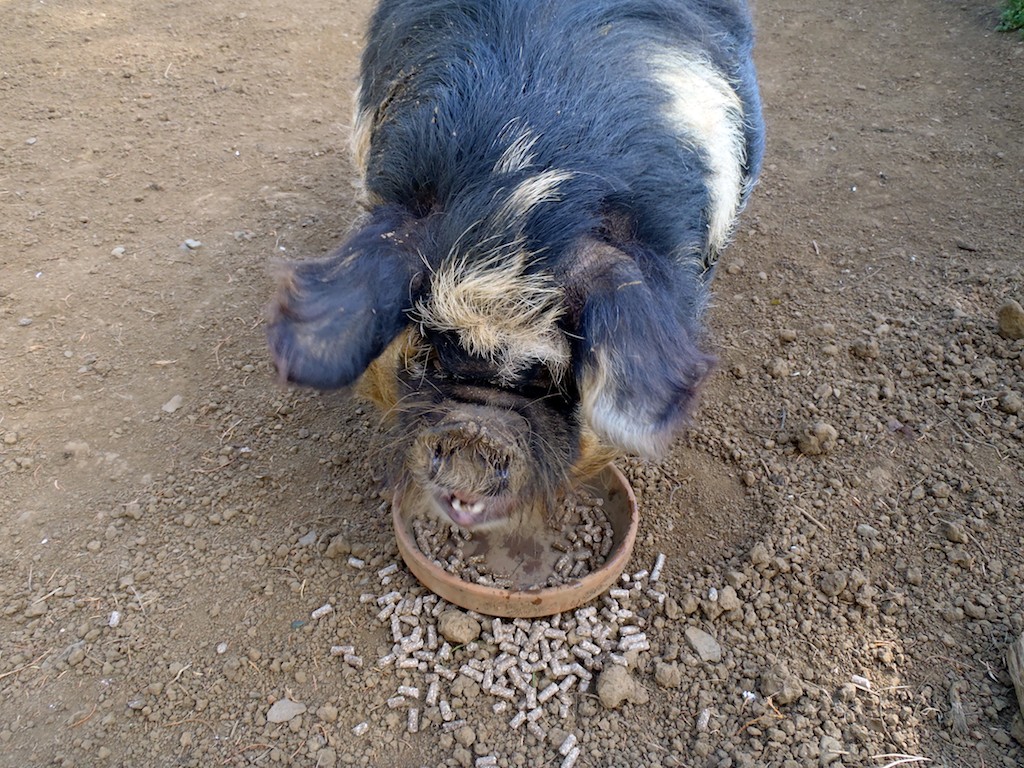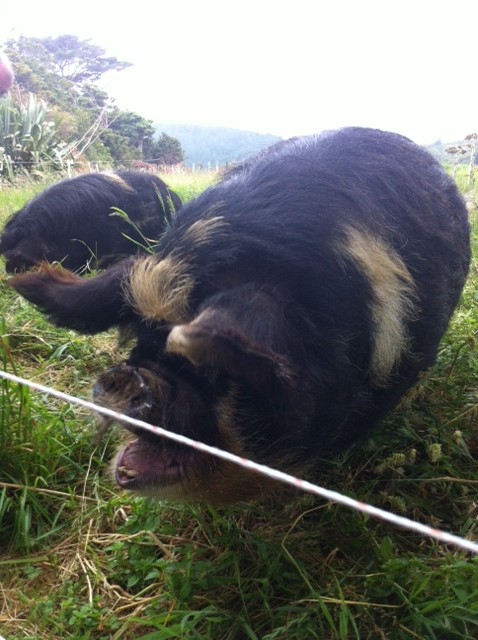 Our first stop: Kauri trees in the Waipoua Forest. As one of the oldest kinds of trees in the world, Kauri trees are very much, ah, how should I say it? Oh yes, religiously significant tothe Maori (mentioned above in Day 1). Tane Mahuta, one of the most religiously significant of them all, is approximately 2,300 years old and giant.
Here are some picture of Tane Mahuta's signs and Tane Mahuta itself: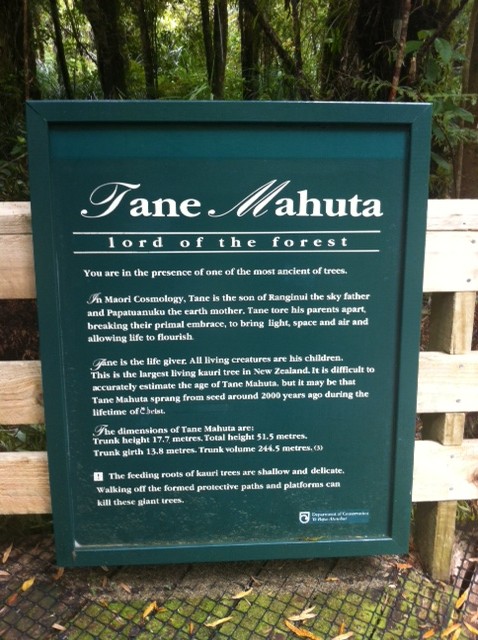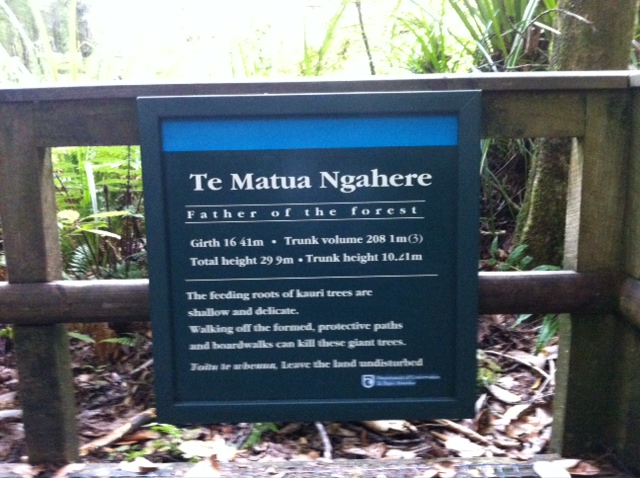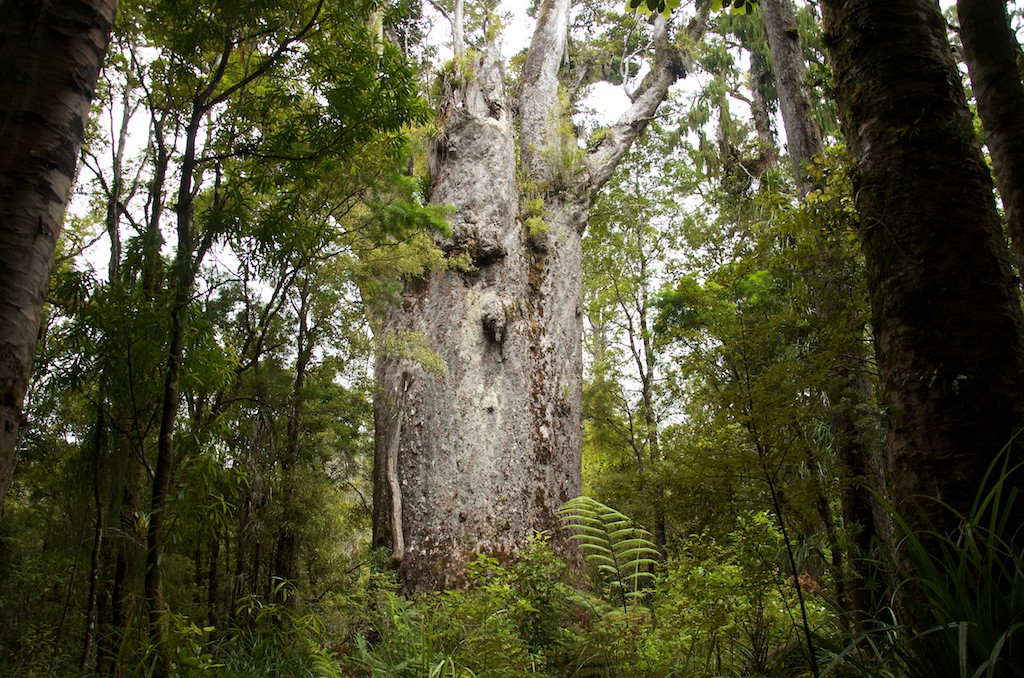 To the tree we would look like helpless beetles running around with flashing man-made glass that's held so protectively that even a giant like itself would have to put effort into wrenching it out of the creatures' hands. Anyway, we walked for about two hours in the Kauri forest. On the way, we saw "the four sisters(also some of the giants of the forest) ", Tane Mahuta, and many other Kauri trees. The four sisters are four old Kauri trees that are in a tortoise formation and are seemingly interdependent and quite a site.  Usually, when a Kauri tree grows it uses resources so that no other trees can grow in its small environment – that's why it is unusual to see four Kauri trees together.
Here are some pictures: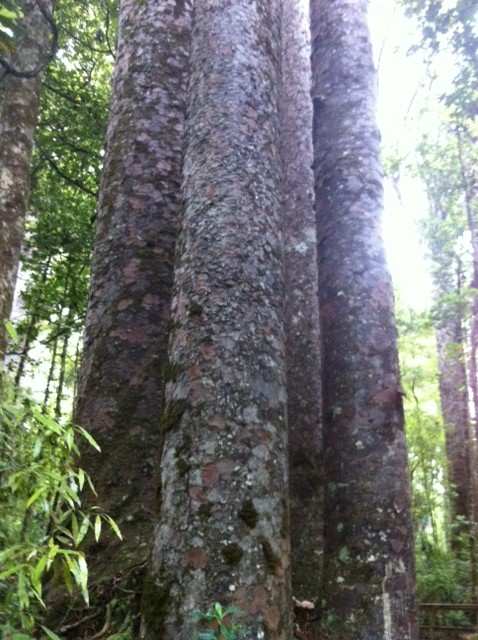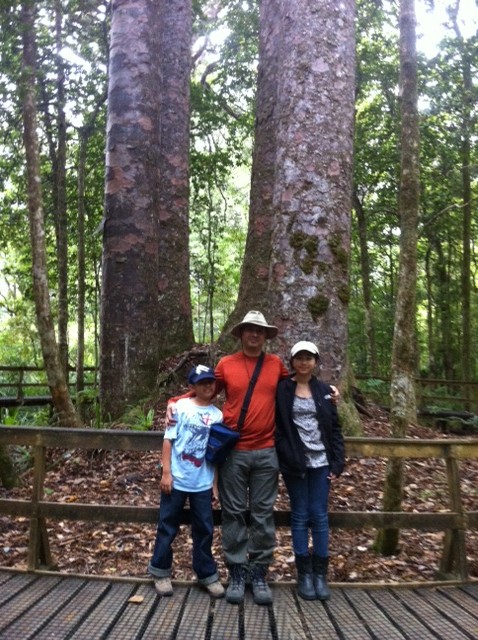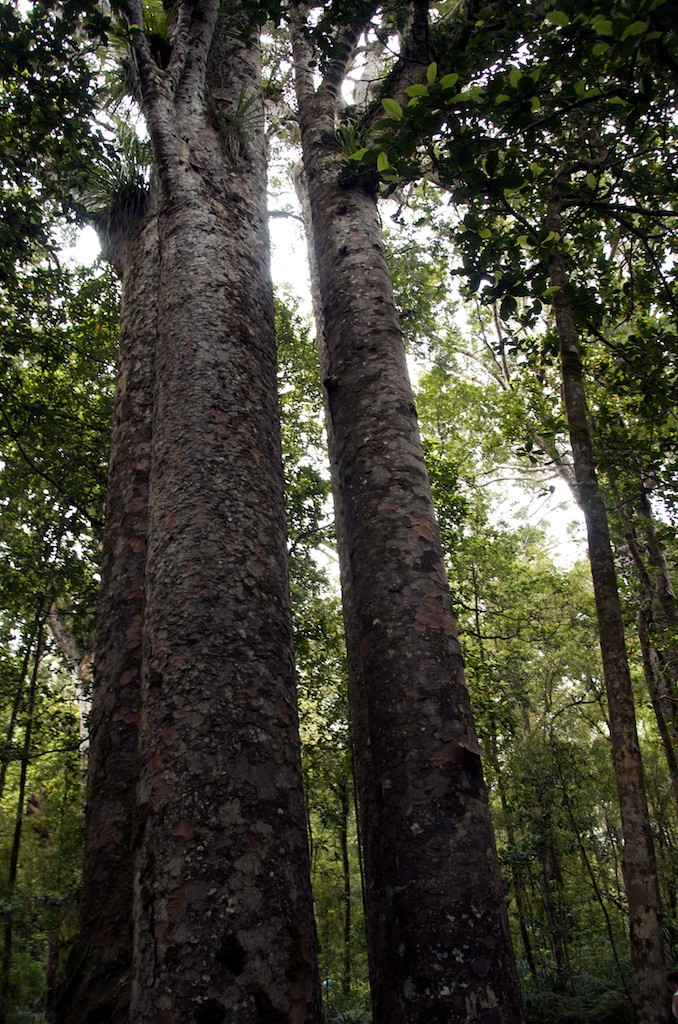 Here is a picture of me hugging a Kauri tree and of a special kind of vegetation: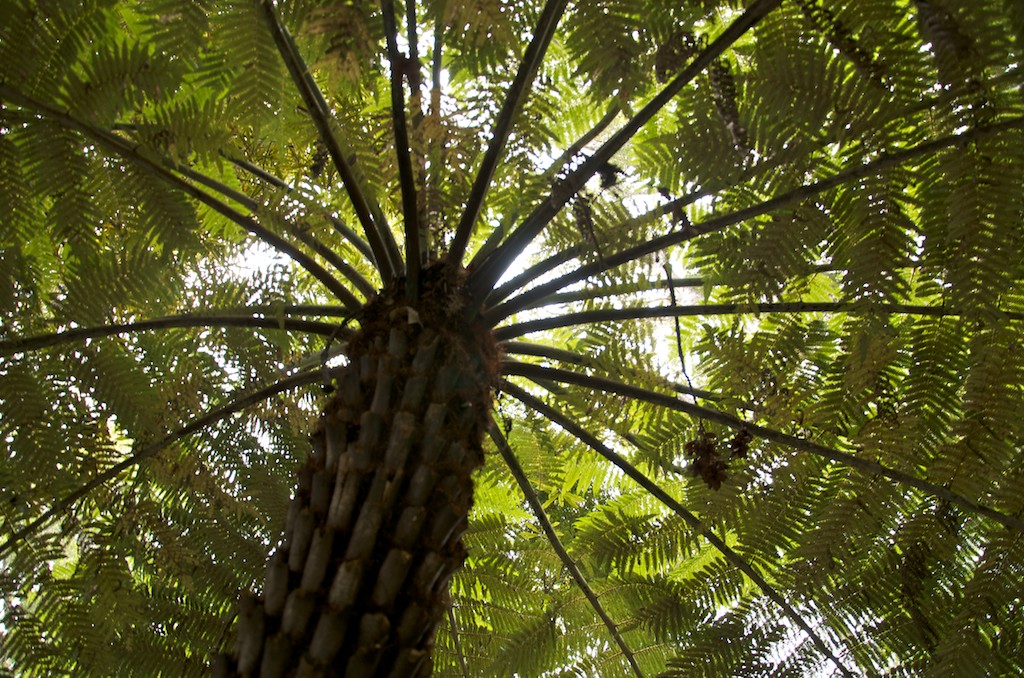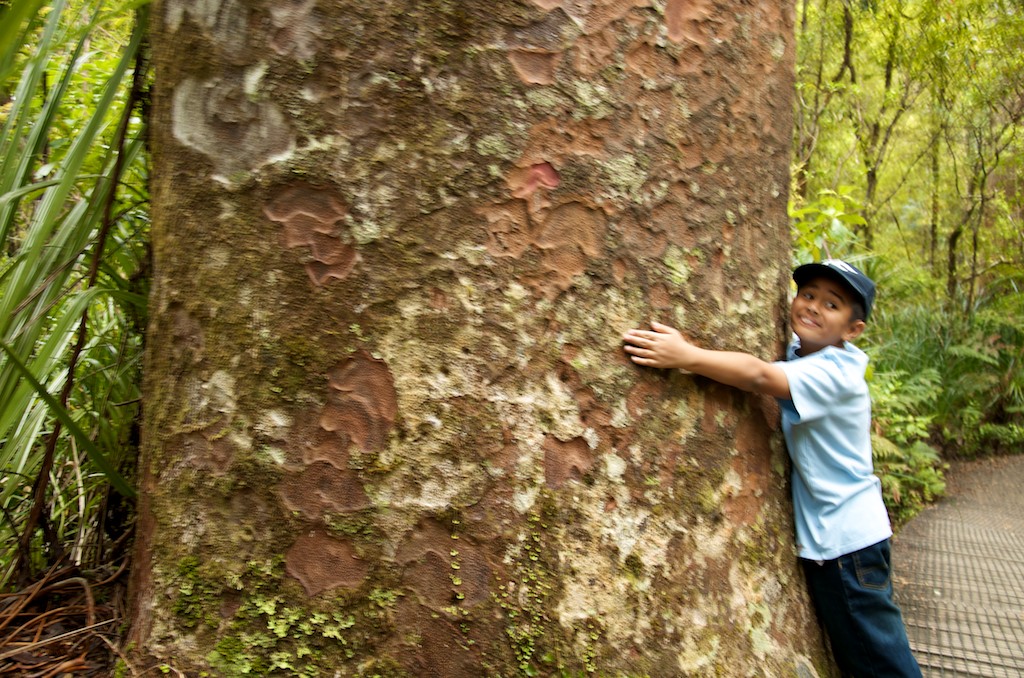 Tane Mahuta, mentioned above, is even larger than the four sisters and much fatter. Tane Mahuta was named after the Maori god of the forest. It truly is the "thundershaker", not Poseidon. Once we completed our leisurely stroll papa drove to another Kauri forest. What was so special about this Kauri forest was that it had a Kauri tree that estimated was approximately 3,000 years old.
Here are some pictures: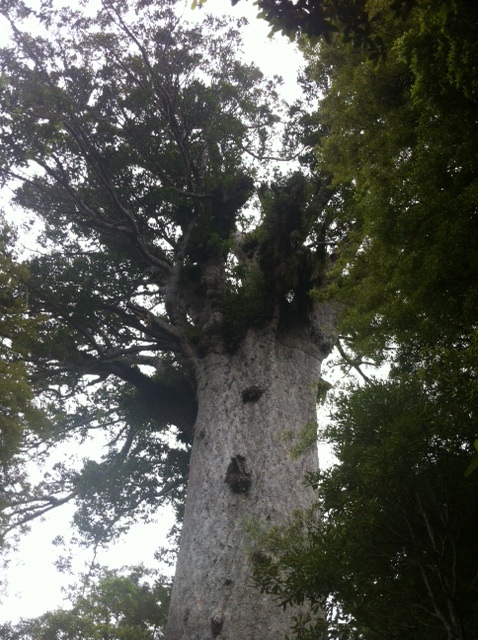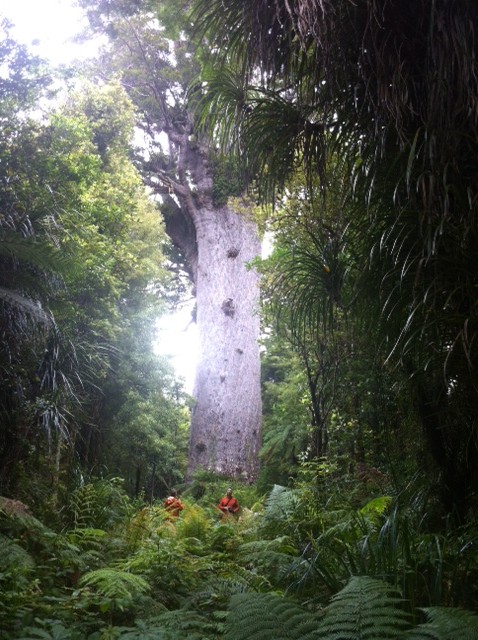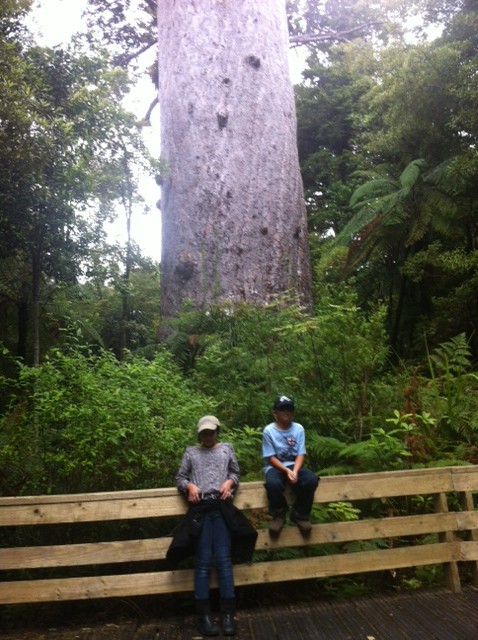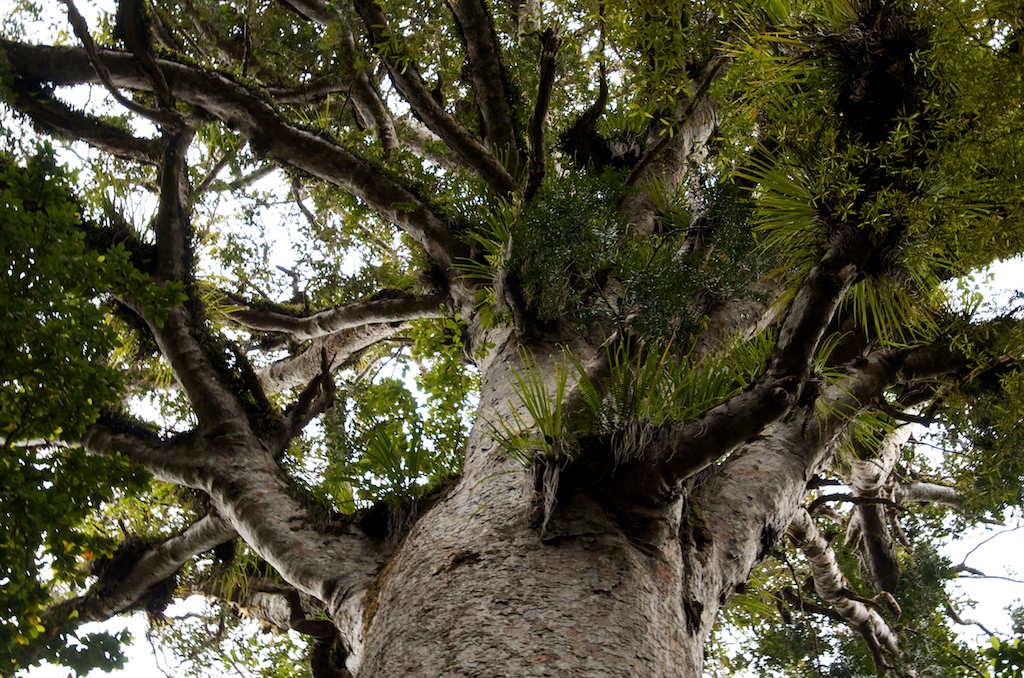 Once we finished observing the gigantic tree, we continued on with our day. Our next stop: the beach.
Without a specific location in mind, we just drove around, searching for something worthwhile and at the same time viewing the view. After a good bit of time passed we found a place where we could walk around near the beach. Fortunately, there was a reasonably well-marked path that led down to the beach. We trudged down there and saw some great views.
Here are some pictures: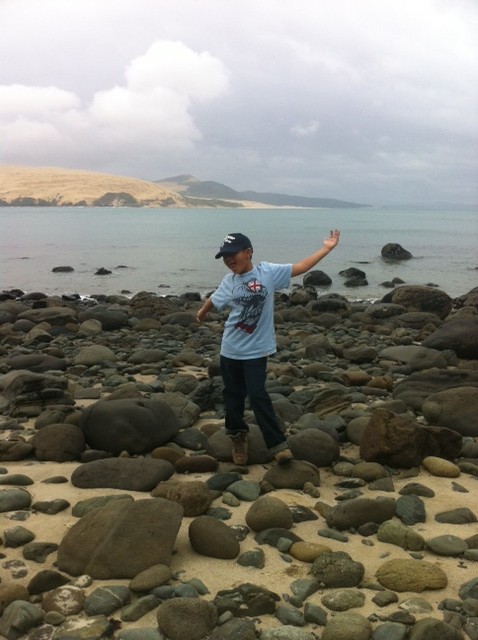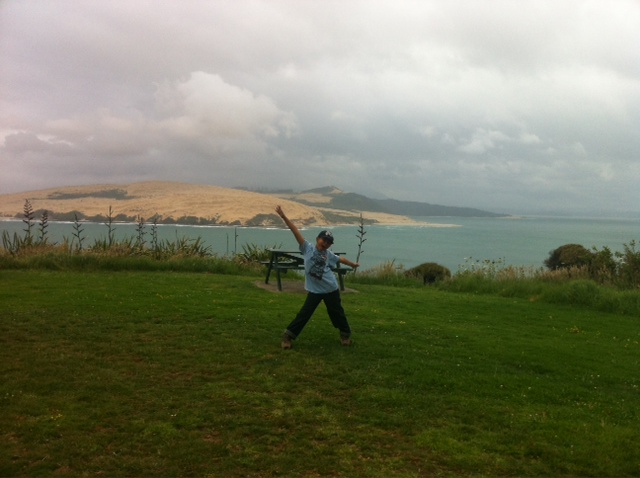 We also found the New Zealand christmas tree there – New Zealanders call these Christmas Trees because the red blooms come during Christmas time. Here is a picture: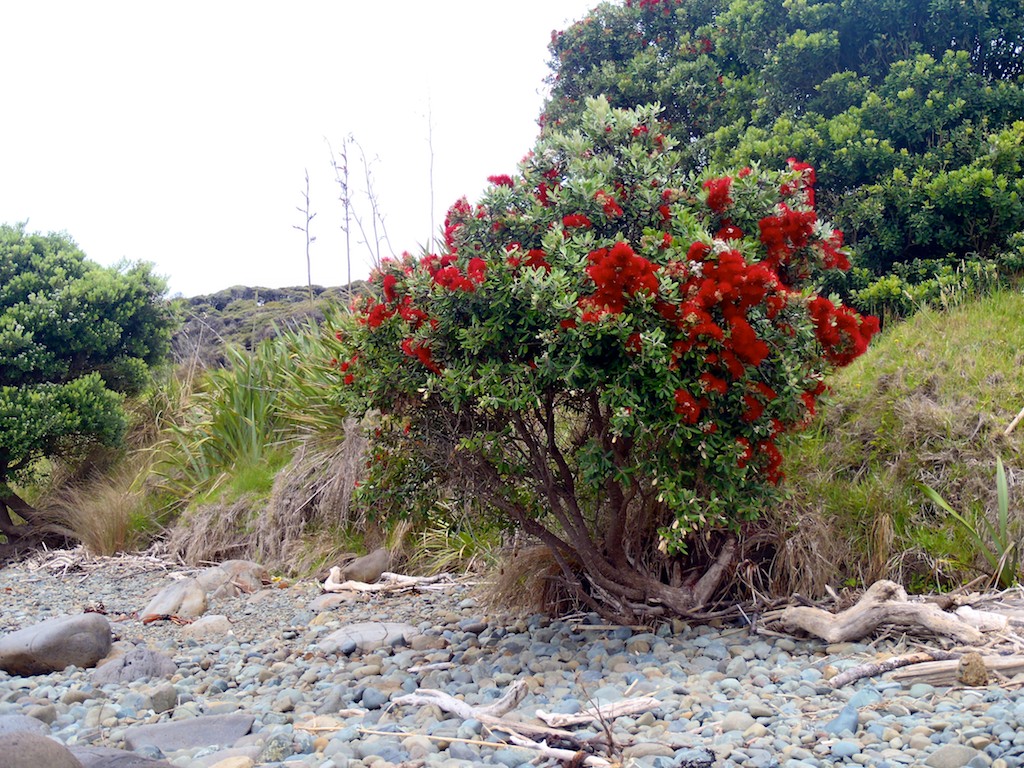 We explored much of the beach and found numerous intriguing things but were soon pushed back up the path. On Fran's and Ian's recommendation, we then decided to visit a phenomenal puzzle store called "the Labyrinth," a.k.a. known as the greek maze,. There had been several newspaper articles touting the amazing global collection of puzzles and toys at this small store. The media were correct. The Labyrinth was a small puzzle store with all the puzzles you can think of and, to add to that, we were able to TOUCH and PLAY with many of the toys. The owner and manager of the store looks like Santa Claus.  He joked that many of the young children believe he actually is Santa Claus but he makes sure they don't tell everyone St. Nick lives in New Zealand, not the north pole. In actuality, his name is Louis.  And Mr. Louis is so nice  that even when I dropped a couple of things, he just let it go (Frankly, I almost broke his computer once and if that happened to me, I'd be hopping mad!). He is well known among the puzzle experts and goes to all kinds of official puzzle meetings everywhere.
Here is a picture of him: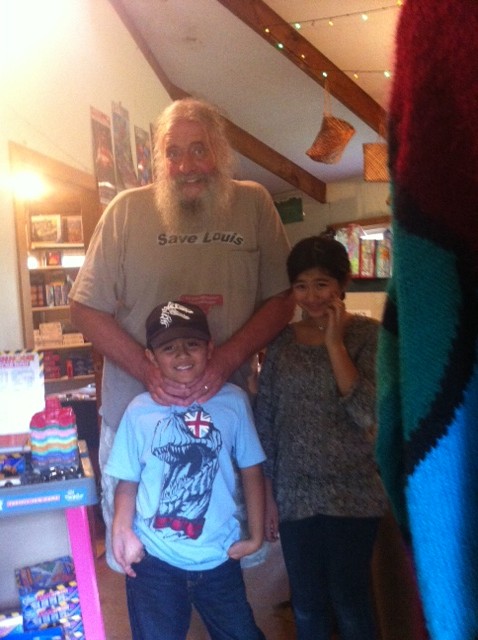 We bought a couple of things and then Mommy and Papa insisted that we leave quickly before I broke something. Upon our return to the spectacular lodge we kneaded bread with the wondrous Ms. Fran.  Not only did we get to knead bread but we managed to assist Ms. Fran in creating Anya and my salad.
Here are some pictures of the kitchen: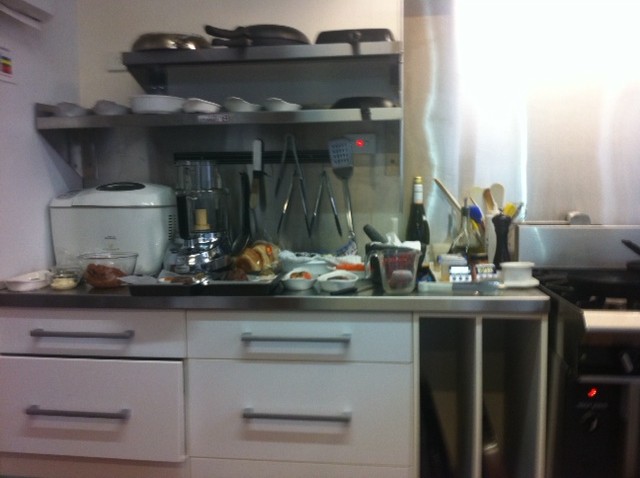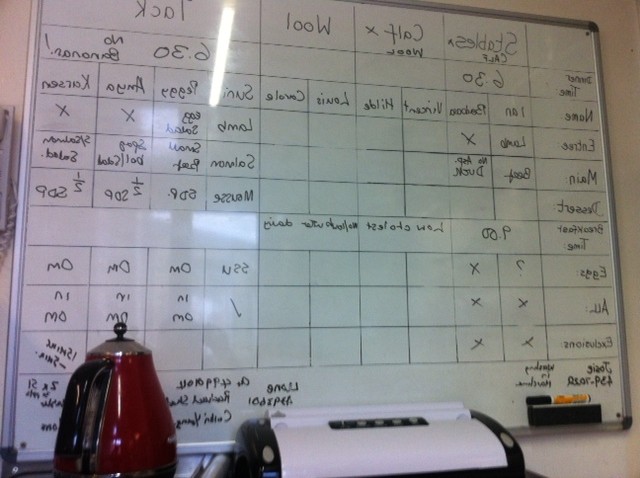 Here is a picture of the bread: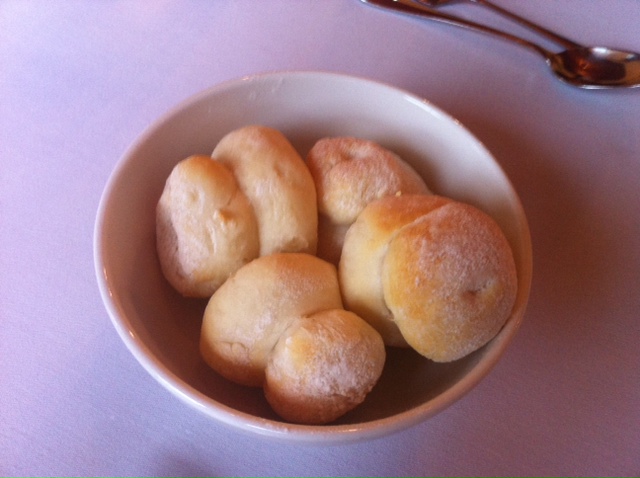 It was such a pleasure to learn from Ms. Fran. Our enjoyment was soon to become even more enjoyable when the time finally arrived for dinner to begin and, before dinner was served, we tried to resolve the challenging puzzles at the table. The food was delicious (Ms. Fran made scotch eggs just for mommy!).
Here are some pictures of our dinner and dessert: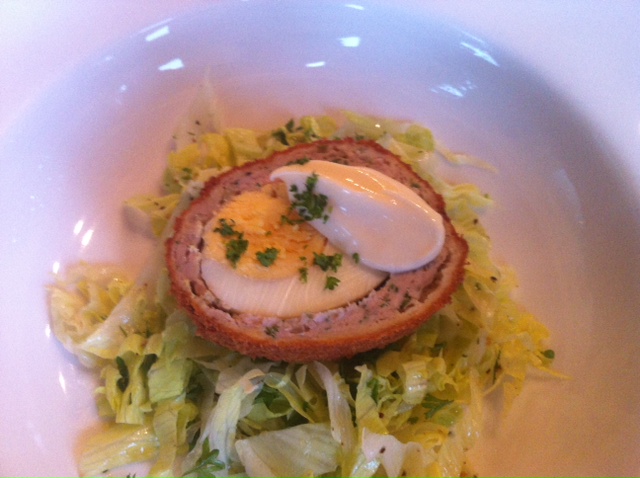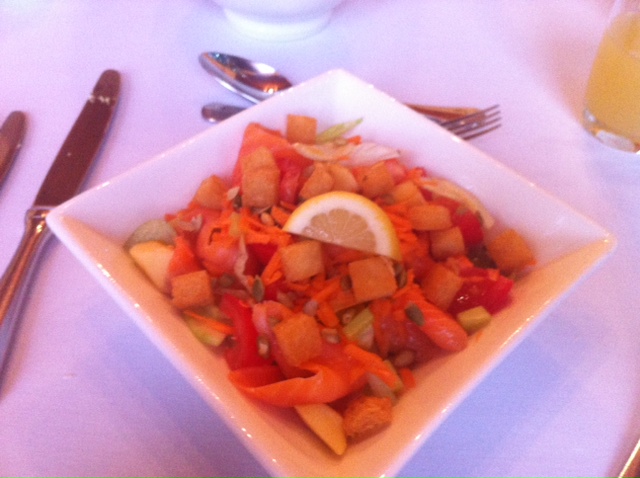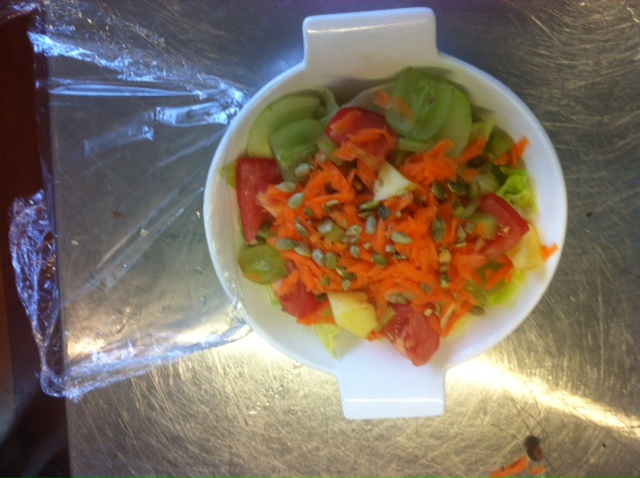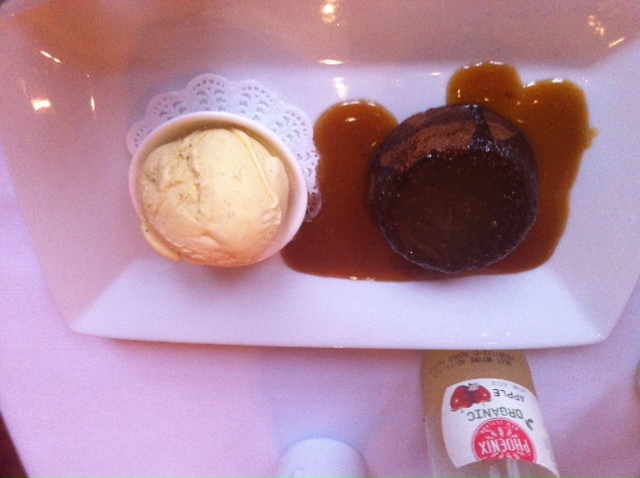 The dinner came with some hot chocolate. Here is a picture: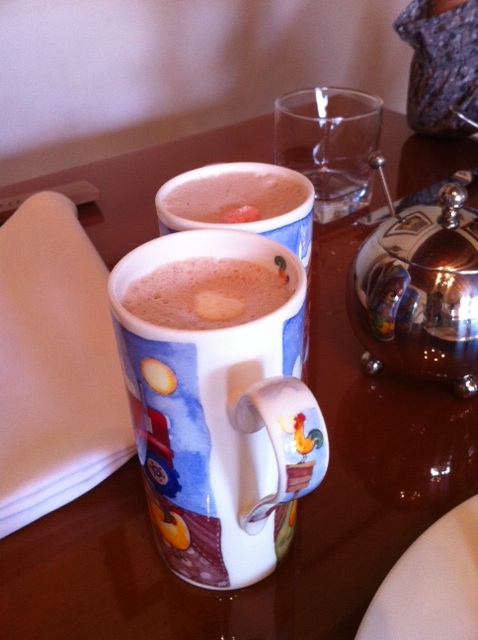 Now, let's get to the action. After dinner, just as it was starting to darken, we ventured out on a specialized, guided kiwi walk. The objective was to spot the elusive nocturnal kiwi. As we were plodding along the path we sighted kiwi hollows, kiwi droppings, glow worms, and a few other introduced animals. We even heard some kiwi calls. Alas, even though there were so many hints of kiwi presence, we were unable to detect a kiwi anywhere but we were in for a new surprise. While our hopes remained high, an immense tree fell with a loud craaack on to the former pathway in that forest. If we took the old path we probably would've been smashed to a pulp. A few people (including our guide) were petrified with horror. After that inexplicable event, we plowed ahead and, with sleepily disappointed looks drove back to their place just like us. Darkness overtook us and our eyelids drooped. Our thoughts turned into dreams. That was how day 2 ended.
Day 3:
We woke to the glaring rays of Helios(Greek)\Apollo(Greek and Roman)\Ra(Egyptian)\Sol(Roman)\Surya(Indian)\Inti(Incan)\Sunna(Norse)\Tonatuih(Aztec) and prepared for our leave of the phenomenal North Island. Before it was breakfast time, we said our goodbyes to the dogs, the cat Mr. McFugly, the cute little kune kune pigs, and all the other fauna. We took our final spring off the trampoline. We took our final climb of the treehouse. We ate our final delicious Fran-cooked breakfast.
We said our final goodbyes to the wonderful hosts Mr. Ian and Ms. Fran. It was a bittersweet moment. As a present Ms. Fran and Mr. Ian bestowed upon us a stuffed kiwi that makes a kiwi call and has its own passport and is the most amazing stuffed animal in the world and some Mr. McFugly crushed christmas crackers.  We must say that Ms. Fran and Mr. Ian made us feel instantly welcome.  We enjoyed our time with them – cooking with Ms. Fran in the kitchen, milking cows with Mr. Ian, and playing tricks on Papa.  THANK YOU so much – we even learned the New Zealand version of the 12 days of Christmas while we were there!
Here is a picture as we're leaving and waving goodbye: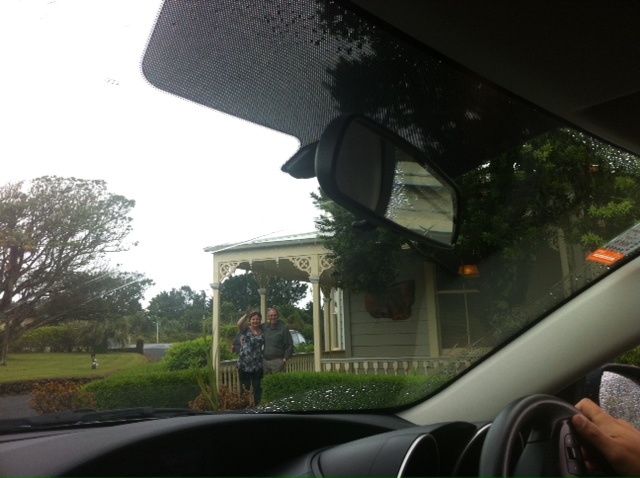 We withdrew from their view and left to go to the airport. Our plane was set to depart for Queenstown in South Island. With that, we were on our way to see South Island.
North Island (and especially Waipoua Lodge with Fran's cooking and Ian's hospitality) is rated 5 smiley faces
😀 😀 😀 😀 😀
p.s.  A very SPECIAL THANK YOU to Mr. Ian and Ms. Fran for making us feel so welcome in New Zealand!  We plan to visit you with our Kiwis again!  And if you're ever in Arizona, please come say hi!!
p.p.s.  Just in case anyone is headed to North Island, NZ, here is a link to Waipoua Lodge – the BEST place to stay on North Island:  http://www.waipoualodge.co.nz/
Say hi to Ms. Fran and Mr. Ian for us!!!!!!!!!!!!!!