Firstly, I would like to let you know that I, Karsen am writing this post because Papa and I went on the trip without other family members. Secondly, we went to Kanab before Page and Page won't be mentioned much until much later. Here is a little bit about Kanab: Kanab is a cute little town in southern Utah with many hikes. It has many tourist attractions, yet scarcely any population. Some attractions are: the Wave, Coyote Buttes, Buckskin Gulch, Coral Pink Sand Dunes, Paria Townsite, The Toadstools, Grand Staircase Escalante, Lake Powell, etc. We had been to Buckskin Gulch when I was younger. However, I remember nothing  of them. The largest attraction was the Wave. The Wave was so popular on the first day that there was 112 people entering for just ten permits!! Anyway, to get to the point, we entered a lottery for permits every day and failed to get a permit :(. Oh, and by the way, we were with a tremendous hiker named Mr. Hank who is a professor of the boring subject of Finance At the University of Utah. He and papa are great friends, and he stayed with us and hiked with us. Our first day was filled with drama … and excitement!! We decided to go to the little, cute toadstools which had some mud in it from the recent downpour for our first, short hike.
Here is a picture of a toadstool: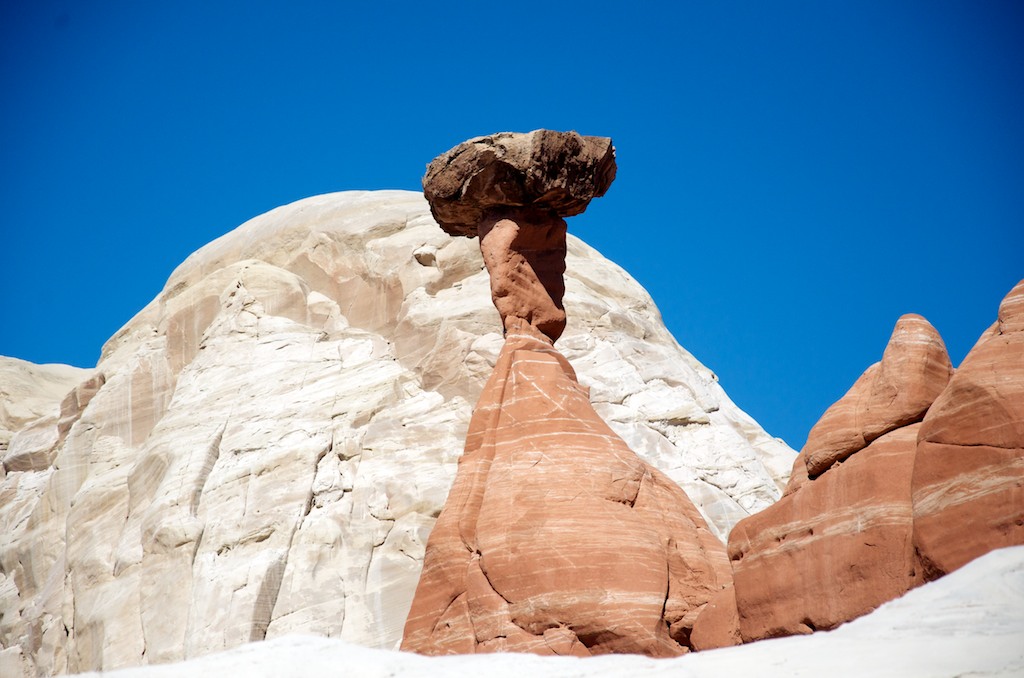 While papa and Mr. Hank took pictures, I calmly stated that there was a sleeping rattlesnake about a foot away, basking in the sun. They instantly backed away and took pictures of the snake.
Here is a picture of the rattlesnake: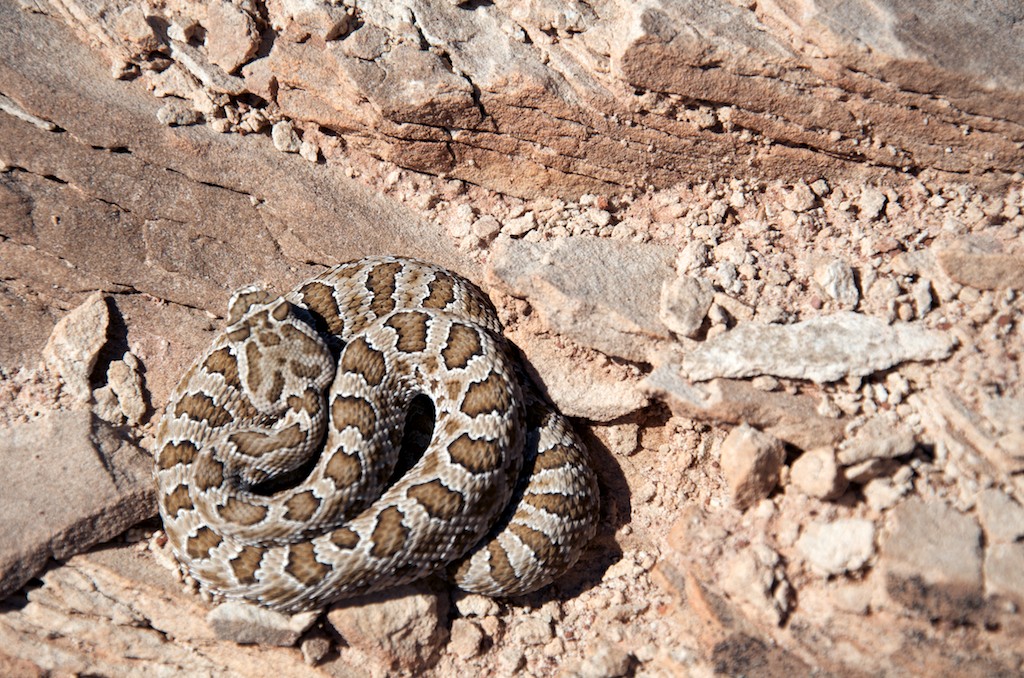 After they finished obsessing about the snake, we nudged the snake to make sure it was alive since it was curled up, stock still. It came out, eventually, stuck out his tongue, shook his rattler. and slid down, under a slot. Unfortunately papa didn't get one of his "high-tech videos" of the snake, which I thought sounded sort of weird. After that encounter I was considered the "official snake spotter" by Mr. Hank and papa. Anyway, we got to the toadstools and saw a spectacular view of … virtually everything!!
Here are some pictures: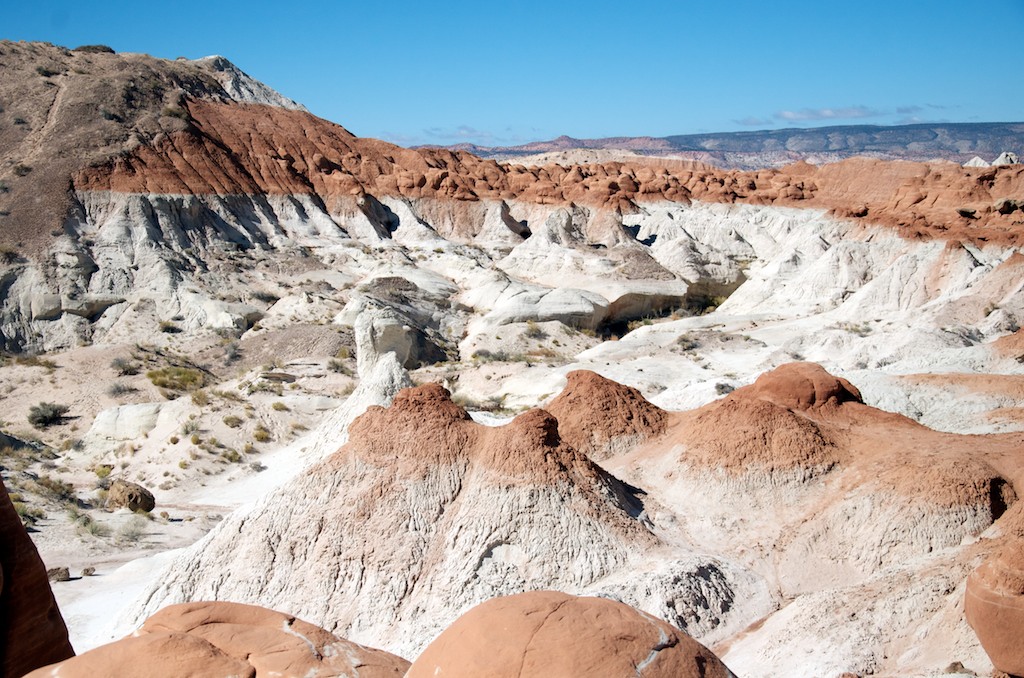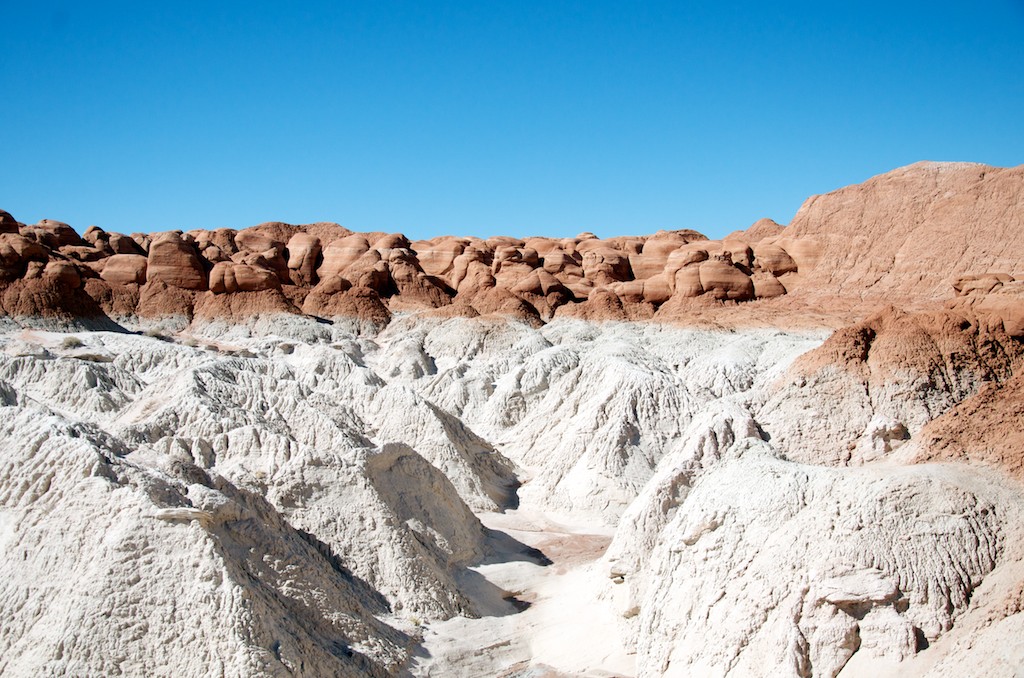 We continued exploring to see if we could find a place where we could go to the very top. However, our task was unsuccessful and we only managed to get partway up. In the end, we ended up exploring some more and just hiked and enjoyed. Once we arrived in the car again, we determined that we should go to the Paria Townsite. This townsite is where a town was built in the late 1800's along a wash. As many of you probably already know, in washes flash floods occur. When they arise, they can wipe out anything. As the experimental and observation evidence show, the flash floods shattered the townsite leaving nothing but water and rocks. On the drive there, we had to go through some dirt roads using 4WD. During the experience on the dirt, we stumbled across a Jeep. The Jeep, a great off-roading vehicle, decided not to continue on the muddy parts because he was afraid that "the traction would come off when the mud came on". We all laughed about it because: why have a good dirt road vehicle to use it for nothing? Papa called it "the Rav 4 goes where no jeep has  gone before". Just say hahahaha at his lame joke to please him. We saw spectacular views.
Here are some pictures: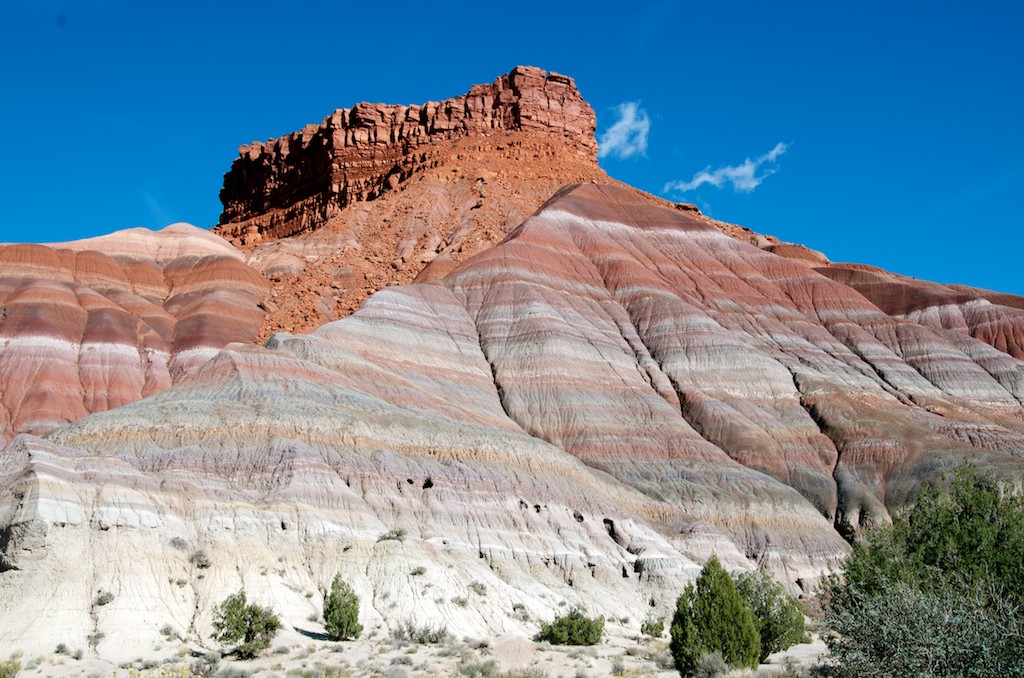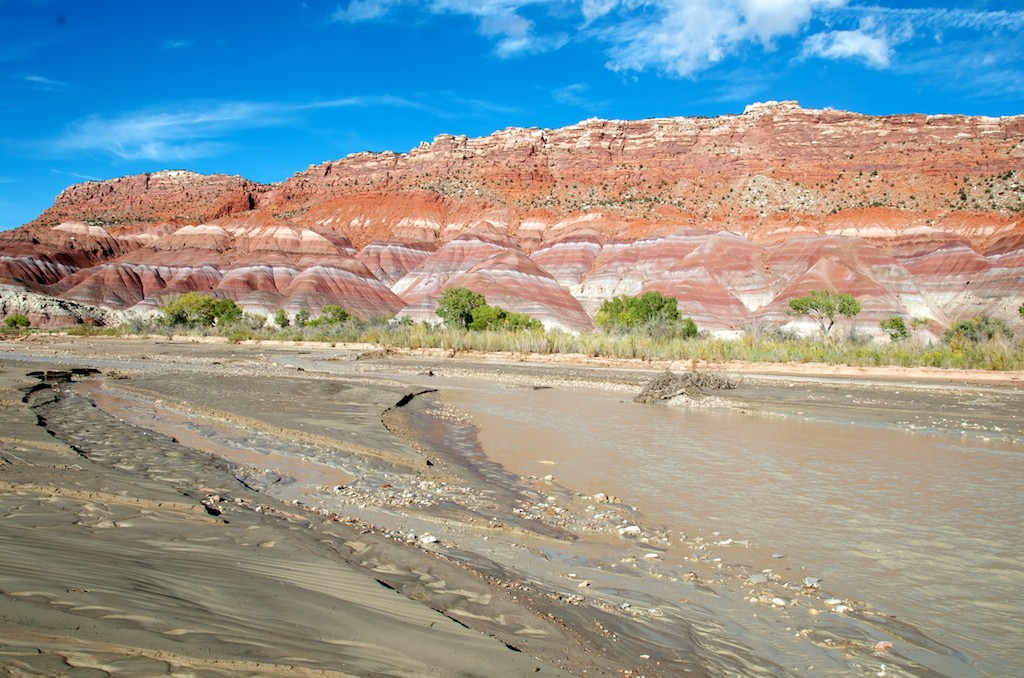 To get to the point, we walked alongside the river and searched for old remnants. Unluckily for us, we saw none, but we did have fun by skipping stones. After the townsite, we resolved to go to Johnson Canyon while we still had some daylight. Johnson canyon isn't hiking. You drive along the paved road and dirt road until you get out of it and just sit back, relax, and admire the view. On the road, we saw an injured, not dead snake sitting trying to move on the road. The poor thing was writhing in agony from the horrendous laceration. Papa picked it up with two sticks, and brought it over to the side where it still has chance to survive. We returned to Kanab after the day's trip and prepared for Day 2.
Day 2:
We attempted, as usual, to get Wave permits. As usual, we were extremely close. We were planning on going to South Coyote Buttes that day. But we failed to get the permits for South Coyote Buttes as well so we decided to go to the slot canyon, Buckskin Gulch through the back entrance (through Buckskin Gulch, not Wire Pass). With the two Mr. Boring Subjects on either end, I was squeezed in with an endless blather of words about…guess what? That's right, finance. We hiked in the gulch, out of the gulch (following it) and, while the Gulch was filled with mud, the shortcuts had thorns in them. Papa came to a conclusion!! He would smother mud on my (of course, mine since I am the shortest) legs and use the mud as a ice pack and a forcefield. It worked brilliantly (just say congratulations, papa).
Here is a picture of mud smothered on to my legs: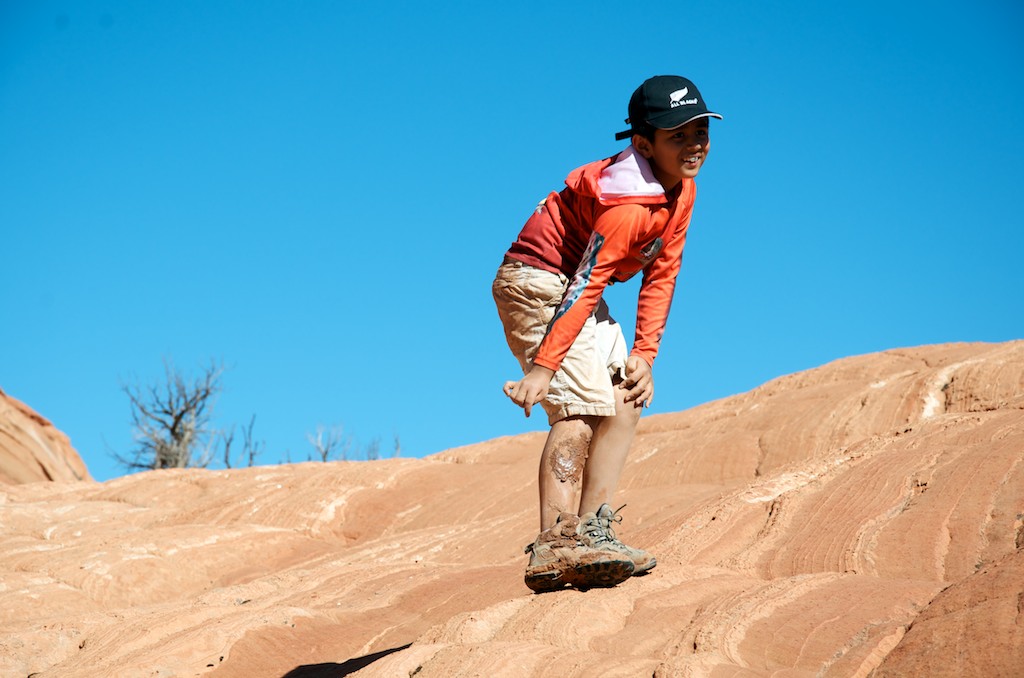 Soon after, we found a miniature(50 ft.) wave that we hiked around and took pics.
Here is a picture: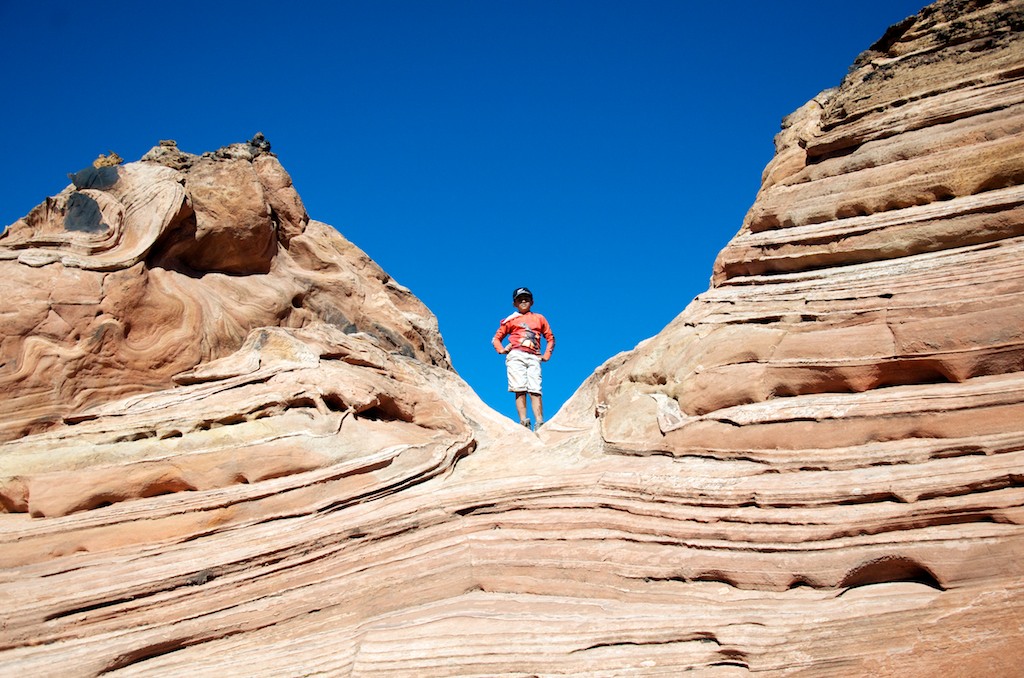 Once we got past the walking in the gulch and mud part to escape the increasing scorching heat, we hit the largest slot canyon in the world. We advanced through the mud until we saw a bacteria-filled pool that was to wide and long to be easily avoided. We decided to go all the way out of the gulch, go on top of the rocks, and find a way down. With little difficulty, we managed to find a way. Again, soon afterward, we discovered a large, deep, bacteria-filled pool that was unavoidable. They came to the conclusion that they didn't want me wading shoulder-deep in disgusting water even though it sounded fun. We determined to take a side slot. The side slot was intriguing but not good enough to get around. Unfortunately, we were forced to turn back. On the way back, we chose to explore. We ended up exploring a giant area called "The Dive". It was absolutely breath-taking and a once in a lifetime moment. Even the expert (Mr. Hank) described it as the best view he had ever seen in Utah. It looked like the wave yet with an addition. it was high up, so it had a great view, not just a spectacular ground.
Here is a picture:
We concluded that there could be no further ascent by me because of my Lilliputian height. Mr. Hank progressed to the top while papa and I made the descent. We were planning to meet in slightly less than an hour. Once we encountered him, we continued our hike and reached the end. On the journey back, Papa spotted 2 petroglyphs, one representing a person, another representing something that looked like a sun except with a dot on each half. One of the best things about the hike was the lack of people. We saw no people on the hike save for a small group of good-natured hikers. We tracked how much we hiked and our conclusion was … 10.5 miles!! Mr. Hank left after that so Papa and I were on our own for the rest of the trip.
Day 3
As usual, we began Day 3 with an attempt at wave permits except this time there was no Mr. Hank. With 5 groups of 2, none of them being ours, the wave was completely off our schedule for the rest of the trip. Papa and I planned our day at the ranger's station and we came to the conclusion that we would attempt another shot at Buckskin gulch except go through the traditional entrance, through Wirepass which had a few more people and entered the slots much earlier.
Here is a picture of me in a slot: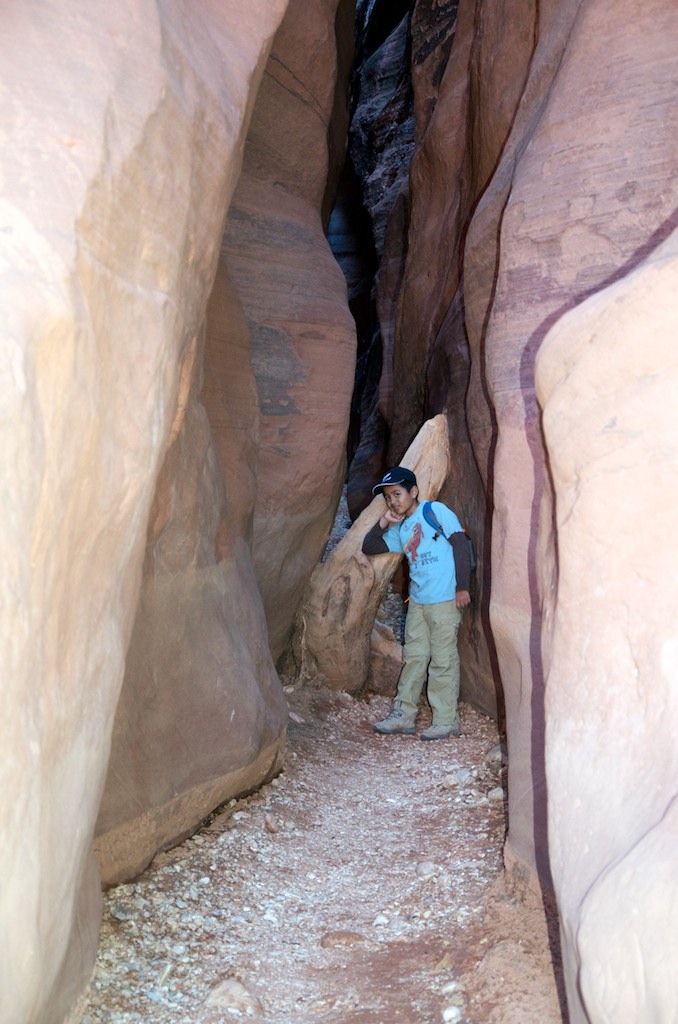 We managed to get to the confluence, where Buckskin Gulch meets Wirepass. On the return, we spotted a snake right in front of us.  It saw us and quickly slithered away.  We think it was a racer snake. We only managed to spot a glimpse of it so there was no time to take a picture. Once we arrived in the car, Papa drove to … the long-awaited Page!! We took many detours on the way there, exploring various interesting roads, and, once we arrived, we checked in to the hotel, and drove to the antelope canyon tour meeting place. Antelope Canyon is on the Navajo Reservation so we could only enter it with a Navajo guide.
Here is a picture of Antelope: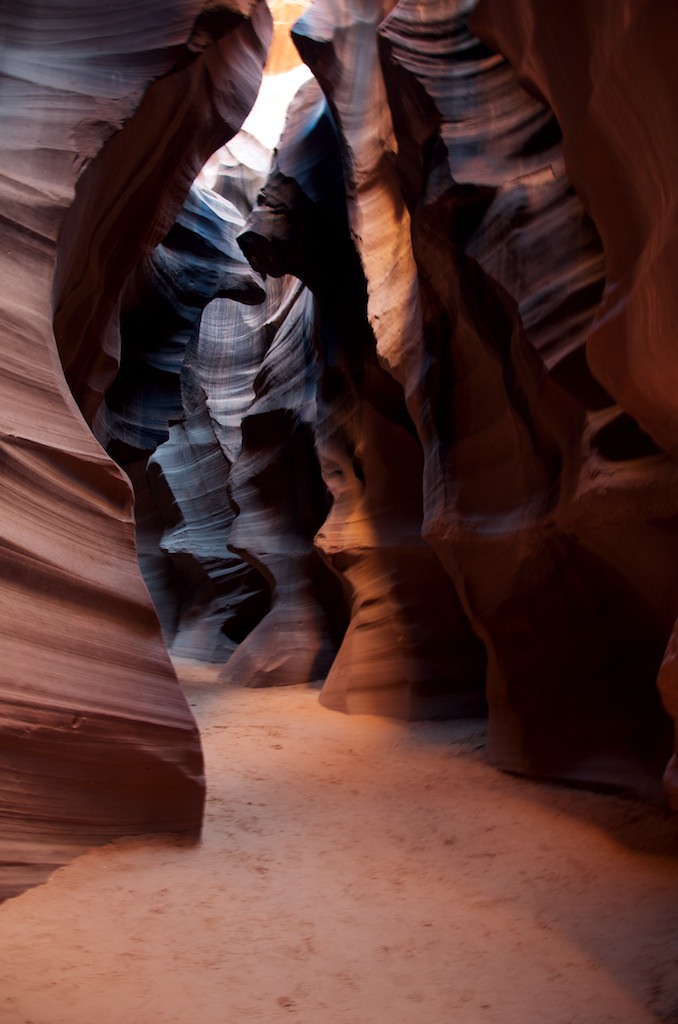 We had come to explore Upper Antelope Canyon and it was gorgeous, except there were many people in our group. Our guide was named Rosa. She guided us through the canyon spectacularly.
Here is a picture of Papa and me at the end of the canyon: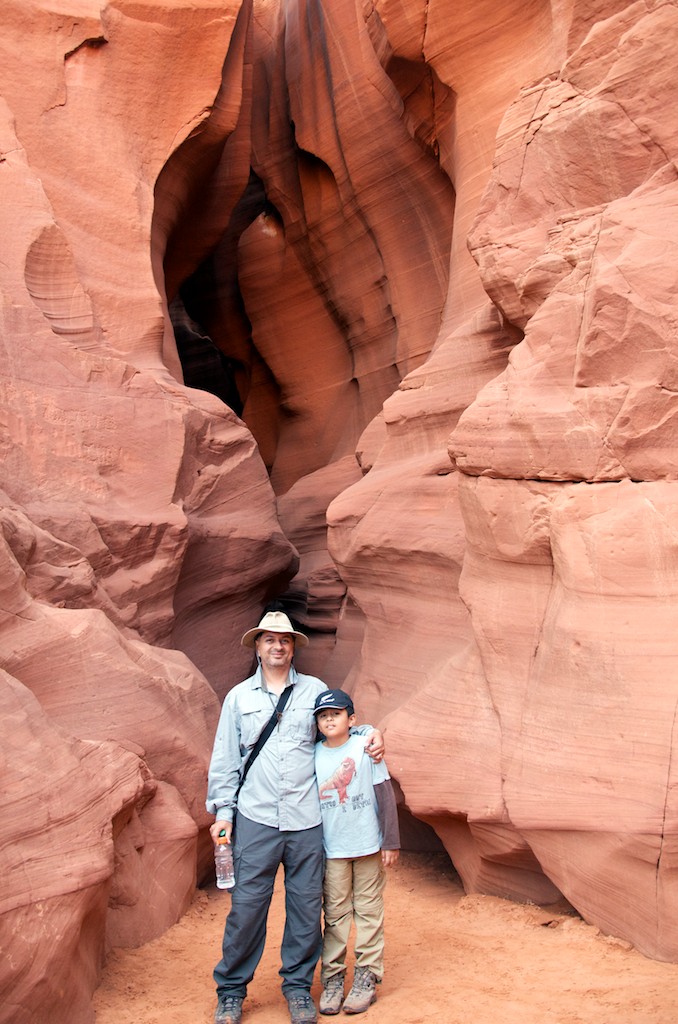 Once we arrived back in the tour place, we asked if we could go to Lower Antelope Canyon the next morning. They said yes, and we went happily asleep soon later.
Day 4
Magnificent, spectacular, splendid, stunning, exquisite, beautiful, gorgeous, breath-taking, majestic, significant, exceptional, extraordinary, wonderful, marvelous, awesome, wonderful, terrific, delightful, phenomenal, remarkable, incredible, amazing, staggering, and fabulous are all perfect descriptions of Lower Antelope Canyon. In Lower Antelope there were, unlike Upper Antelope, ladders. We had to climb along the ladders but this time there was no rush. The visitors could move steadily and at their own pace while the guide is somewhere else. We saw numerous interesting figures built into the rock and, with plenty of time, Papa took about a million pictures.
Here are some of those pictures: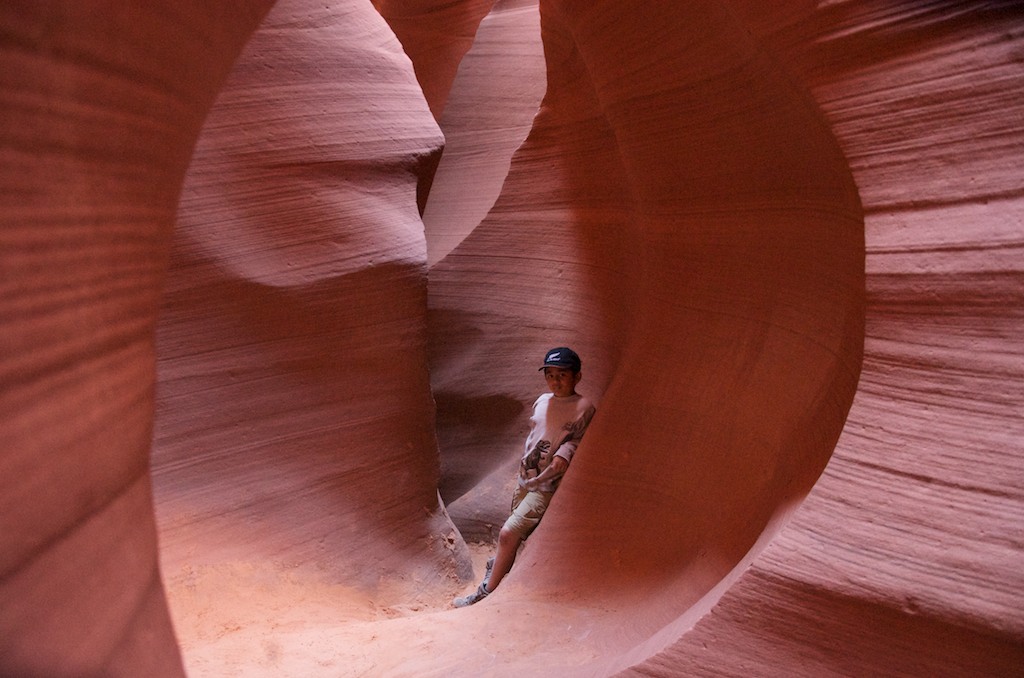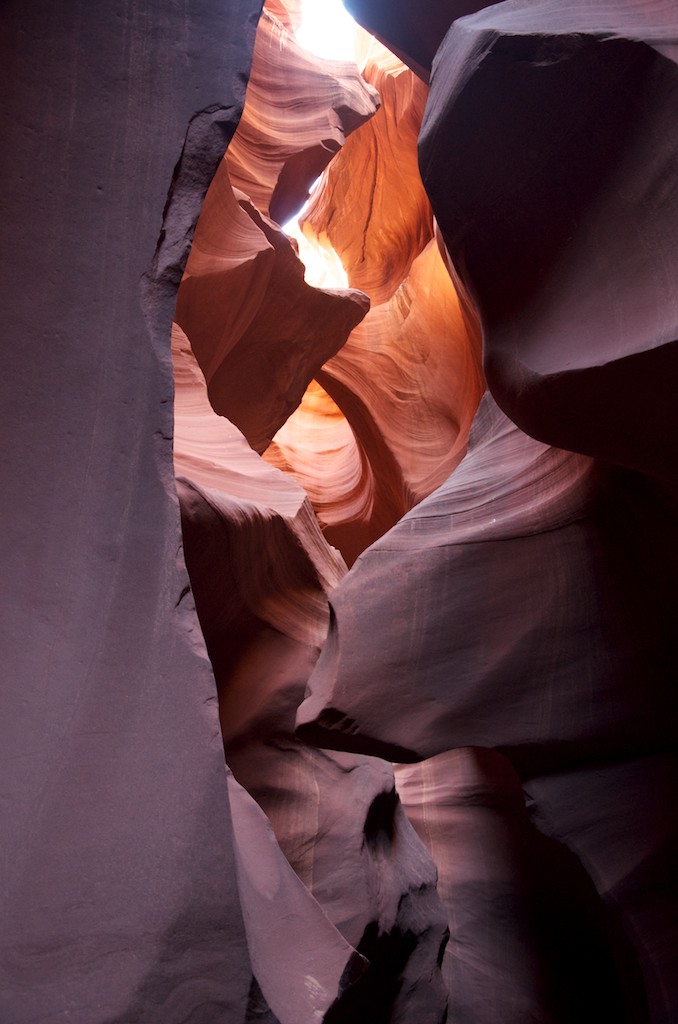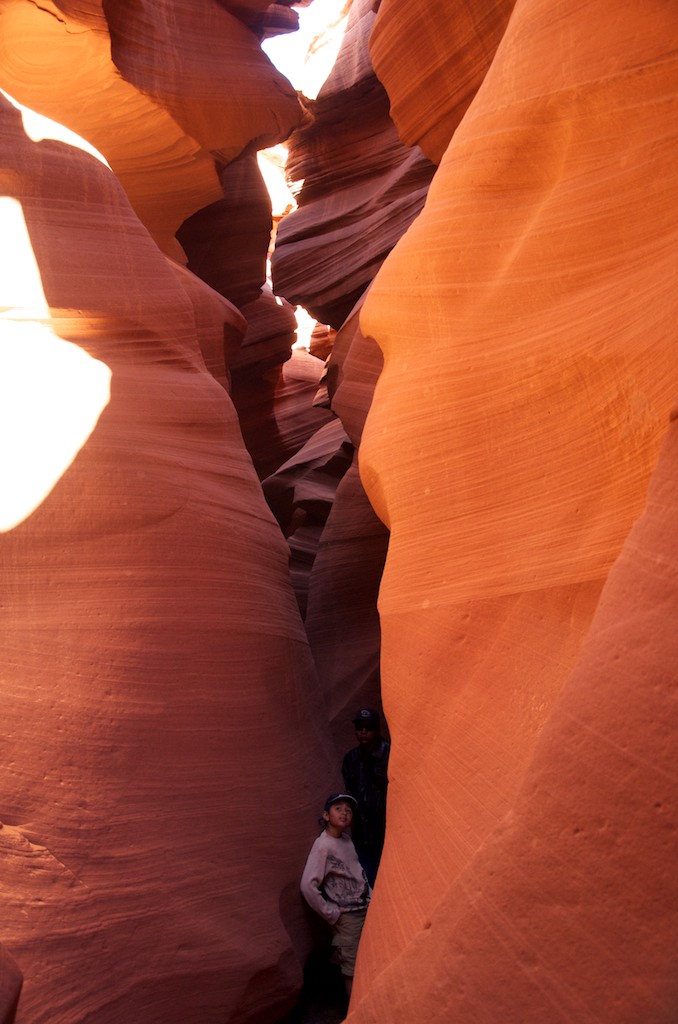 We continued to descend until we hit a slide formed by rock and no ladder to descend on. We were forced to ascend and withdraw from the canyon with a professional photography group at our heels (long story) and begin our journey to Scottsdale.