Located on Hyde Park Corner Station, Knightsbridge, London, Lanesborough Hotel is an exquisite hotel with several awards, some of which are listed here: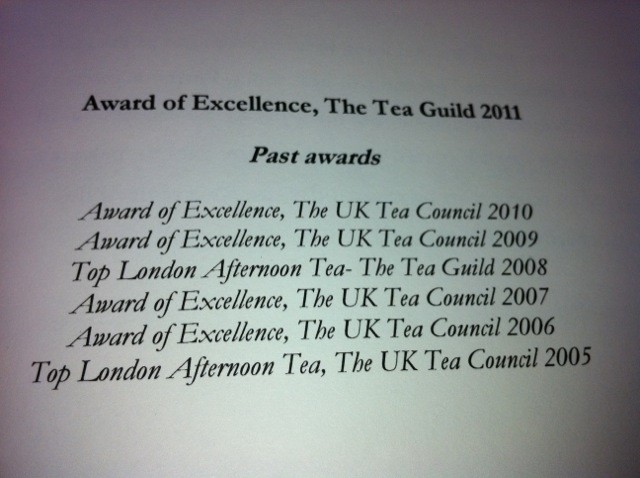 We decided to have high tea because the boys-Dada, Papa, and Karsen, were watching a cricket game-(I have no idea which one since I am an anti-sports-likes -books-and-reads-too-much-person). Ask Karsen. We really wanted to take Dadi to Brown's because she hasn't been. But, alas, Brown's (being so extremely popular) was booked. That's when we found Lanesborough. We had low expectations. But we were ecstastic, and amazed at the service of this place. In fact, we ended the afternoon with a new favorite tea place!  That's right – read on and you'll see why we like Lanesborough even more than Brown's!
When we walked into the hotel, one of the first things we noticed is a flower display. This is of significance because, though the flowers were abundant and very pretty, they were also a tribute to Wimbledon. Wimbledon is a very famous tennis match, or so they say(Karsen would know more-he is an all sports fanatic). The tennis balls were placed inside the flower pot and tennis raquets around it. My hypothesis is that this helped the roots of the flowers spread out so as to get more water. Here is a picture of the flower bouquet: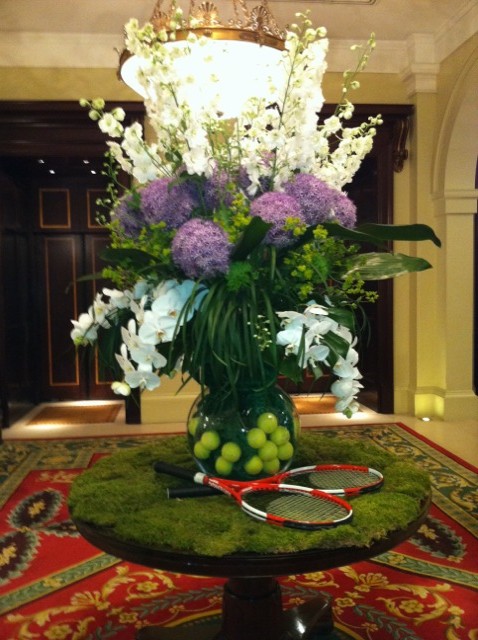 In my opinion, this should count for something because they are keeping the hotel updated. The only reason it should not count is if resources were spent on decor at the expense of the food and service. Fortunately for us, that was not the case at all – we had the BEST tea experience. Oops. I just gave something away!! Curses.
They have a separate afternoon tea room that is very pretty and even has a sky roof. Here is a pictures of the ambiance-including the sky roof that is.
When we arrived, they immediately handed us a menu and said, while looking at Dadi, "I understand you are vegetarian.  Do you have any special requirements?  Do you eat eggs?"  We were immediately impressed because when mommy made an online reservation, she wrote "Please note – we have one vegetarian" but did not expect that the servers were so well-prepared for each individual guest!  They were indeed very attentive. Here is a link to the menu:
http://www.lanesborough.com/assets/u/Afternoon-Tea-Menu-2012.pdf
Our waiter happily told us about all the tea choices. Almost or as much as Brown's, if I dare say so myself. Dadi had the silver needle-the same thing Kaushik Pufaji had at Brown's. And mommy had the Rose of the Orient – our server's favorite tea.
As you know from the Brown's review, I usually have hot chocolate since I am not a fan of tea, often equating it to dirty water.  Nonetheless, our tea server offered me hot chocolate and a "tea tasting."  I readily agreed.  After all, this is a no-lose proposition.  I was allowed to have hot chocolate throughout the tea and was going to be served the rooibos (a red tea) during the savories and an herbal fruit tea during the sweets. As I mentioned earlier, the staff were very attentive. Every time our cup was empty or almost empty, they refilled it. So what did I think of the tea?  Well, looks good, smells good, but tastes bad. Dirty trick.  And as the British say "the proof is in the pudding", the only cup that was constantly replenished was my hot chocolate.  In other words, I discovered that it's just "not my cup of tea", (haha – pun intended!). I might give it another chance when I am more grown up – after all, mommy and dadi seem to enjoy their tea!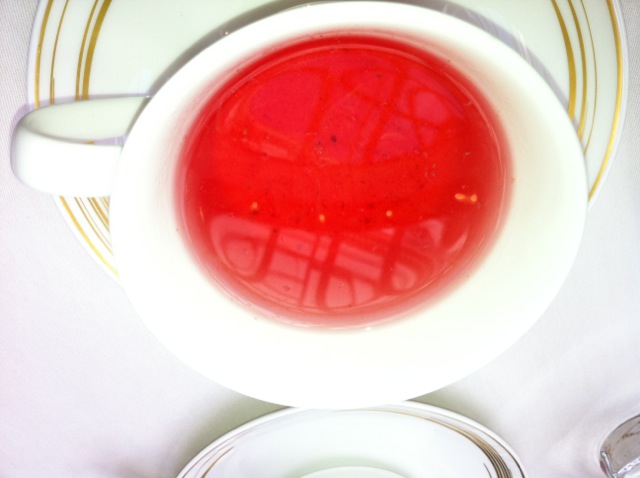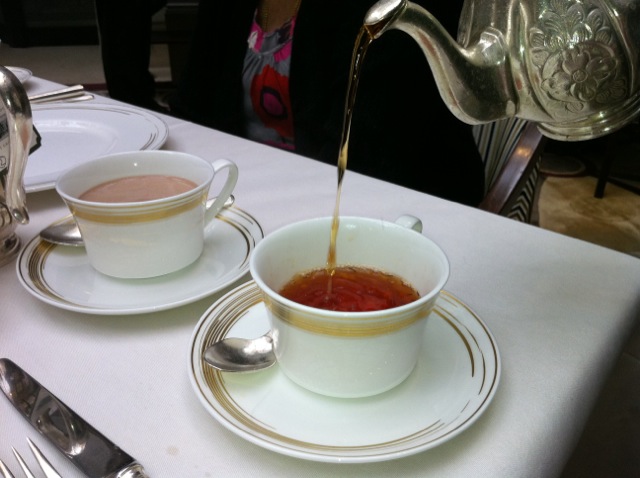 We all ordered the same tea menu, which was sandwiches (vegetarian for Dadi), quiche, scones (plain and cinnamon), and an assortment of desserts and cakes.
The first thing that arrived(very quickly), was the amuse bouche!  That's right – unlike Brown's, we get an amuse bouche! The amuse bouche was a passionfruit lampshade with jelly and crumble with a raspberry on top. Makes my mouth water!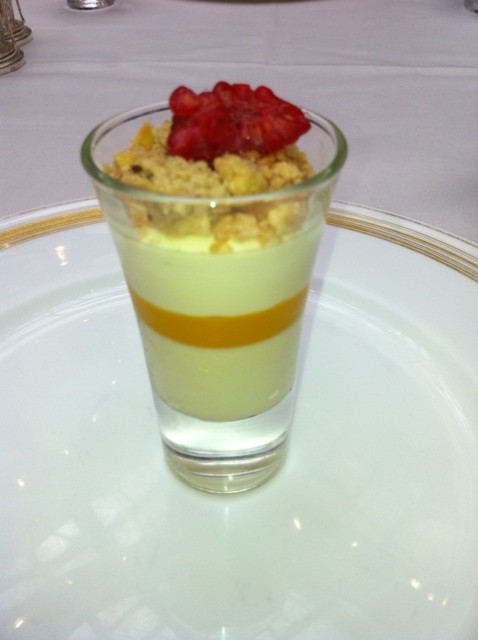 The amuse bouche whetted our appetites for what came next – the three-tiered cake tray and the most delicious quiches ever! It was carmelized onion, bite sized, and in other words, perfect. It was so good we asked for seconds.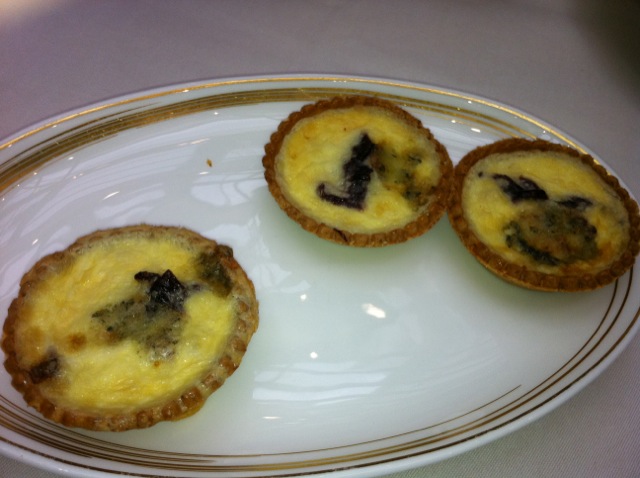 Then, Dadi's vegetarian sandwiches came – separately. She loved them. We didn't try any, but we think that Brown's is more traditional (excluding the Chicken Coronation Sandwich), and Lanesborough is more unique. Here is a picture of Dadi's vegetarian sandwiches: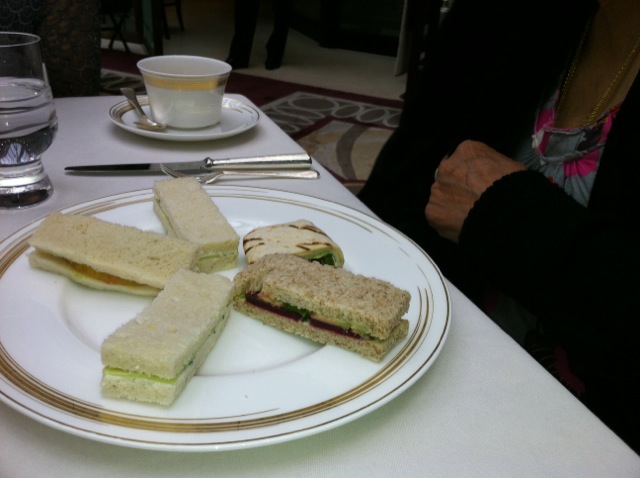 We took a couple of picture of my with my pinky up(that was especially for you Mr.Don) pictures of Dadi and myself, and pictures of the waiter. Well, Here they are: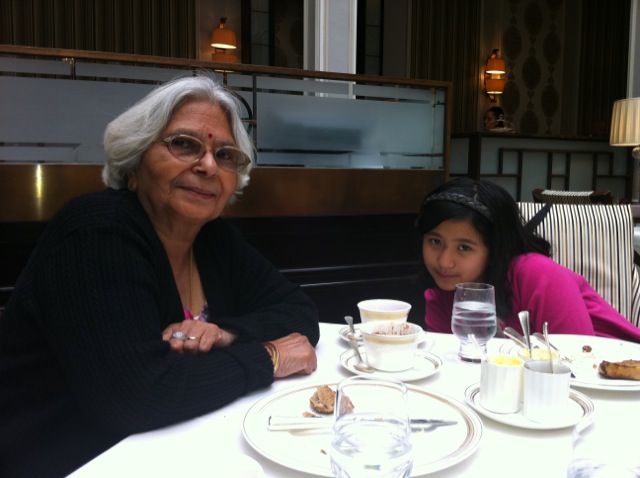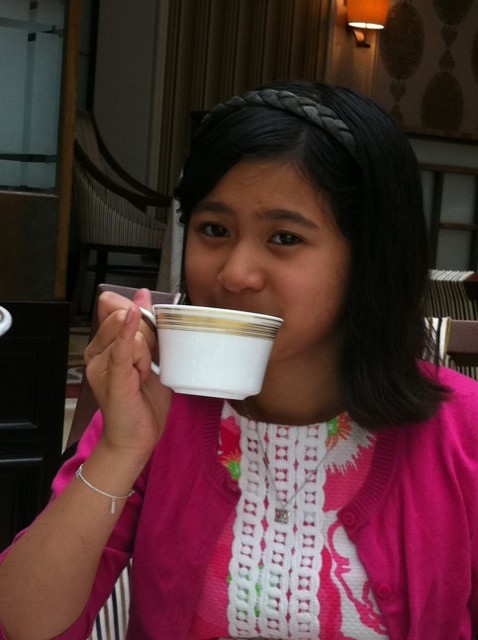 P.S. The server's name was Steven.
Now – onto the real food began to come. Our three-tiered cake tray.  Here are two picture of the three tiers.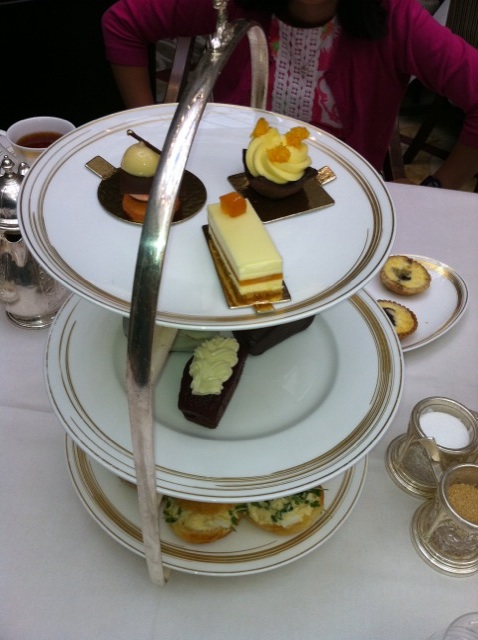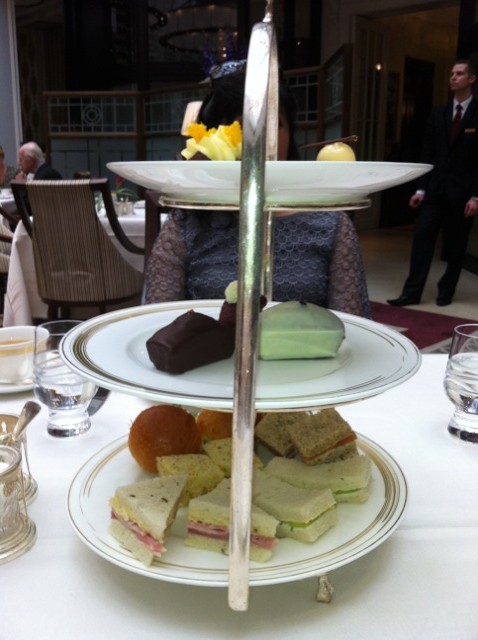 Now what do you notice about these three tiers?  No scones!  Where are the scones?  Well, it turns out because scones are not eaten until after the sandwiches, the servers bring the scones about 15-20 minutes afterwards – just to ensure that the scones are nice and piping hot!
As usual, Mommy made me eat the sandwiches before the dessert and scones. The sandwiches were delicious, and I asked for seconds specifically for the salmon sandwich.  It is important to note that the sandwiches were on different kinds of bread – this is "unique" to Lanesborough!  At Brown's, all of the tea sandwiches were served on the same kind of bread.  Before arriving at Lanesborough's, I did a bit of research and one of the criticisms of this place is that the bread was a bit stale and old.  I'm here to tell you that we had absolutely FRESH bread – so the criticism is simply not true!
Then, we had the plain and cinnamon scones. I decided that the plain scones are much better than the cinnamon/raisin scones. Mommy agrees. The scones came with clotted cream, strawberry jam, and lemon curd. As you said Pei Pei Ah-yi, the best combination was everything put together.  The lemon curd is so delicious – I could just spoon some in my mouth!!! Here is a picture of the scones – as Steven promised, they arrived about 15 minutes later: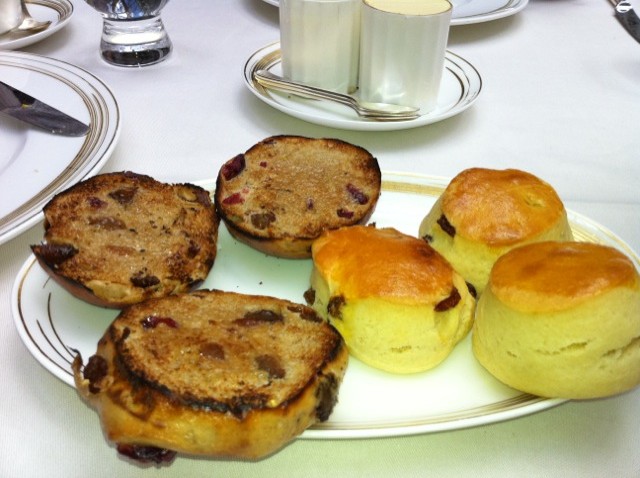 Then we had the cakes. They gave us white chocolate, dark chocolate, and red velvet, all of which were excellent.  Dadi was so full that she didn't eat much dessert, so mommy and I got to eat them all. Crazy and lucky for us, huh?
I also took a picture of the pianist. Mommy and I both play the piano, so we were in awe that he just memorized every song in the book!! He plays different songs every day and never makes a mistake! He didn't even have any sheet music!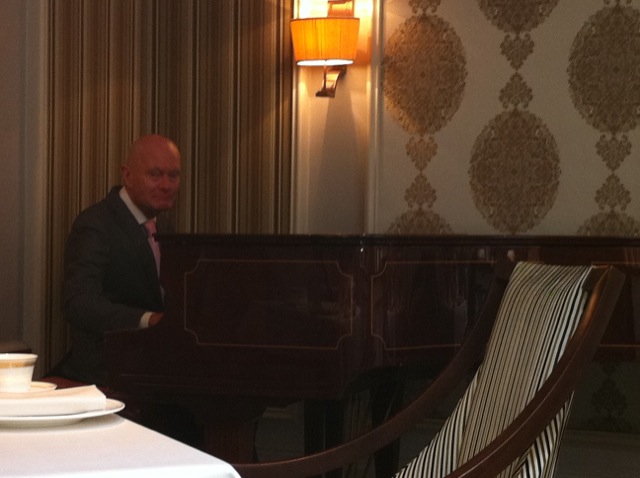 In all, I would say that Lanesborough's afternoon tea has de-throned Brown's as my favorite tea place.  I like their special touches – like remembering that Dadi is vegetarian, making sure that the scones stay warm, and allowing me the tea tasting AND hot chocolate.  I also love being greeted with piano music and an amuse bouche.  Finally, the delicious quiches (better than any savory at Brown's).
Tea is an occasion to feel as royal as the Queen of England.  And I felt absolutely spoiled with the service and the delectables!  American Author, Alice Walker, once said "Tea to the English is really a picnic indoors" and the author of all of the Winnie-the-Pooh books, A.A. Milne stated "A Proper Tea is much nicer than a Very Nearly Tea, which is one you forget about afterwards."   I agree with both of them and Lanesborough's tea is most definitely proper and one that I will remember for  a long time – even when the tea is hot chocolate!!!
Not surprisingly, we rate Lanesborough's afternoon tea
(drum roll please)
5 smiley faces
😀 😀 😀 😀 😀
In the interest of full disclosure, I would like you to know that my afternoon tea was complimentary.  Still, I want you to know that my review was written with complete honesty and integrity.  This is the best afternoon tea I have ever had.  And even though I am only ten years-old (almost eleven), I have been to many afternoon teas!
p.s.  we have subsequently downgraded brown's hotel tea to 4 1/2 smiley faces –