At last – the long-awaited Umami post.  We need to state upfront that prior to this post, we have eaten at Umami burger several times and it is our favorite hamburger place.  In fact, we think it might be the most perfect burger ever.  So even before heading to Umami-Hermosa Beach, we were expecting another delicious experience.  We were not disappointed.
If you have been following our blog, you'll also know that we ate at Umami Burger with several people, including Doktor, Persen, Pei-pei Ah-yi, Uncle Ben, Zander,Mina, and Annika.  We are going to give you our opinion about the place.  And we hope that those who came with us will give their opinion also!!
Here is a picture of the place: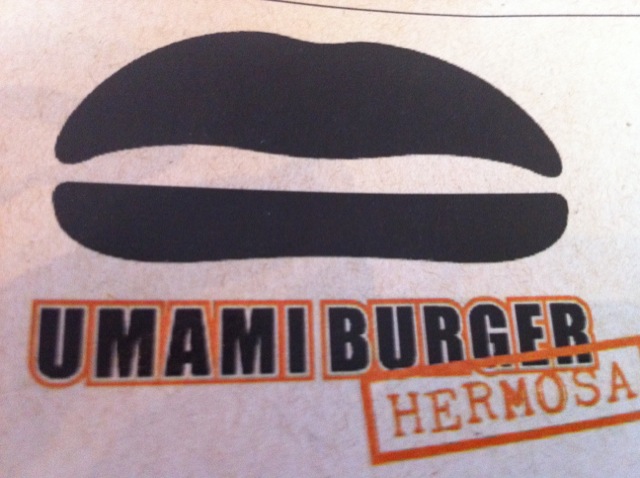 Here are pictures of the menu: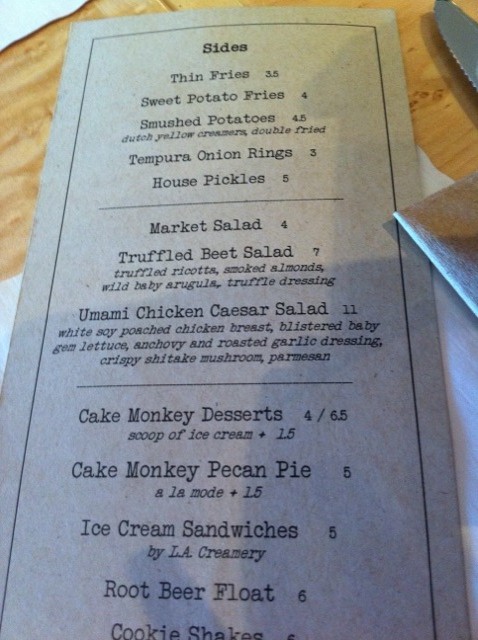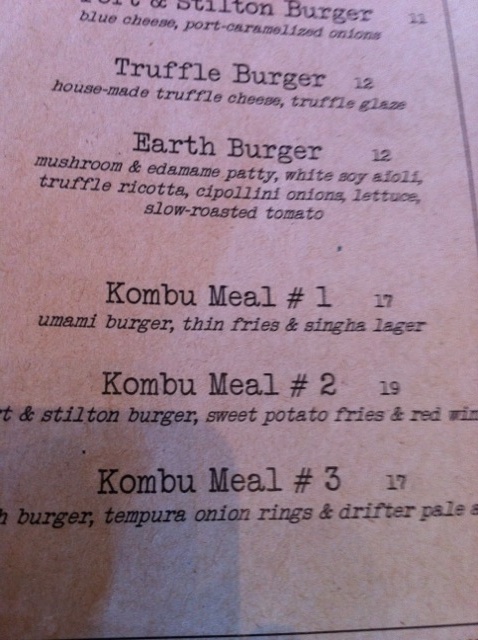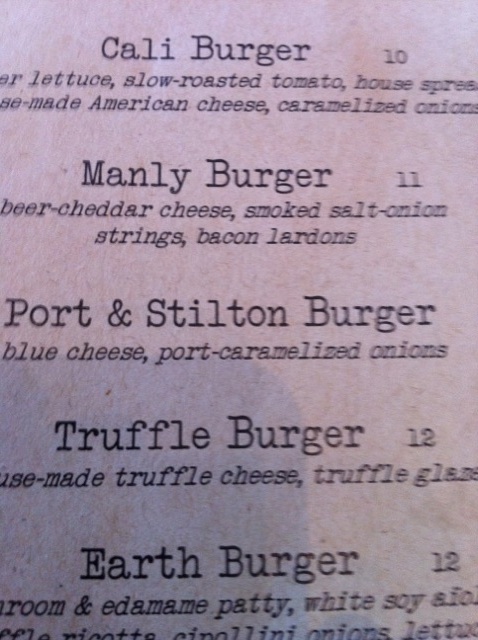 We first ordered lemonade – we only get lemonade when it is homemade.  The lemonade was delicious. It tasted just how we liked it-sour, but not too sour. Here is a picture of POSSIBLY THE BEST LEMONADE EVER!!!!!!!!!!!!!!!(besides Papa's) and the ginger beer that is alcoholic(a.k.a the eew drinks for grownups that we can't even try).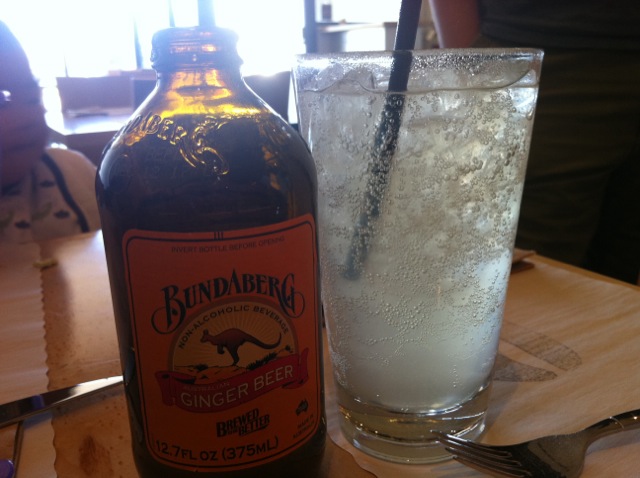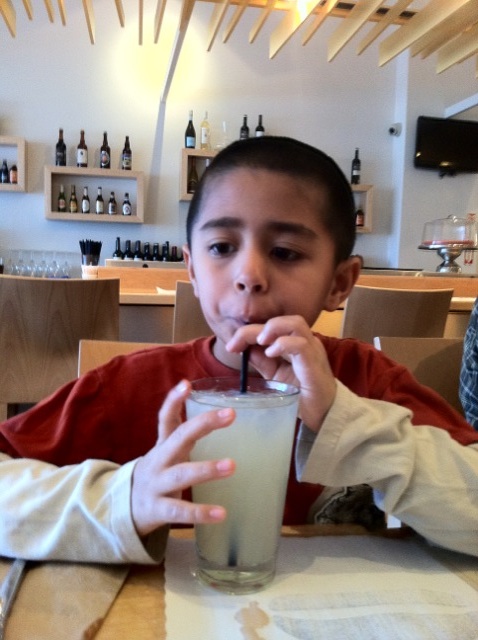 The onion rings were especially crunchy and not too oily.
Here is a picture of the onion rings: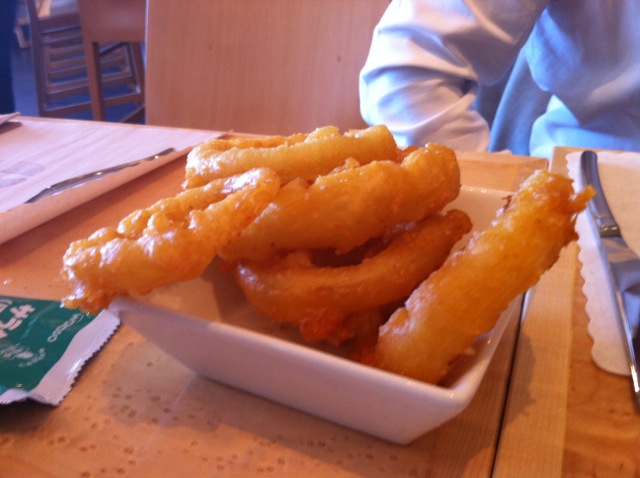 The cheese taters were very tasty, very cheesy, and melt in your mouth.  The cheese taters are not on the menu – you have to ask for it.  Umami doesn't always have cheese taters – we've asked previously, and this was the FIRST time they were actually available!
Here is a picture of the cheese taters: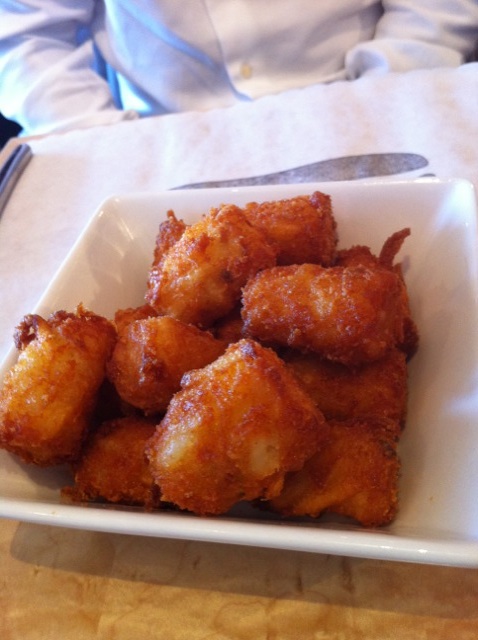 The parmesan crisp was very crispy and easily broken. This was Annika's favorite thing.  In fact, it is really only available on the Umami burger but since Annika liked it so much, we asked the server for an extra one.
Here is a picture of the parmesan crisp: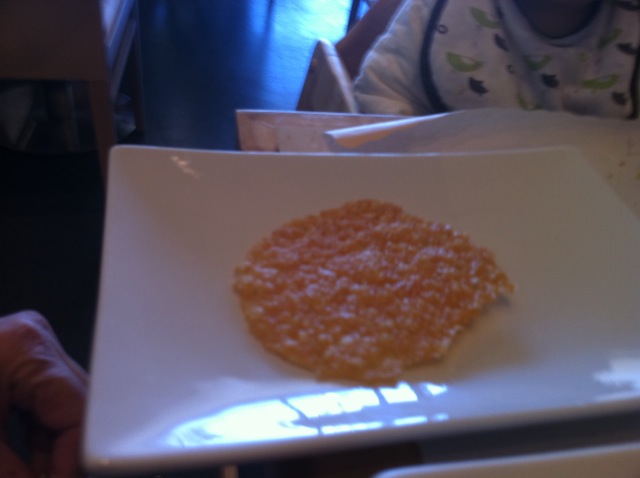 The French Fries were perfectly salted. They were Mina's favorite.
Here is a picture: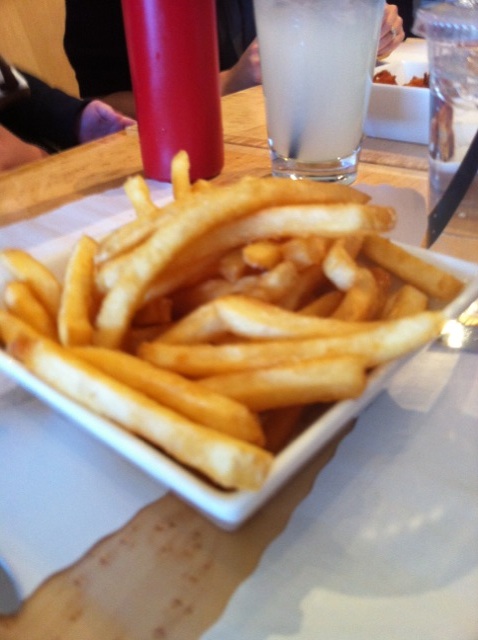 The sweet potato fries were even better than the french fries and extremely crunchy and crispy.
Here is a picture: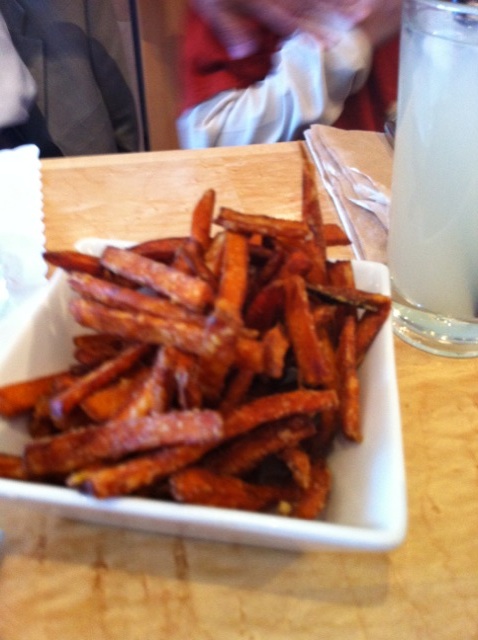 The Smushed potatoes were HOT (temperature hot) and very appetizing.
Here is a picture: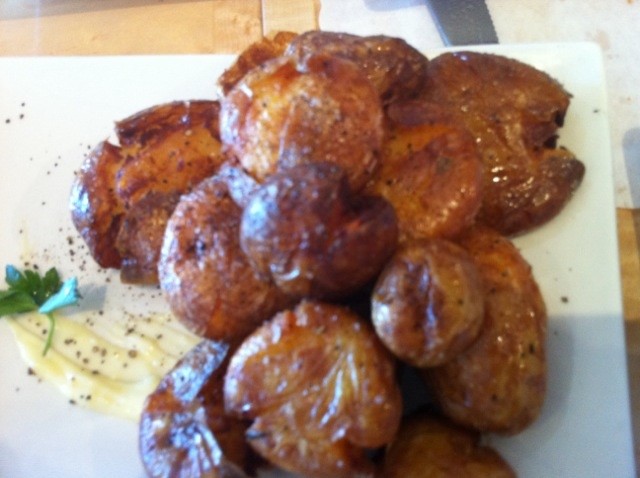 And all of the sides came with homemade sauces.  These sauces included roasted garlic aioli, diablo, and jalapeno ranch.  Even their ketchup was homemade.  Anya's favorite was the garlic aioli. Mommy and Karsen like the diablo.  And Papa likes the jalapeno ranch.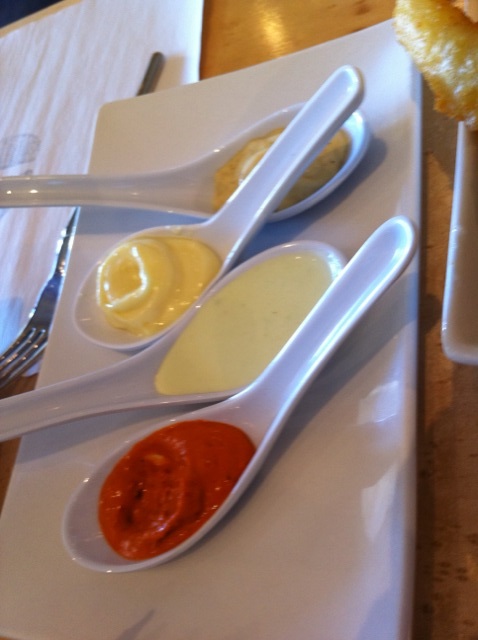 Their signature burger is called the umami burger. This is the most perfect burger.  Both of us (Karsen and Anya) get the same burger everytime.  The beef is cooked to perfection and medium rare, just how we like it..  It is topped with: 1) caramelized onions – you know the kind – brown sweet and buttery, 2.) grilled shiitake mushrooms. 3) roasted tomatoes, and 4) the best parmesan crisp!  The crisp gives it the taste of a cheeseburger with a nice crunch!  It may just be our favorite burger in the world.  Here it is: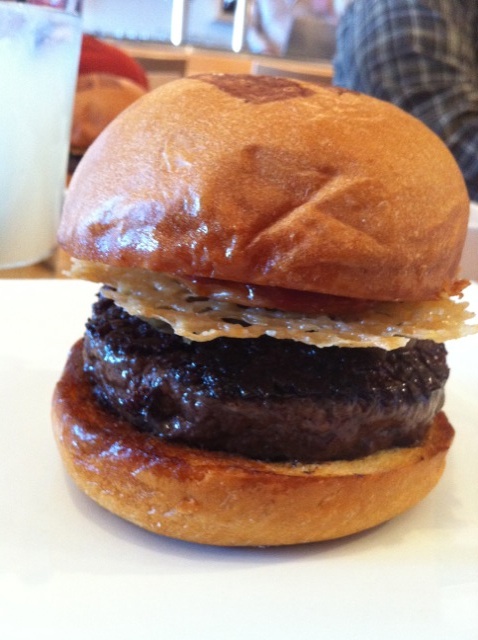 If you look at the menu above, you'll notice that in addition to the Umami burger, there are many others. Notably, they have the hatch burger, the manly burger and the truffle burger.  Papa likes the hatch burger because he likes his burgers spicy.  It comes with Hatch Chilis. Several others in our party liked the Manly burger – which comes with beer cheddar and bacon.  And mommy loves the truffle burger – which is a perfect cheeseburger with just a hint of truffle.  Below, there is the Manly burger first, the second is the Hatch burger.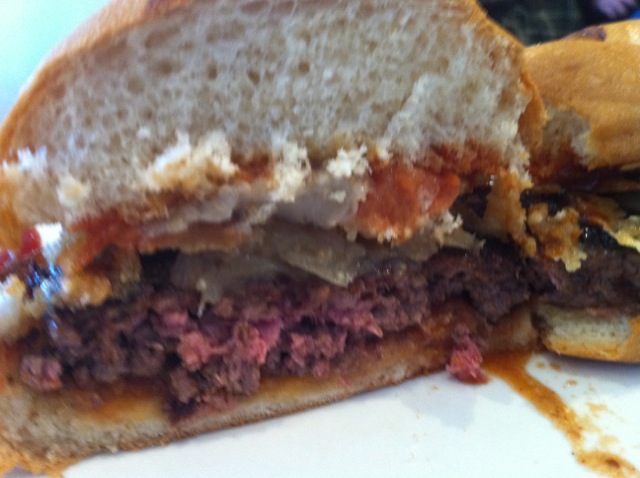 Please notice the consistency of these burgers.  Each burger has a bun that is perfectly suited to the patty.  Some people like it when their bun runs over or when there is ample beef.  We like it when it is exactly the same size.  Also, the servers will ask you how you like the burger cooked.  We recommend medium rare, as usual.   All the burgers there were absolutely DELICIOUS!!!!!!!!!! Below, is the Truffle burger.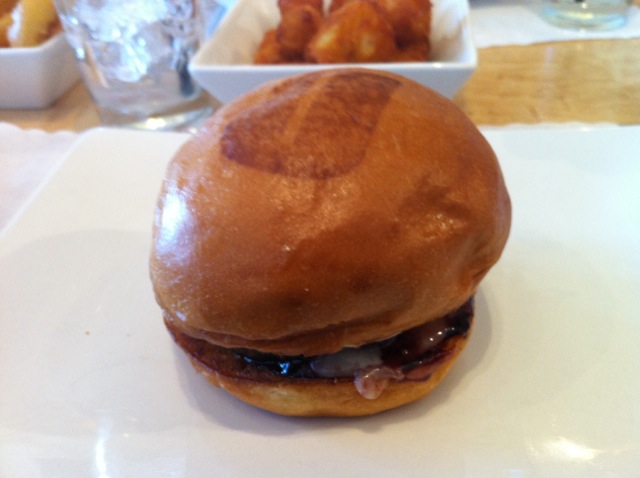 And of course, no meal is complete without dessert.  The desserts were ice cream sandwiches. These are no ordinary sandwiches – the ice-cream comes sandwiched between two homemade cookies.  We got the following flavors:: cookies n' cream, salted caramel, and hazelnut. They were cut up into quarters.
We found out that the dessert supplier at Umami Hermosa is different than the other Umami Burgers we had frequently (Santa Monica and La Brea).  At the other locations, the ice cream sandwiches had FRENCH MACARONS instead of normal cookies.  And the flavors were amazing – Red Velvet Cake, German Chocolate Cake, etc.  Because of our expectations, we must say we were a little disappointed in the ice-cream sandwiches here.
That said, it was still the best burger we've ever had.  And if we lived near one, we'd ask mommy and papa to take us to Umami once a week – YES, it's that good.  In fact, when we were there, Doktor asked us if we would order the same meal everytime.  And the answer is yes!  We'd get the umami burger, ALL of the sides, and lemonade.  And if we are in Santa Monica or LaBrea, we'd save room for the ice cream sandwiches with french macarons.
Umami is a funny name for a burger joint.  We looked it up and found out that it means fifth taste – a sort of savory meaty taste.  Well, Umami burger is certainly savory and tasty!
As usual or rating is from 1-5 smiley faces.
We rate Umami 5 smiley faces.
😀 😀 😀 😀 😀
Special Thanks to Doktor, Person and Zander for joining us on this excursion (you too Mina and Annika and Uncle Ben and Peipei Ah-yi!)
Bon Appetit!