We left Las Vegas and then headed to Los Angeles for Christmas.  On the way, we were excited to try Tommy's Burgers in Barstow on Eric Jojo's recommendation (see comments in our Smashburger post).
When we arrived, we were impressed with the history behind Tommy's.  As you see from the pictures below, Tommy's is an historical institution.  The original Tommy's Burger opened in Los Angeles 65 years ago.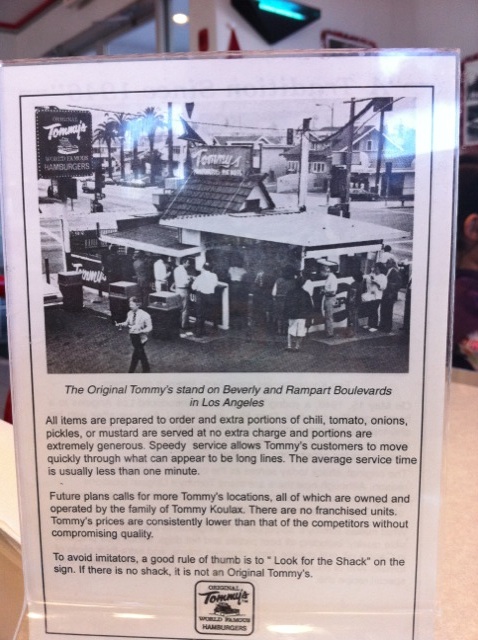 According to all of the signs, Tommy's made a name for itself for fresh food, with all the toppings at no extra cost. Their most famous topping is Tommy's famous chili.   Here is a picture of the burger that we were hoping to get: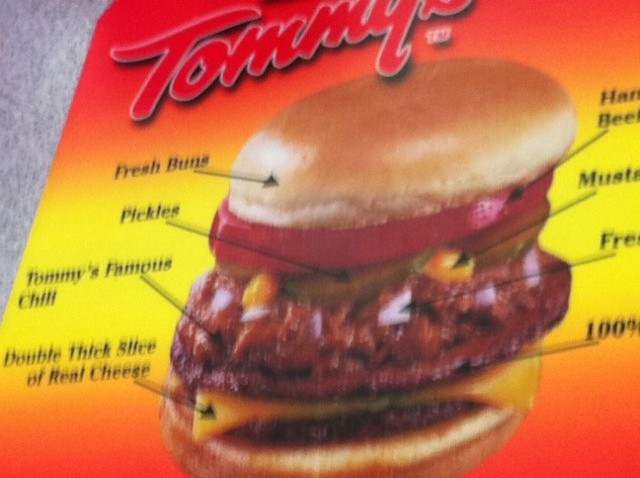 As you can see from the menu, Tommy's famous chili features prominently in chili cheese fries, chili hot dogs, chili cheese burgers, just plain chili, and even chili tamale.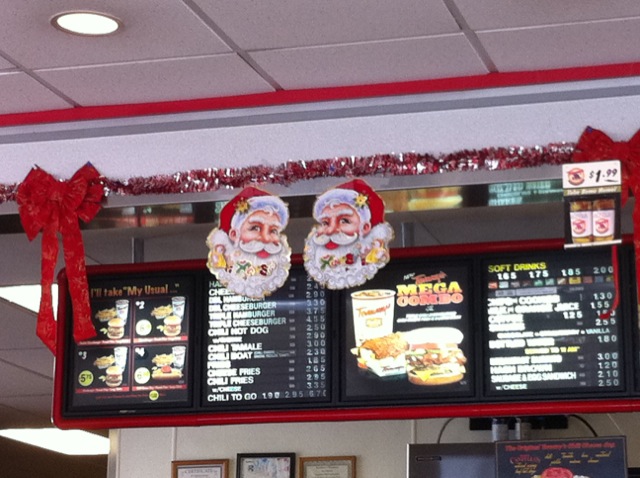 So we decided to order several chili burgers, one hamburger (popo does not like cheese), a breakfast sandwich (for Mina), and mommy and Karsen split a triple chili cheeseburger.  As advertised, the food came out quickly.  This is what it looked like.
Here is a cross section of the triple chili-cheese burger that mommy and Karsen shared: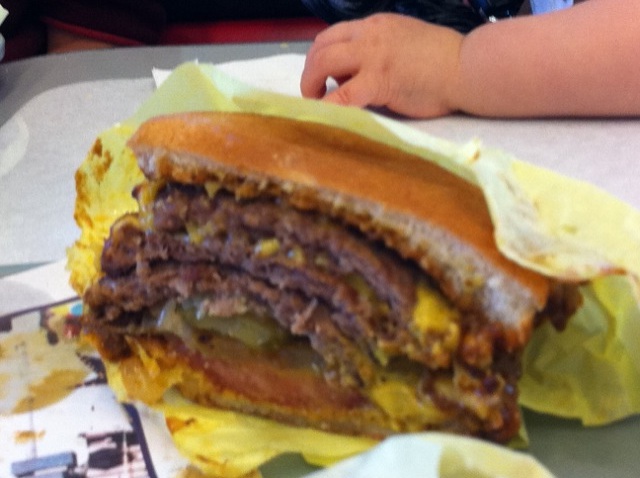 Perhaps we have been spoiled by smashburger, but we thought the burgers tasted horrible. The meat was fine but the chili made everything soggy and messy.  The buns may have been fresh (as the sign said) but fell apart while eating because of the chili.  The chili looked like dog food and only mommy found it edible.  Popo asked for no cheese but they gave it to her anyway.  Papa was especially upset because In N' Out was across the street.  He said that all he wanted for Christmas was his calories back.
But their shakes were pretty good.  Here's a picture: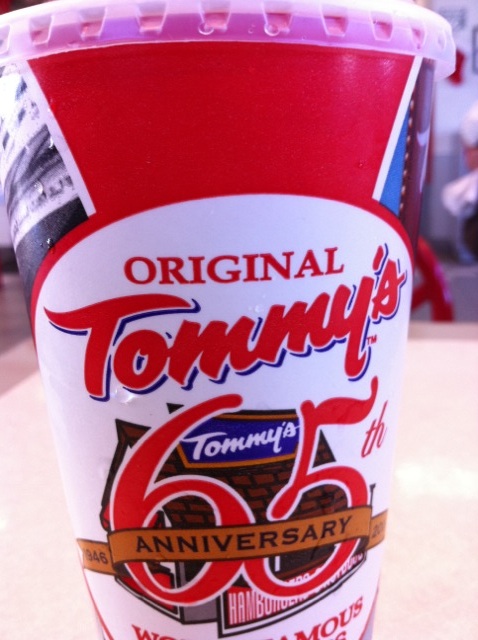 In fact, Karsen says that the best thing about Tommy's is their shakes. And Mina was happy because she liked the sausage in her breakfast sandwich and the fries.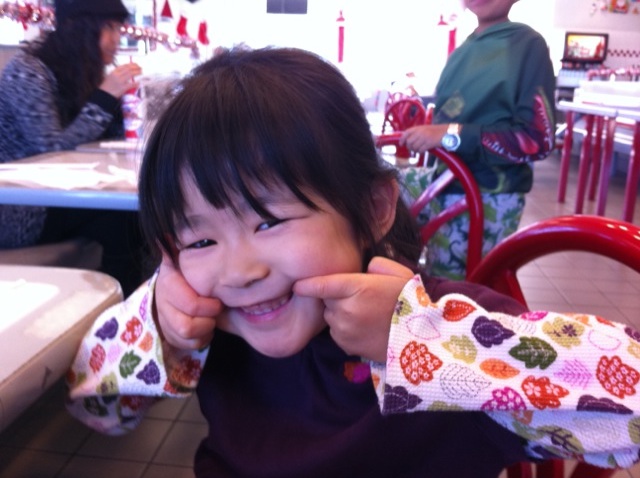 We ordered two kinds of fries:  plain fries, and chili cheese fries.  Like the burger, the chili cheese fries got very soggy and were messy to eat.
Overall, we were completely disappointed.  Karsen believes it to be the worst burger place he has ever been to.
On a scale from 1-5 smiley faces:
Anya's Rating: 😀 😀 (2 smiley faces)
Karsen's Rating:  1/2 😀 (1/2 smiley face)
We would not recommend going to this place again – especially if there is an In-N-Out across the street.  Sorry Eric Jojo – maybe the one you went to tasted better!
We were in Las Vegas for several days.  Since we do not gamble in casinos, we usually take the opportunity to try some of the amazing restaurants that Las Vegas has to offer (we feel especially justified because we usually go for a hike during the day).  After Popo's birthday dinner at Jaleo, we decided to try a more casual, low-key place called China Poblano.
China Poblano is a very interesting place.  It is a restaurant that features both Chinese and Mexican cuisine.  Strange, right?  We thought so too and feared that this meant that neither cuisine was done well. But we were pleasantly surprised.
First, the atmosphere is a blend of the two cultures.  Karsen took quite a few pictures of the restaurant.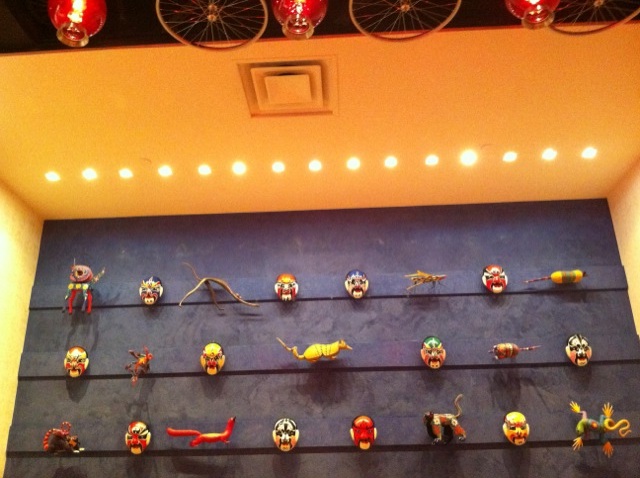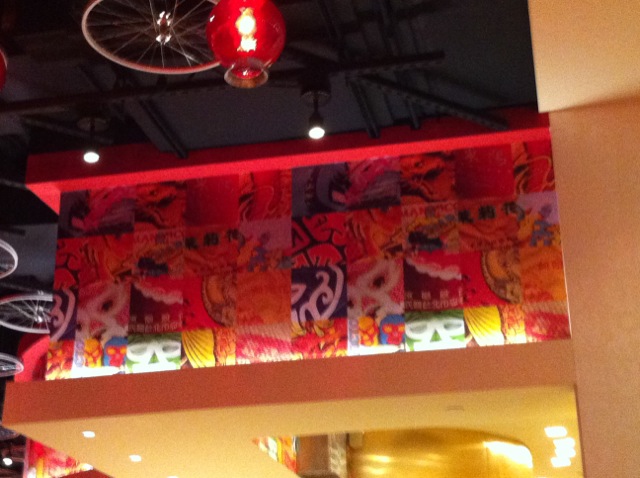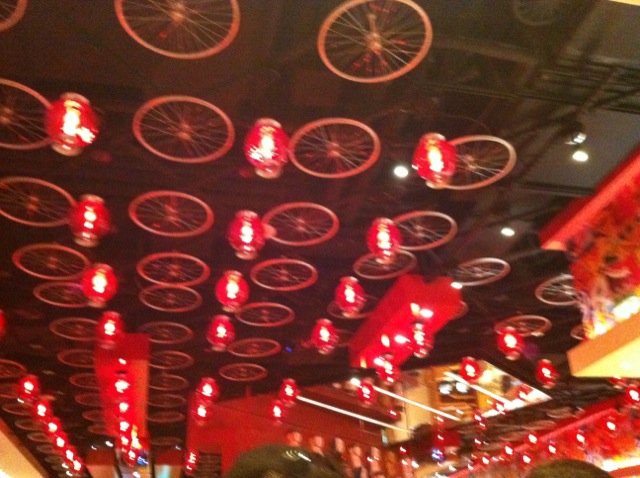 After a long day's hike, we decided we needed a drink.  Both of us ordered the horchata.  Horchata is a traditional Mexican cinnamon rice refreshment. When we were drinking horchata, we were thinking about the Vampire Weekend song that starts "In December, drinking horchata. . . ."  We think horchata should not be restricted to just December.  It is delicious enough to drink all months of the year.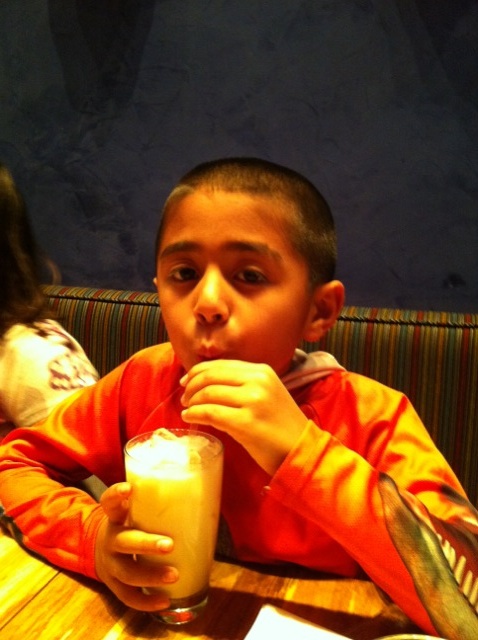 And the grown-ups ordered drinks too.  As usual, mommy ordered the margarita.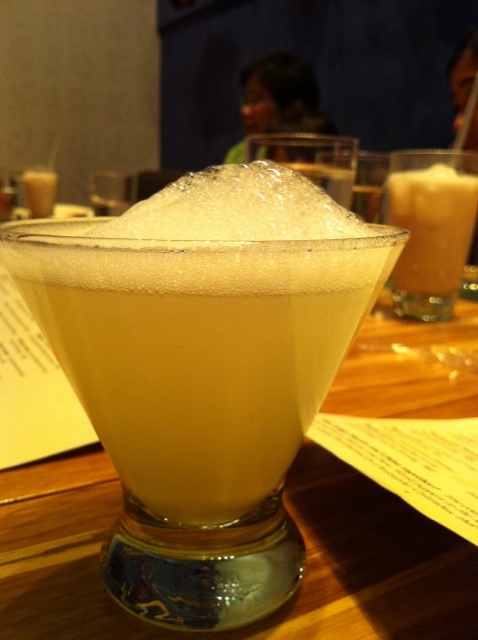 As you can see from the picture there is no salt on the rim.  Karsen was most disappointed because he always likes to lick the salt.  Instead, there was a "salt water foam" at the top.  This was also the case with the pomegranate margarita, which Papa decided to try.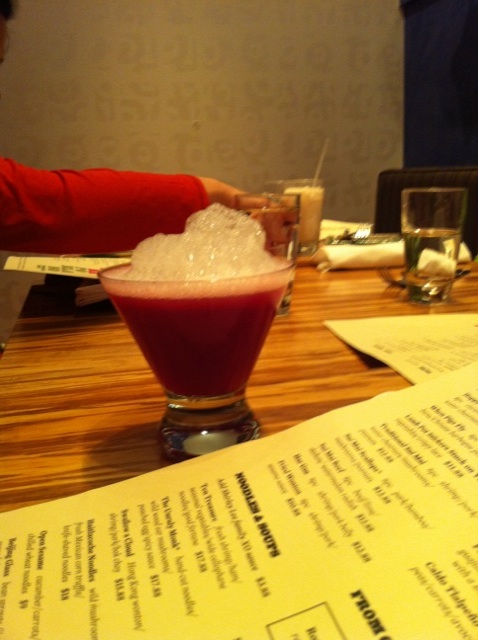 Pei pei Ah-yi (our aunt) ordered a lemon drink that came with noodles. Weird, right?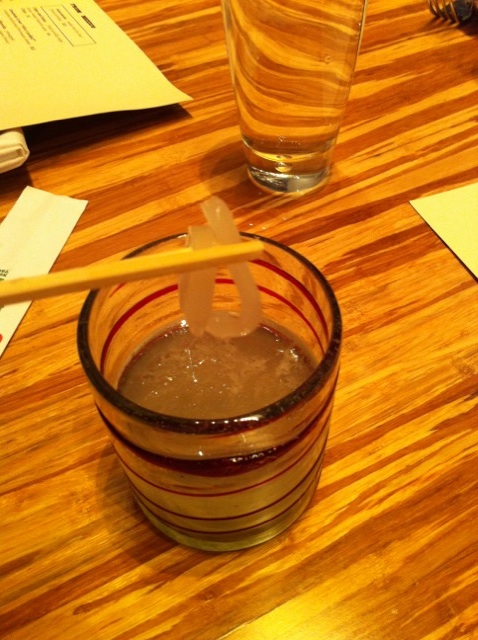 Since we like both Chinese and Mexican food, we ordered some of both.
We are going to try to be orderly and talk about the Mexican dishes first.  This includes the chips, salsa, guacamole, tacos (lobster, duck tongue, beef tongue, pork belly pastor, and barbacoa), chilaquiles, and ceviche.The salsa was very spicy and the chips were crispy. The avocados had chili flakes in them and were delicious. The variety of tacos was amazing and MELTS IN YOUR MOUTH!!!!!!!!!!!!!!!!!!!!!!  Mommy liked the pork belly pastor best.  Popo likes all the tongue tacos.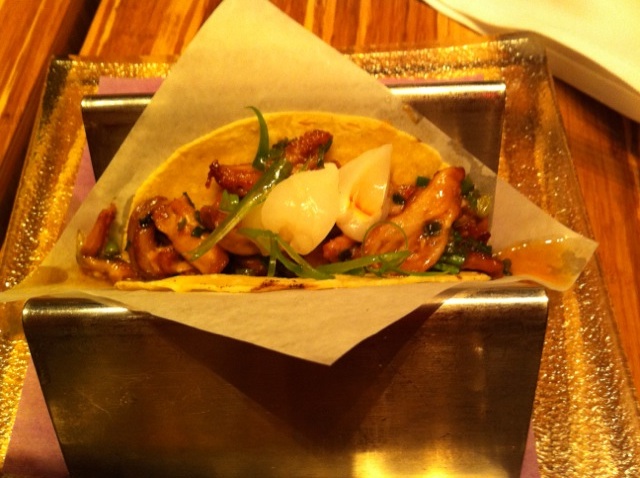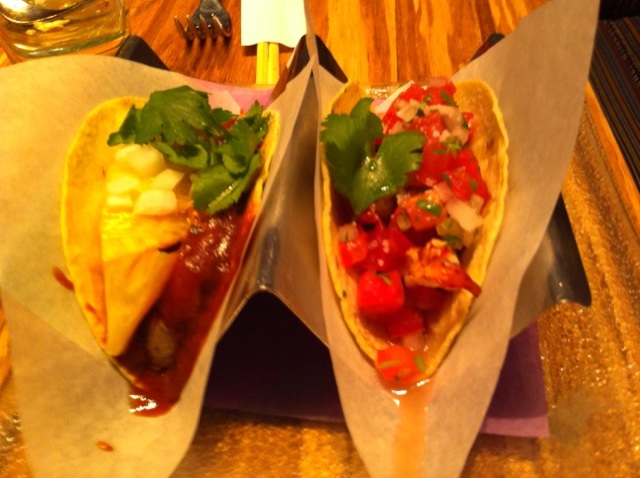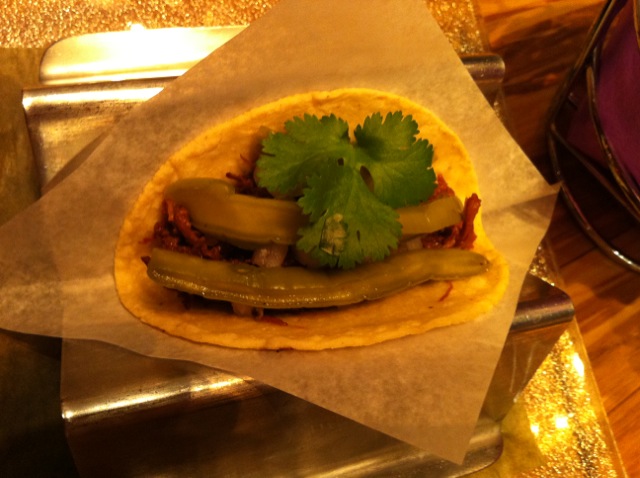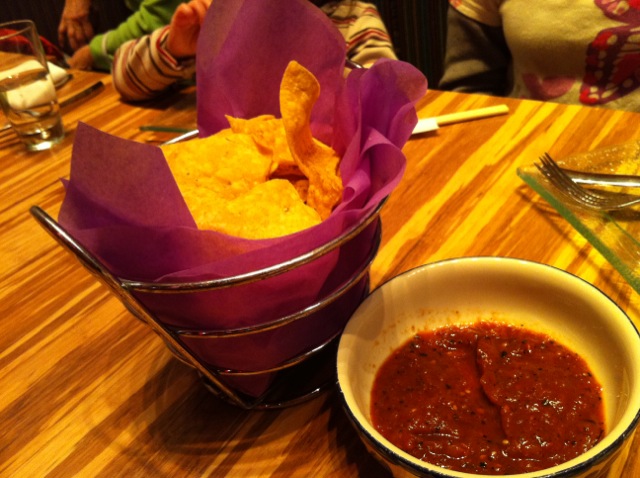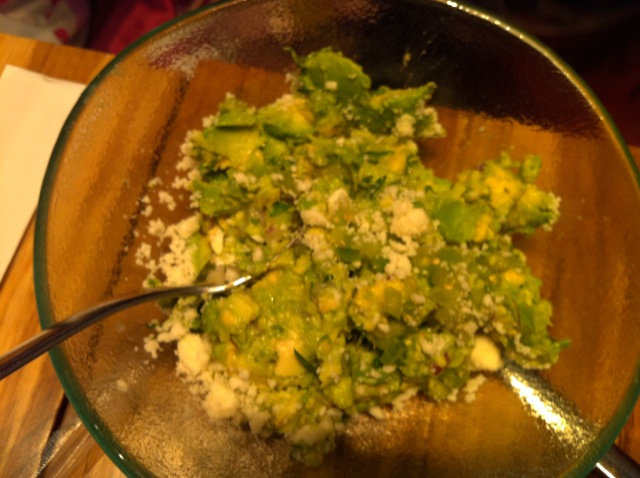 Below is the queso fundido with chorizo.  This was one of Papa's favorites.  He said he would order this again the next time we dine at China Poblano.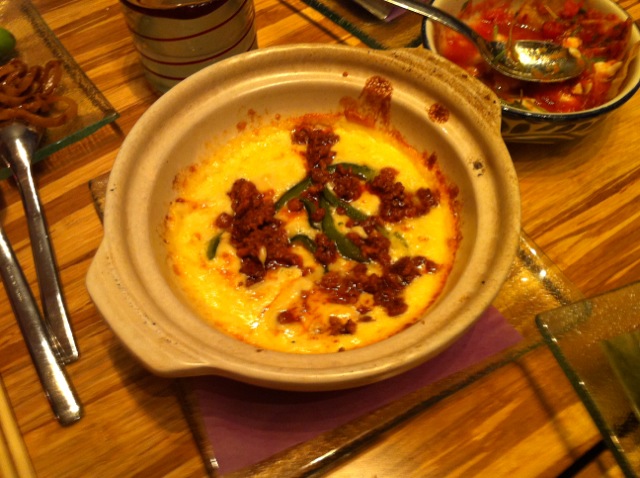 This is the chilaquiles.  To be honest, we were a little disappointed in the chilaquiles – perhaps because everything else was so delicious.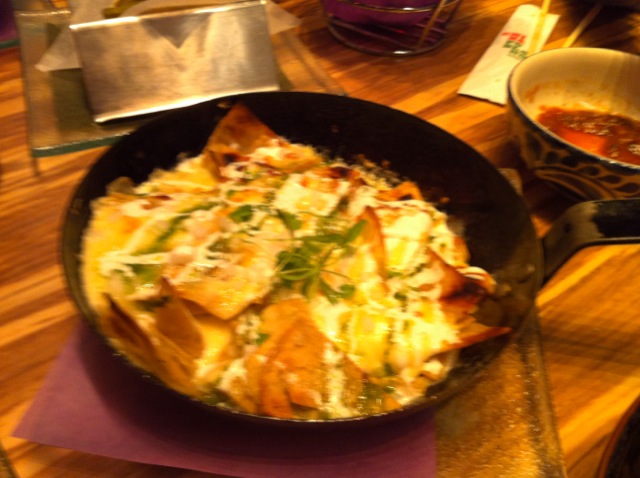 We had to try the fries with mole sauce.  The mole sauce was delicious and this reminded us of the poutine that we had in Canada.  This is what it looked like: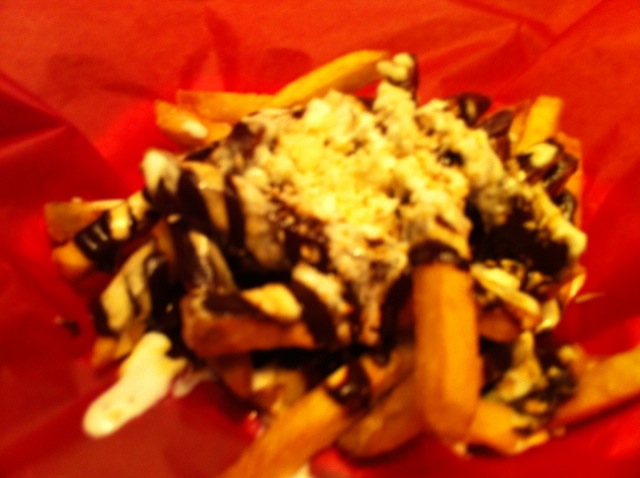 We LOVED the scallop ceviche.  It was presented on a bed of rocks (not edible – that's one of Karsen's spelling words) and you are supposed to have it with a squeeze of lime (see below).  The combined taste was salty, spicy, and sour.  Interesting, right?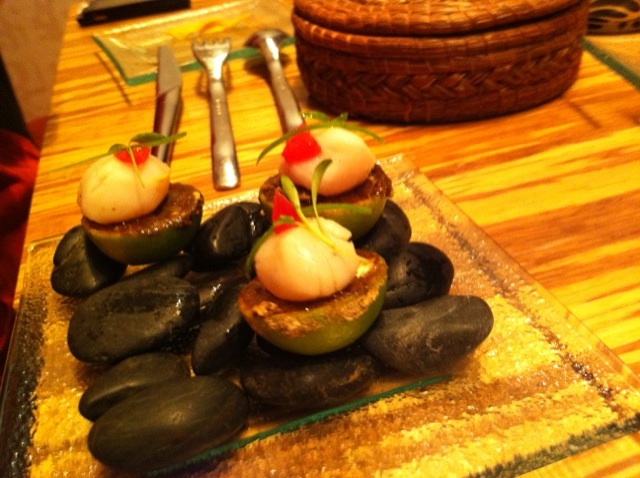 After all that Mexican food, you would not think that we had space for Chinese food, right?  Well, we did!!  From the Chinese menu,  we ordered sui mai, dan dan noodles, and har-gau dumplings.  The sui mai was average.  We got two orders of dan dan noodles.  The first order was great but the second was too salty (right yi-po?).  And the har gau dumplings were so-so.  We were looking forward to the dumplings because they seemed like an interesting twist to the traditional har gau.  Traditional har gau dumplings have only shrimp in them.  These dumplings had both shrimp and pork belly.  We don't know why but these dumplings tasted just average to us.
In general, we were disappointed with the chinese food and thought the mexican dishes were much better. A real eye-opener though is that everyone can see them make their noodles fresh!! Everything else was average. Anyone can get them at any dim sum place.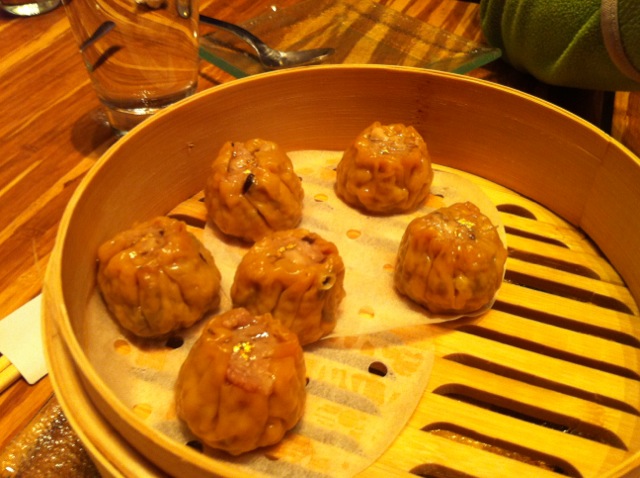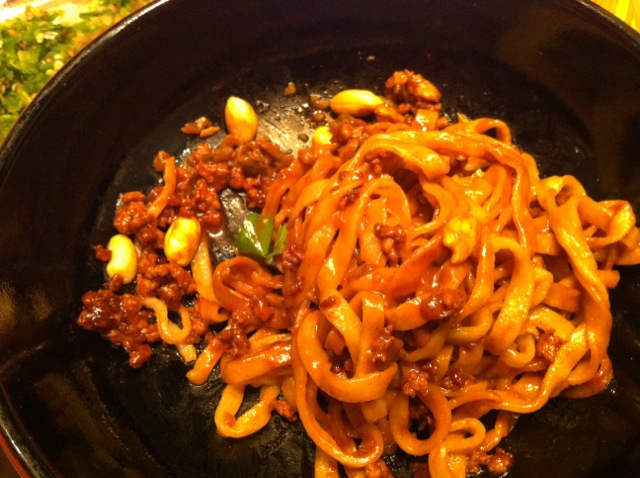 Since papa so enjoyed the flan at Jaleo's and China Poblano is managed by the same chef  (Jose Andres), so papa decided to try the flan here also.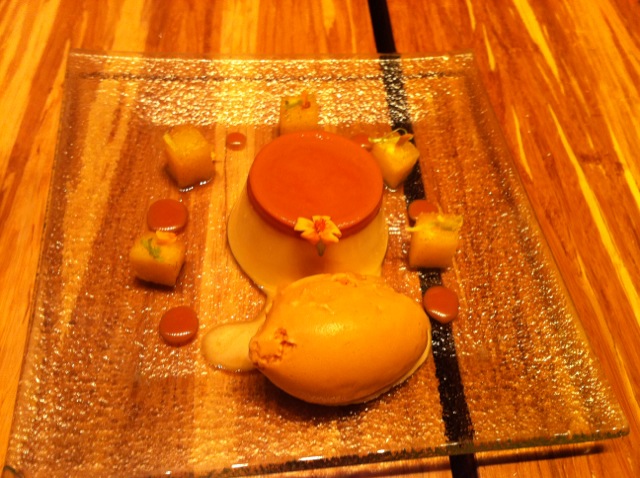 This flan tasted different than Jaleo's, but it was SUPER DUPER CREAMY!!!!!We also ordered the coconut tapioca dessert.  Tapioca desserts are among our favorite Chinese desserts.Both desserts were AMAZING!!!!!!!!!!!!!!!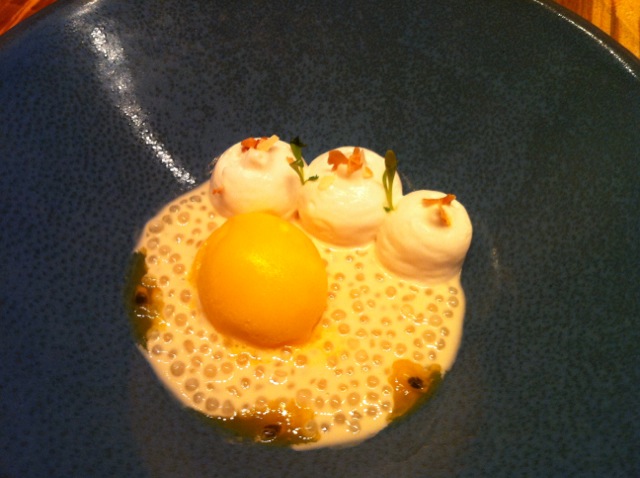 We would definitely not mind going again. It was a unique blend of two of our favorite cuisines.  If you are in Vegas, you should try it!
As usual, our ratings our out of five smiley faces.
Rating: 😀 😀 😀 1/2