Over the holiday season, we travelled to Las Vegas.  Las Vegas is where Popo (our grandmother) likes to spend her birthday every year.  And her Birthday is December 18.  So we had her birthday dinner at a Spanish restaurant called Jaleo.  We were looking forward to the food there because Jaleo is managed by a famous chef named Jose Andres.
We would describe the atmosphere at Jaleo as vibrant.  Here are some pictures of the place: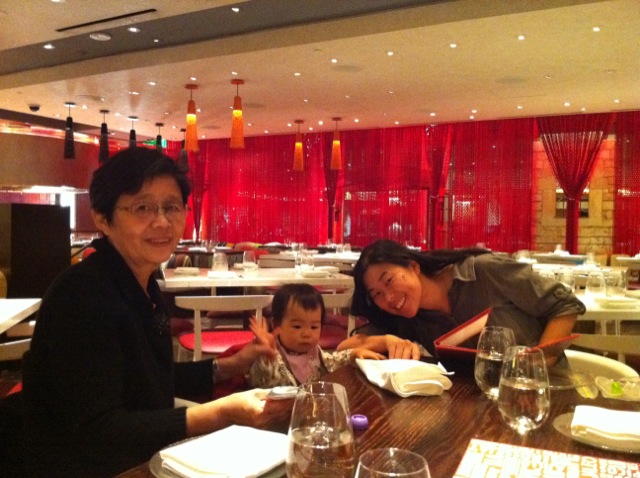 Above is a picture of Popo, Pei-Pei Ahyi (our aunt) and our cousin Annika.  We think that the open kitchen adds to the atmosphere's vibrancy.  An open kitchen also instills confidence in the food.  Below is a picture of one of the chefs roasting the pig.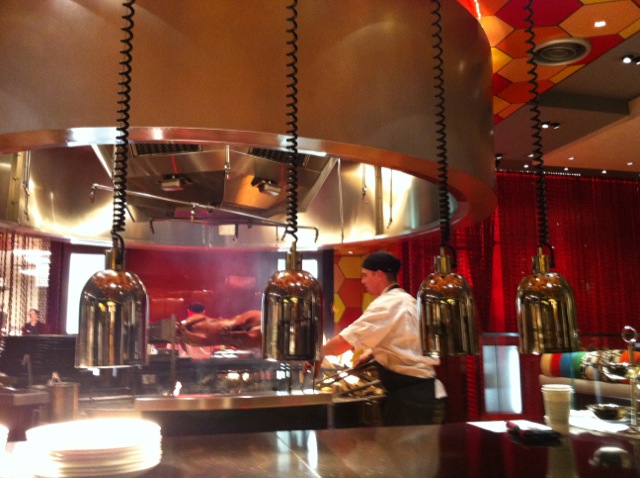 And of course, we took a close-up of the pig.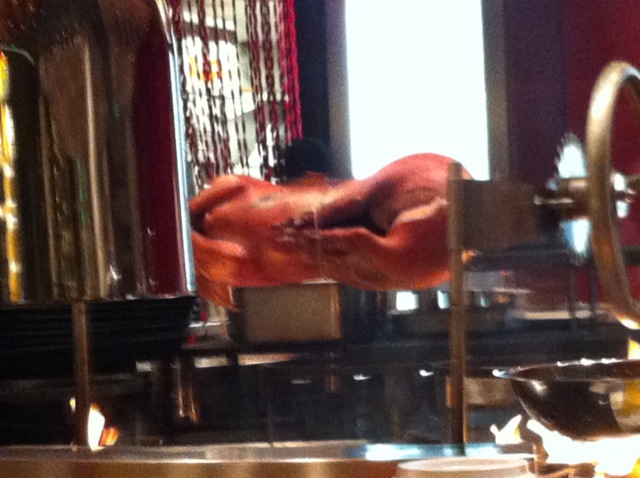 Like most Spanish places, this place serves tapas.  Tapas are small spanish dishes. Our server recommended that we try quite a few delicious appetizers including a chacuterie platter of meats and cheeses.  They, of course featured iberian ham, serrano ham, and spanish cheeses (like manchego).  This is what they looked like: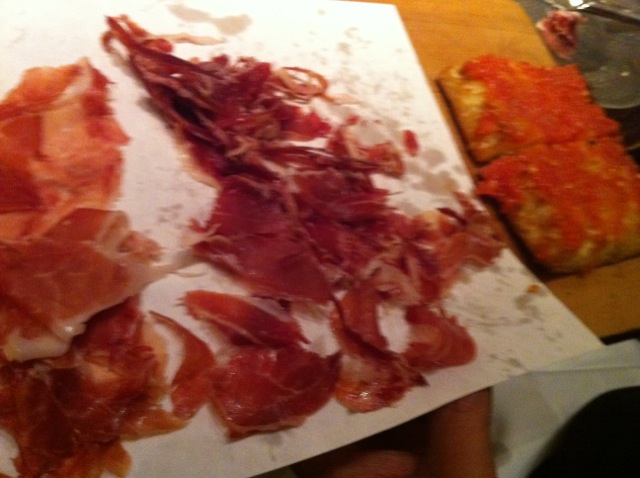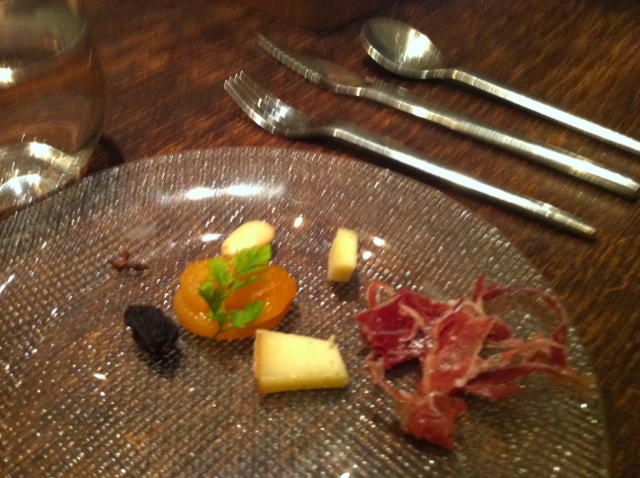 And of course, we had chorizo.  Chorizo is a spicy sausage in the form of salami.This was our cousin MIna's favorite of the meats and cheeses!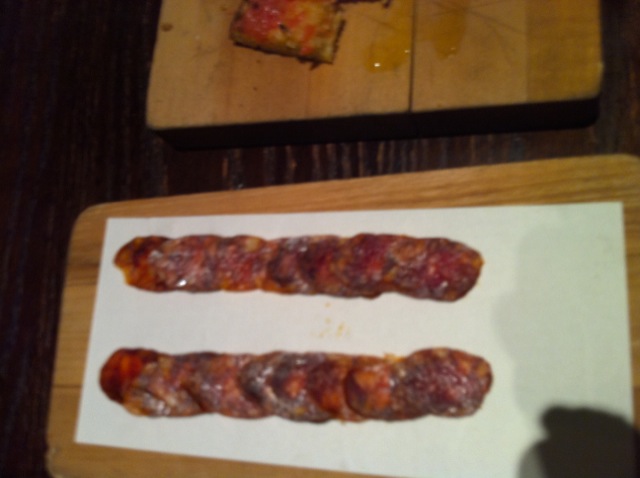 And of course, we had to include a smiling picture of Mina!  That's what she looked like after enjoying her chorizo!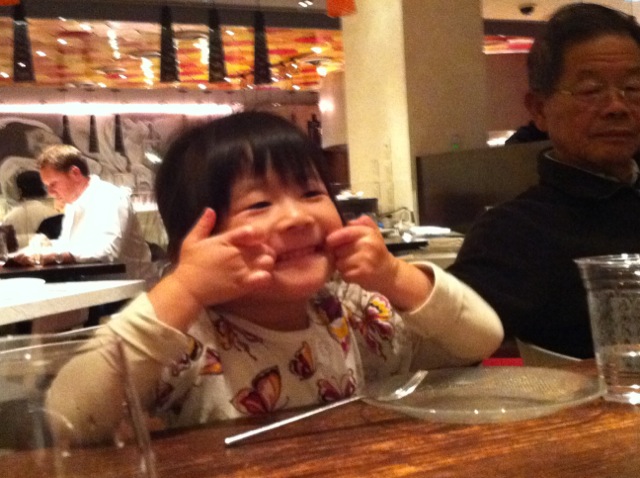 Since Tapas are very small and we had a large party, we were able to sample quite a few tasty dishes.  For example, we also had a ham and cheese bocadillo (that's a sandwich), Jaleo's patatas bravas (these are sometimes like french fries or potato chips.  In Jaleo, they were like fresh-made potato chips with a spicy sauce), and Buñuelos de bacalao (this is a fritter with cod, honey, and cheese).  We thought the bocadillo was competent – the bread was good, the ham was good, and cheese was good.  But we expected just a little bit more.  The potato chips were perfectly crispy and not oily at all.  The spicy sauce was mild – even Mina was able to have some.  And the Buñuelos de bacalao were mommy's favorite!  They were perfect pastries with a little cheese, saltiness (from the cod), and sweetness (from the honey).  If we returned, we'd probably order the Buñuelos again.  Here are pictures of those tapas dishes – bocadillo first, patatas bravas next, and Buñuelos last: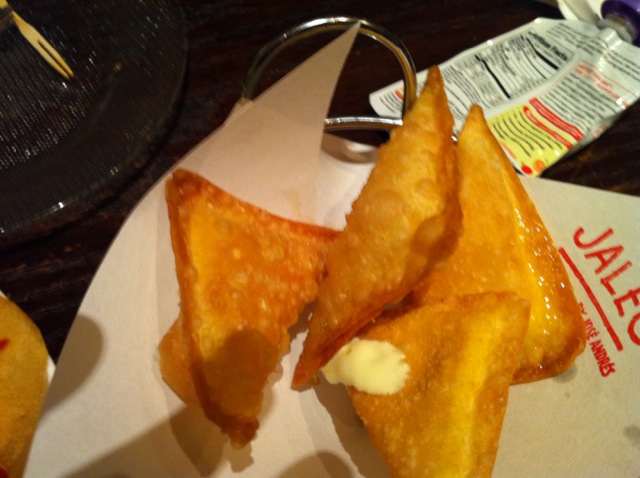 Our server also suggested the gambas al ajillo, the mushrooms, the calamari, and a salad.  The gambas are a traditional Spanish shrimp dish.  The shrimp is cooked with garlic and with just a little shell on the tail.  Karsen loves the crunchiness of the tail.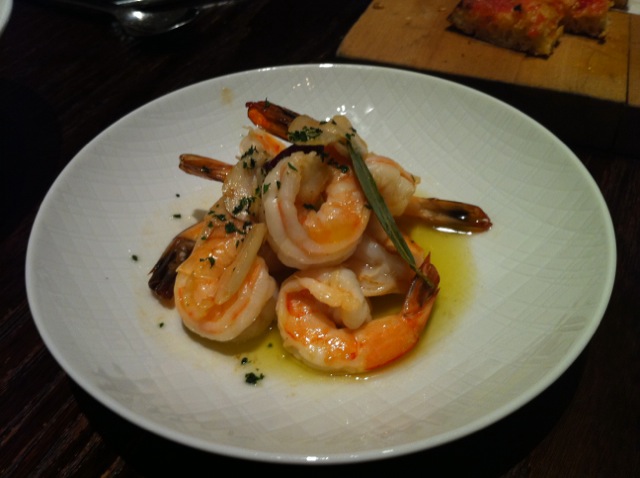 The mushrooms, pictured below, were absolutely delicious!  If you like mushrooms even just a little bit, you should most certainly order these!  You won't be disappointed.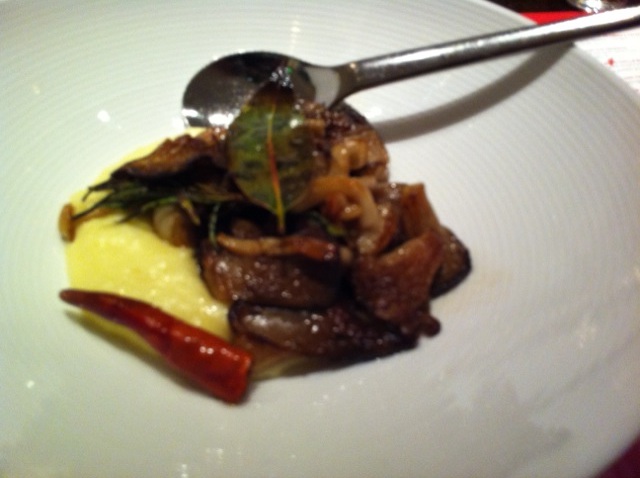 The calamari was okay – like the bocadillos, they were not as spectacular as we had hoped.  The salad, however, was absolutely delicious!  And of course, we feel good about ourselves when we have vegetables!  This is what the calamari and salad looked like.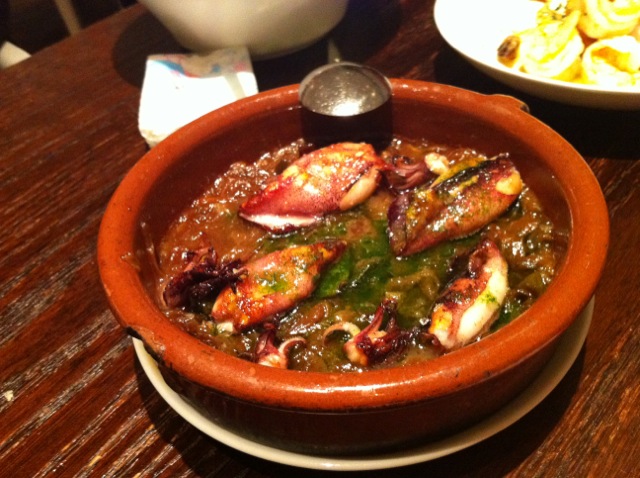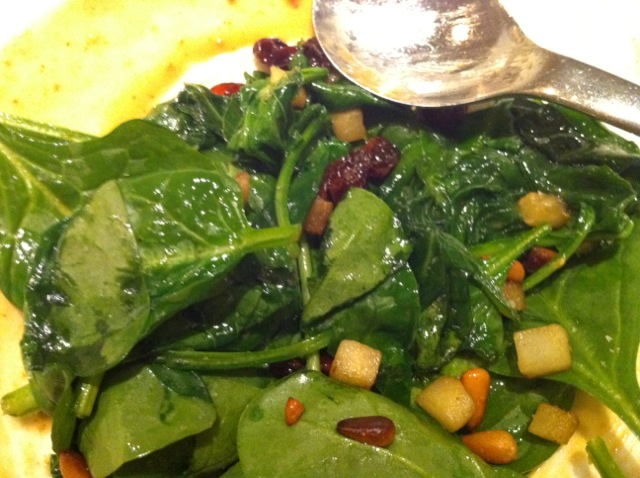 And of course, if you go to a Spanish restaurant, you must order some paella.  Paella is Spanish, or more specifically Valencian, rice dish.  This is a delicacy that requires quite some time to cook so that the rice soaks up all the flavors.  Since we had a large party, we were able to order a special paella – the Iberian ribs paella.  Here is a picture of the paella being made.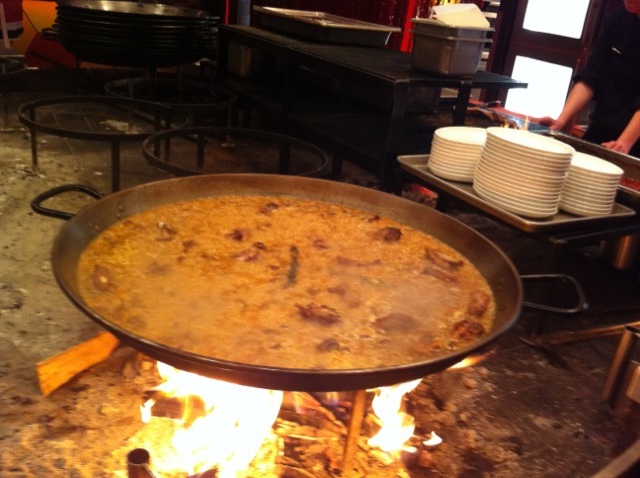 It takes about 45 minutes to make Paella.  So make sure you order it early and then get lots of appetizers so that you can eat while waiting.  When they finished making the paella, several servers brought it to show us.  They needed several servers because it is heavy!!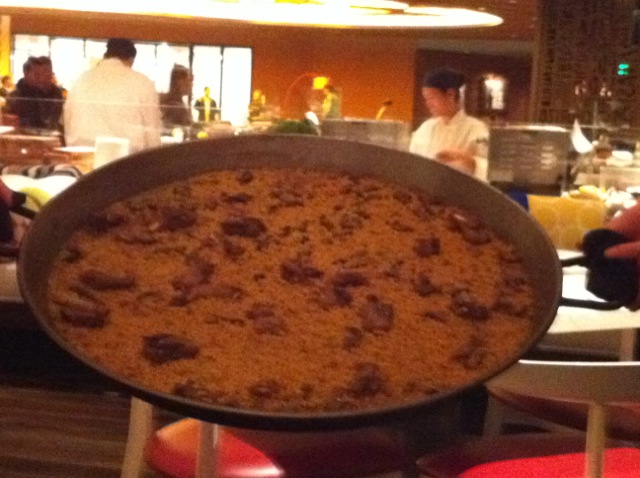 Also arriving at the same time was the "Secreto  Iberico con pan con tomate y salsa verde."    This was listed on the menu as a secret – which of course is irresistable to us!  This is the Iberian pork with tomato bread and green sauce.  The green sauce was the most delicious sauce!  We had to ask for extra because the sauce made everything on the table taste better!!!  Thank goodness for the green sauce because the Iberian pork was a little chewy.  This means that Karsen takes at least 20 minutes to swallow a small piece.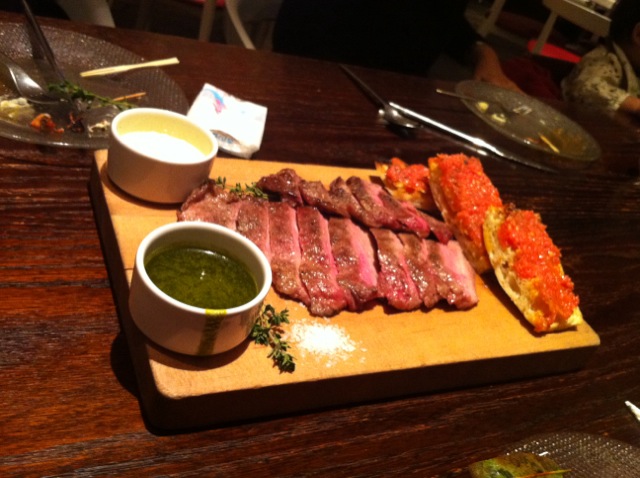 Since it was Popo's birthday, we had to have dessert!  And Jaleo's flan is quite famous.  Here is a picture of Popo blowing out her candle with our cousin Mina.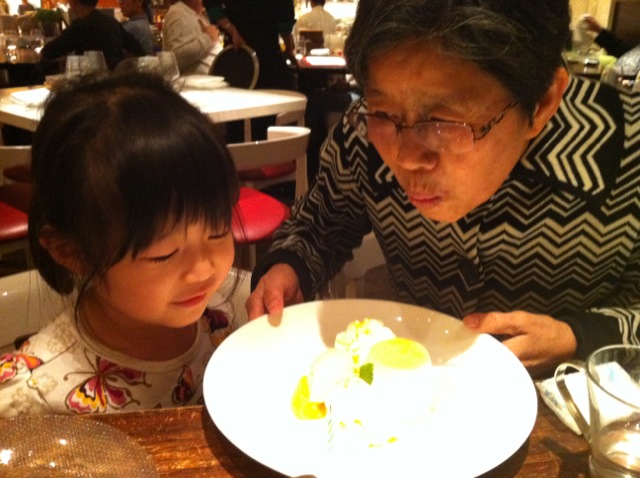 We are BIG dessert fans!  If you read our blog, you will know that we have an extra dessert stomach.  And you need to save space in your tummy for this flan.  It is soft, creamy, sweet, and everything you hope for in a flan.  In fact, Papa says it may be the best flan he has ever had in his entire life and he is quite old.  But not as old as Popo!  Thank you Popo for sharing your birthday with us!  A very HAPPY BIRTHDAY to you and may you have MANY MORE!!!
As usual, we have a five happy-face rating system (with five being best).  Since we could not agree on the rating, we give you both of our assessments.
Anya's rating:
😀 😀 😀 😀
Karsen's rating:
😀 😀 😀 😀 1\2
If you are in Vegas, this place is certainly worth going to.  Here's a link to their website and dinner menu:
http://www.jaleo.com/index.php/contact/las_vegas
http://www.jaleo.com/images/uploads/Jaleo_menu_dinner.pdf
To end the post we have a picture of Mina and Anya saying YAY because they made good food for us!!!!!!!
P.S We were told by Mina that she and Anya were saying YAY dessert because dessert just came.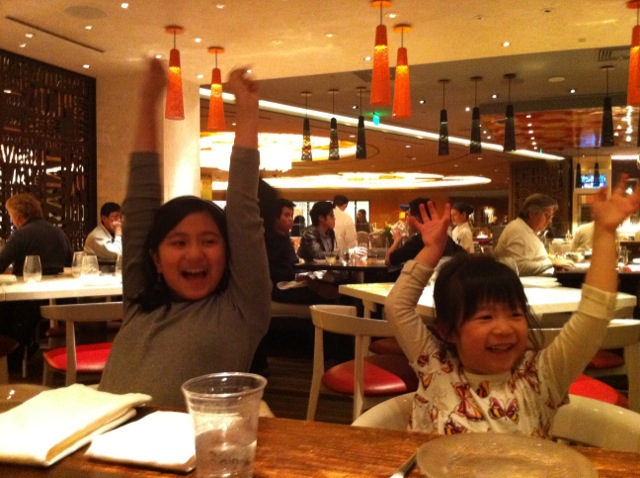 P.P.S We were told by Pei Pei Ahyi and Annika that Annika was eating with gusto.
Here is a picture of that.  Isn't she cute??????: