The Mission in downtown Scottsdale is one of our favorite places to eat.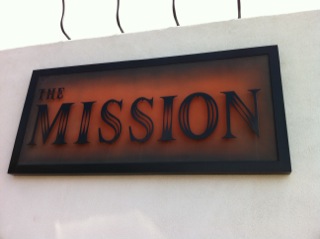 The food is what we would describe as Arizona-Mexican (as compared to Tex-Mex or authentic Mexican).  The servers are terrific and bring each table chips and salsa along with the menu.  We always ask for a special kind of salsa made with Indian Ghost Chili Peppers called fantasma  It is very spicy and one drop goes a very long way.  Here's a picture of the Chips and Salsa.  The smaller bowl is the fantasma and the larger bowl is the standard salsa (much milder).  We like to put a few drops into the standard salsa.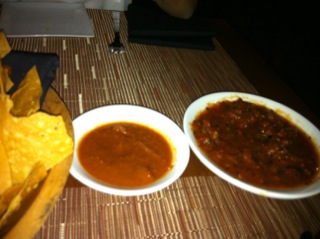 The chips are delicious – and are made in-house.  Another favorite appetizers of ours is the guacamole.  The guacamole is made tableside.  Here is a picture of the guacamole-maker.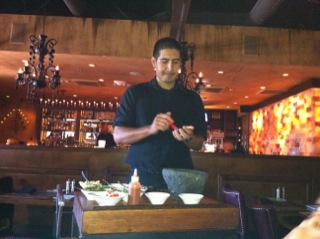 And here's a picture of the guacamole:
And of Anya enjoying the guacamole: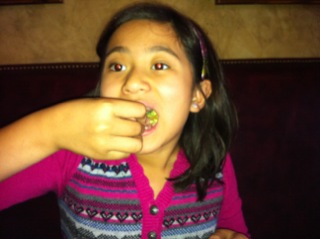 The guacamole is very creamy and has so many ingredients that I can't even begin to imagine it-juicy tomatoes, cheese, and crispy bacon.  The server will ask how spicy you would like the guacamole.  We always ask for super spicy.  And if it is not quite spicy enough, we add a few drops of fantasma to it.  Nearly every table orders the guacamole and it is easy to see why.  Their guacamole is the best that Scottsdale has to offer (besides mommy's – she make guacamole for football and basketball game days).
An unusual appetizer is their gorditas – made with huitlacoche (a mexican delicacy from corn fungus).  It is incredibly delicious, warm and perfectly cooked.  Mommy says that very few places in the US that offer huitlacoche.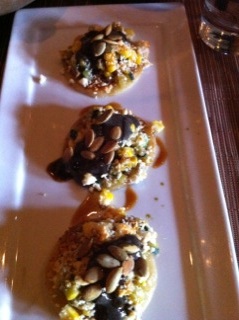 We always order tacos.  Karsen likes the mahi-mahi and Anya likes the pork shoulder tacos.  For variety, mommy ordered the shrimp.  We order different tacos, so that we can trade when they arrive.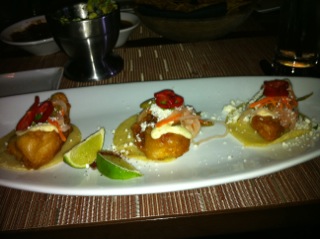 Above are the Mahi Mahi Tacos.  Karsen loves them because the fish is delicate and fried nicely.
The Shrimp Tacos shown below are also mouth watering. The Shrimp bursts in your mouth like an inflated balloon (that is a simile.  Anya's English teacher, Miss Gale would be impressed).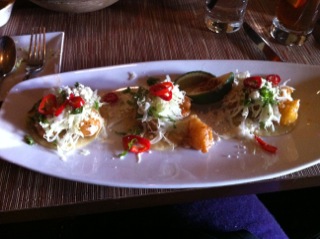 The Mission is known for their pork tacos. They are sweetened with pineapple and have a tangy taste to it.  These are the BEST tacos.  Here is a picture of the pork tacos: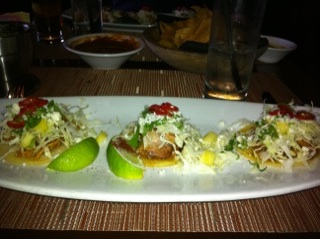 The pork tacos are SOOOOO delicious.  It is important to note that every Sunday after 2pm, The Mission offers all-you-can-eat pork tacos.  We've been and it is MMMMM delicious.  You won't need dinner!!
We read that the Kobe Hot Dog (wrapped in bacon and served with chili peppers) was delicious so ordered that to try.  Here's a picture of it.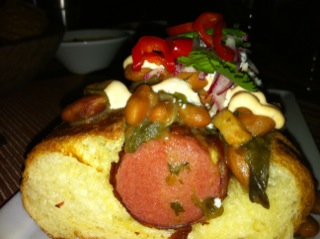 The Kobe taco was good but much too filling for us.  It has beans, cheese, jalapenos bacon and more on it!  We're glad we ordered it but we will probably stick to our tacos in the future.
Unfortunately, we are always too full to order dessert so have nothing to report on dessert.
As always, the overall ratings are out of five smiley faces.
Rating: 🙂 🙂 🙂 🙂 1/2
The Mission also has friendly servers.  Our server was Karlie.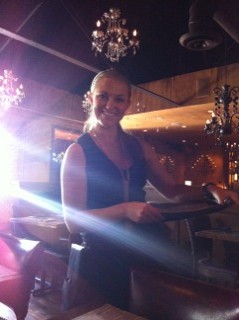 She has an excellent website called-www.culinarycrumbs.com
We'll be back!  We want to have dessert someday. . . . .
p.s.  Mommy likes the margaritas and Karsen always gets to lick the salt!  Here's a picture of Karsen licking the salt off mommy's margarita: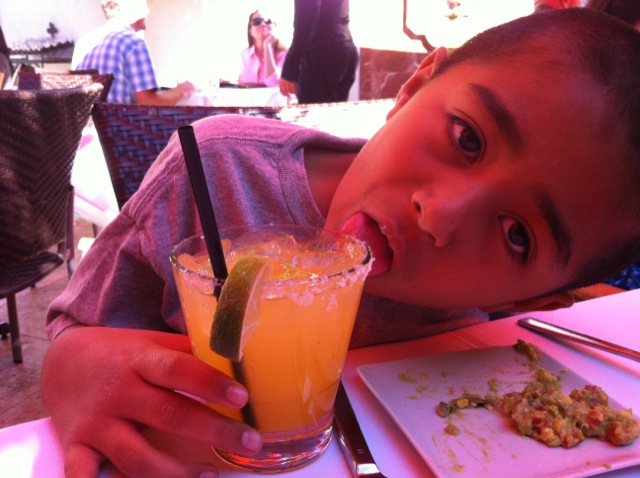 p.p.s.  We went to the Mission again.  And we have some additional pictures to show you.  First, we got the "street corn."  This is one of their signature dishes and it is delicious!!  This is what it looked like: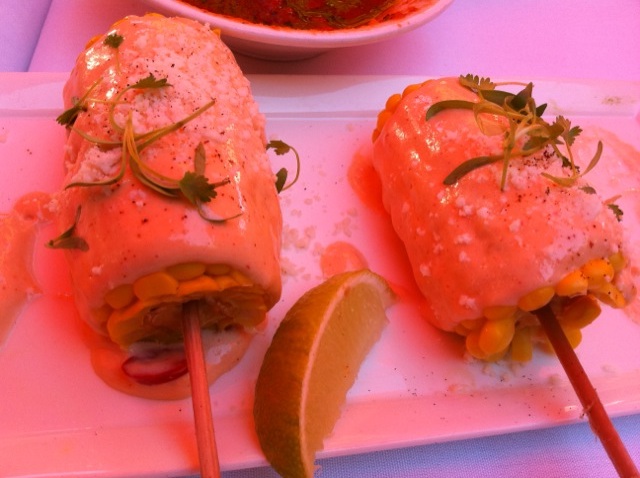 And finally – we managed to get dessert!  Two of their more notable desserts are the pumpkin bread pudding (our favorite) and the fried bananas with peanuts and dulce de leche.  Here are those pictures: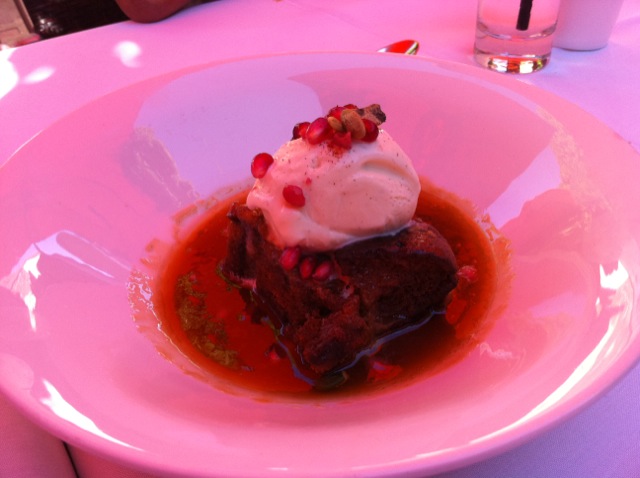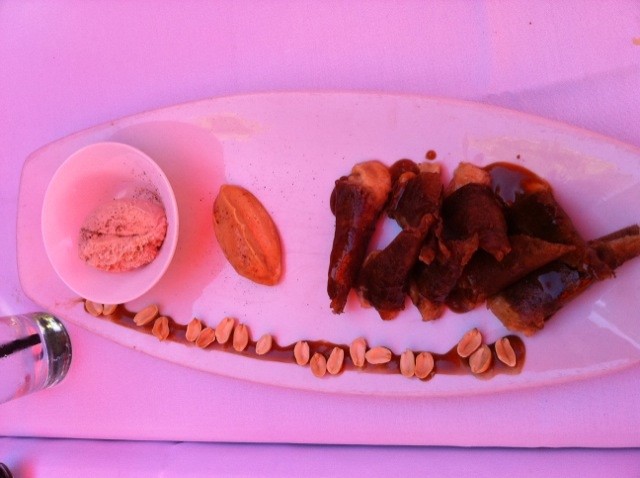 MMMMMMM! Delicious!  Here's a picture of our cousin Matthew – he's enjoying every bite – you can tell because he is using both hands and sticking the food in his mouth!!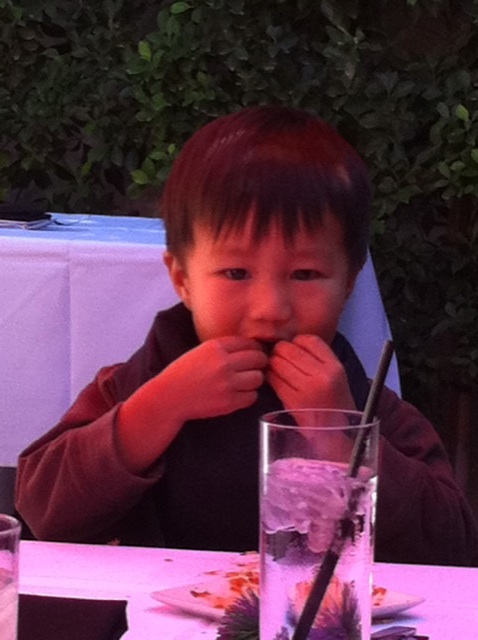 As usual – we had a great experience!  We highly recommend The Mission!  Here's a link to their site:
http://www.themissionaz.com/
Maybe we'll see you there soon!