Our flight out of Toronto was around 4 in the afternoon on Saturday, October 15.  So, we had just enough time to have dim sum before leaving.  Our Canadian source, dubba dubba, recommended a place within walking distance from our hotel called Crown-Princess Fine Dining.  We headed over there and were impressed with "fine dining."  Most dim sum restaurants are loud bustling places with dim sum carts being pushed around.  Some of the best places look like their sanitation grade is below an A.  Crown-Princess, however, was a fancy place.  Here's a picture of it: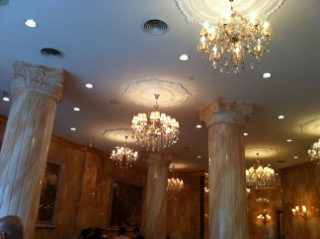 There are fancy chandeliers everywhere.  We sit on fancy velvet seats and drink out of fancy tea cups.  Here's a picture of Karsen drinking his water out of the fancy tea cup (Mr. Don – we took a picture of him with his pinky sticking up just for you!).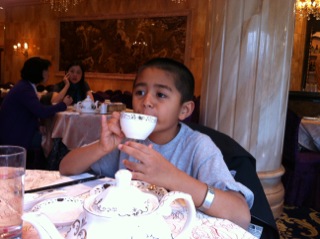 Even the servers are dressed up!  The men are in ties and the women are wearing french maid uniforms.  Here's a picture of Karsen with one of our servers.  Her name is Teresa: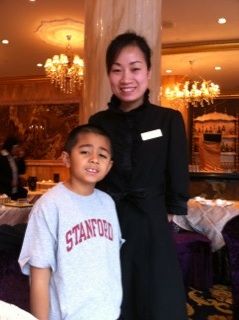 Instead of having food carts, Crown-Princess gives you a menu, a piece of paper (to order from), and a pencil.  Mommy did the ordering.  And this is the first thing that came: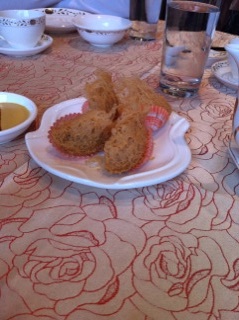 We ordered this in honor of dubba dubba (it's his favorite dim sum dish).  It is fried, crispy, and filled with taro root and pork.  This is a typical dim sum dish and is often greasy.  This one was not.  And very tasty.
This was the second dish that came: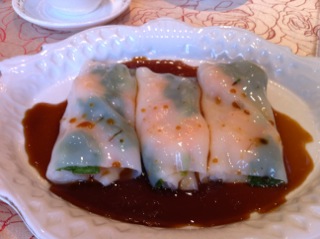 This dish is Anya's favorite!  This Shrimp and Vegetables Dish has a "soy sauce hint to it",  but the sauce is not soy sauce! It's actually sweet.  Usually this dish has only shrimp in it.  But in this version, there are vegetables.  The noodle wrap is VERY slippery.  Here's a helpful hint: DO NOT TRY TO EAT THIS WITH CHOPSTICKS!!!
Here is an unusual steamed dish: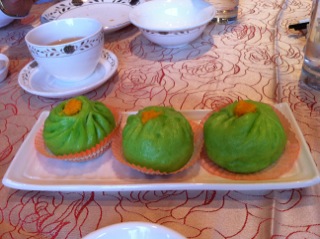 The green steamed buns were filled with chinese chives.  We were surprised when this order arrived.  While it was delicious, it wasn't quite what we were expecting.  That's one of the problems with not being able to order right off the cart.
Finally, the rest of the order arrived: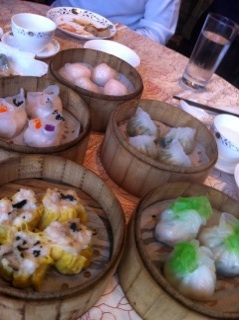 And of course, mommy's favorite – the turnip cake: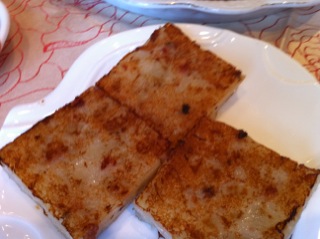 Above are the typical steamed dim sum dishes.  There was the shumai. It was traditional except for the fancy caviar on it.  The shrimp dumplings were also delicious.  There was also a shrimp-scallop dumpling and a chinese chive dumpling.  All of them were delicious. The turnip cake is soft and HOT, so do not eat it right away!!!
All in all, we really enjoyed the dim sum here.
As always, here is our smiley face rating (1 to 5 with 5 being best):
ANYA'S RATING:   🙂 🙂 🙂 🙂
KARSEN'S RATING:   🙂 🙂 🙂 🙂  1/2
But we have to admit, we miss the hustle and bustle of the food carts.  The dim sum was truly delicious – not too greasy, not too salty.  Just right.  And mommy and papa said the tea was good too!  We would return to this place!  Yummy!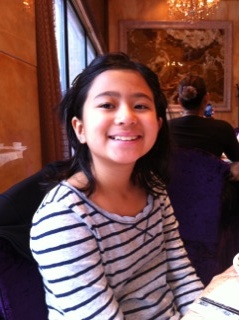 This final picture is of Anya – she's smiling because the food was delicious!  And here's a link to the place if you are interested:
http://crown-princess.ca/english/index.asp