On Thursday night, September 22, 2011, we went to Technique Restaurant in Scottsdale for dinner.  We were celebrating Bilbo's and Frodo's (from The Lord of the Rings) birthdays.  Technique Restaurant is run by students from Cordon Bleu – it is their capstone 6-week course.  Cordon Bleu is a cooking school.  A nice lady named Renee gave us a tour of the cooking schools.  It was the student's last day of the course.  So they had the most experience and they made no mistakes.  Everything was perfect!  We were lucky, the President of Cordon Bleu, Chef Lloyd came to say hi.  We had our picture taken.  Here is a picture of Mr. Chef Lloyd with me and my sister.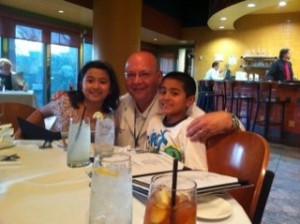 You can choose a three-course ($12) or a four-course dinner ($15).  Everyone at the table needs to agree.  I convinced everyone to have four courses.  The first course is a cold starter.  I had nicoise salad.  This means tuna and olives with other vegetables.  This is what it looks like.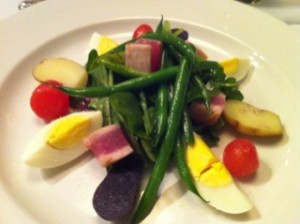 My hot starter was a flatbread pizza.  It had bacon, sausage, basil, and mozzarella.  The sausage was my favorite topping.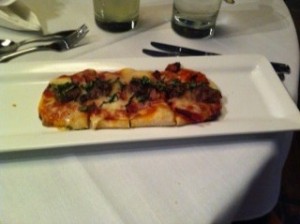 My main course was a veal shank risotto. You can see the bone marrow in the picture.  The bone marrow has a lot of juices in it.  It has gremolata.  I learned that gremolata is a bunch of herbs with lemon zest.  It added a lot of flavor.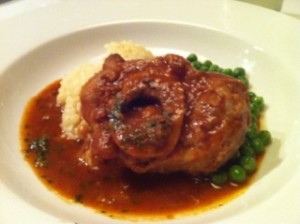 My dessert was ice cream and cookies.  The ice creams are made fresh everyday.  The flavors were raspberry, balsamic, and vanilla.  I also had two chocolate chip cookies. I liked dessert best.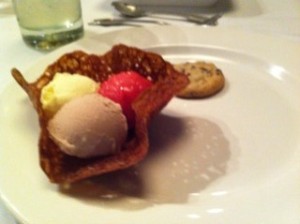 My meal was delicious!
This is ANYA now.  My brother left out the best part of the meal.  Because it was the last day for the students, they were celebrating too.  And my brother and I were invited to join them in their kitchen.  It was the oyster and lobster kitchen.  Here is a picture of Karsen doing an oyster shot.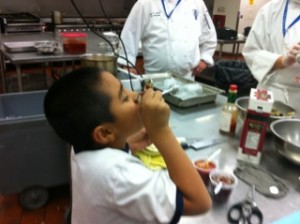 And here I am: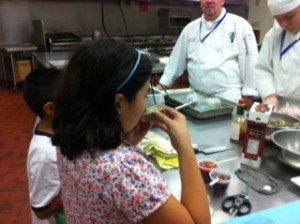 The oysters are raw.  That might sound EWW! to lots of people, but it is actually delicious.  It taste refreshing – it is cooling.  Here is a picture of us with the lobster.  Chef showed how to crack the lobster perfectly!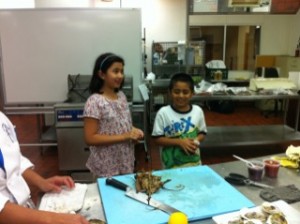 We also learned that the number of pleats in a chef's hat (called a toque) is the same as the number of ways to cook an egg.  Jared, our server, told us that number is 101.  Here is a picture of Jared.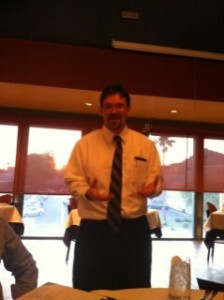 Jared will be starting a job at the Talking Stick Resort.  You can say hi to him there.
I also had a great meal.
My first course was a grilled fruit and arugula salad. It tasted like crispy prosciutto with a hint of warm peach. I don't usually like cooked pineapple but this one was delicious.  The proscuitto was crisp and warm.   It looks like this: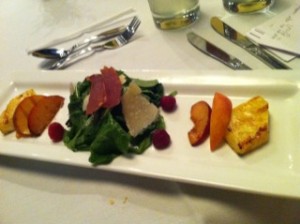 My second course was the shrimp risotto. That was warm and it felt good in your stomach. I thought it was a great combination. This is what it looks like: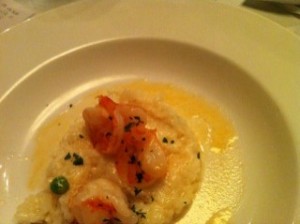 My third course was a fillet mignon with tomato hollandaise. It came with fresh french fries. It was hot, but when it cooled down, it was easy to eat and boneless. I like my steak medium rare – this means it is very juicy.  They cooked it perfectly.  It was nice and juicy.  The french fries were very hot and crispy.  The ketchup tasted homemade.  They both looked like this: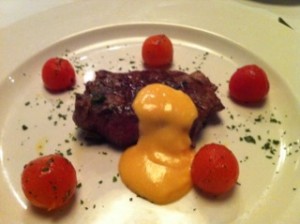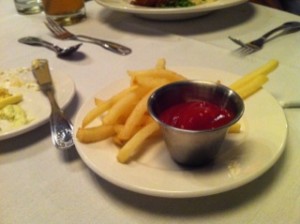 My fourth and last course was a salted caramel pot de creme. A pot de creme is like a pudding.  Imagine a caramel flavored pudding.  It was a fantastic way to end a meal. After I finished I was full. Here it looked like this: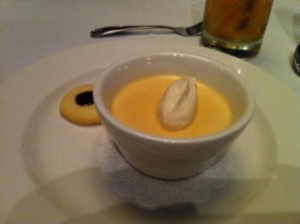 P.S This was the BEST dessert they had!!!
We would like to give a special thank you to everyone at Technique for inviting us to their kitchen.  In the kitchen we learned the secret to good food:
"Butter is good.  Butter is fat.  Fat is our friend."
We also want to thank Jared (our server), Renee (our hostess), and Chef and President Mr. Lloyd.
This was a great place.  We recommend it and would surely come back if we are lucky!!
We are starting a rating system from a kid's perspective – with a scale from 1-5, with 5 being best.  This was a 5.
WE GIVE IT 5 SMILEY FACES!!!!!!!!!!!!!!!!
🙂 🙂 🙂 🙂 🙂